Animal component-free, defined cryopreservation medium with 10% DMSO
Request Pricing
Thank you for your interest in this product. Please provide us with your contact information and your local representative will contact you with a customized quote. Where appropriate, they can also assist you with a(n):
Estimated delivery time for your area
Product sample or exclusive offer
In-lab demonstration
By submitting this form, you are providing your consent to STEMCELL Technologies Canada Inc. and its subsidiaries and affiliates ("STEMCELL") to collect and use your information, and send you newsletters and emails in accordance with our
privacy policy
. Please
contact us
with any questions that you may have. You can unsubscribe or change your
email preferences
at any time.
Overview
Maximize post-thaw cell recovery and viability following cryopreservation at very low temperatures (-70°C to -196°C) with ready-to-use CryoStor® CS10 medium. Serum-free, animal component-free, and cGMP-manufactured, this defined medium provides a safe, protective environment that is recommended for the cryopreservation of a variety of sensitive cell and sample types, including myeloma cell lines, human pluripotent stem cells, blood-derived cells, and more. Available in a variety of convenient formats, CryoStor® CS10 is formulated with USP-grade components to minimize variability and contains 10% DMSO.
Contains
• 10% dimethyl sulfoxide (DMSO)
• Other ingredients
Cell Type
B Cells, CHO Cells, Hematopoietic Stem and Progenitor Cells, Hybridomas, Intestinal Cells, Macrophages, Mesenchymal Stem and Progenitor Cells, Monocytes, Myeloma, NK Cells, Other, Pluripotent Stem Cells, T Cells
Species
Human, Mouse, Non-Human Primate, Other, Rat
Application
Cryopreservation
Area of Interest
Cord Blood Banking, Epithelial Cell Biology, Immunology, Stem Cell Biology
Formulation Category
Animal Component-Free, Serum-Free
Data Figures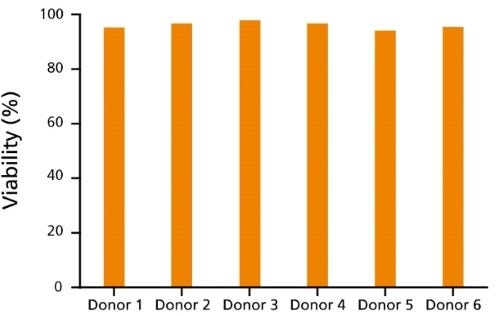 Figure 1. Immune Cells Cryopreserved in CryoStor®CS10 Show Reproducibly High Post-Thaw Cell Viability
CryoStor®CS10 effectively mitigates temperature-induced molecular cell stress responses to maximize post-thaw viability and recovery for a variety of immune cell types, including T cells (data not shown) and B cells. Here, human B cells from 6 different donors cryopreserved in CryoStor®CS10 show reproducibly high viability after thawing, as measured by Propidium Iodide staining (ranging from 94.3 - 97.9%).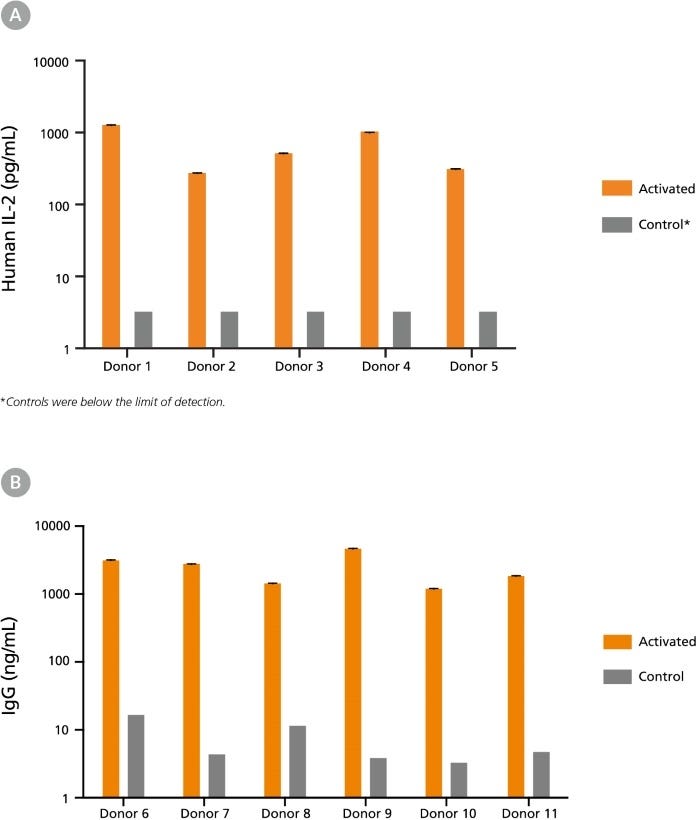 Figure 2. Immune Cells Cryopreserved in CryoStor®CS10 Retain Functionality Post-Thaw
(A) Human peripheral blood Pan-T cells cryopreserved in CryoStor®CS10 were thawed and cultured with or without the addition of T cell activating factors. Cells from Donors 1-3 were cultured in RPMI Medium supplemented with 10% FBS, with (activated) or without (control) 40 ng/mL PMA and 1 ug/mL Ionomycin for 24 hours. Cells from Donors 4-5 were cultured in ImmunoCult™-XF T Cell Expansion Medium (Catalog #10981), with (activated) or without (control) ImmunoCult™ Human CD3/CD28 T Cell Activator (Catalog #10971) for 48 hours. Supernatants were collected from the cultures, and concentrations of secreted cytokines were determined using the Human IL-2 ELISA Kit (Catalog #02006). Activation by either PMA and Ionomycin or ImmunoCult™ Human CD3/CD28 T Cell Activator led to increased secretion of IL-2 compared to unstimulated control cultures. (B) Human B cells (Donors 6 - 11) cryopreserved in CryoStor®CS10 were thawed and activated with 1 µg/mL CD40 and 100 ng/mL IL-21 for 7 days. Supernatants were collected from the cultures and immunoglobulin G (IgG) production was measured using the Human IgG ELISA Antibody Pair Kit (Catalog #01994). Compared to unstimulated control cultures, B cell activation led to increased IgG​ ​secretion.
Protocols and Documentation
Find supporting information and directions for use in the Product Information Sheet or explore additional protocols below.
Document Type
Product Name
Catalog #
Lot #
Language
Catalog #
100-1061, 07959, 07931, 07955, 07940, 07930, 07952
Catalog #
100-1061, 07959, 07931, 07955, 07940, 07930
Applications
This product is designed for use in the following research area(s) as part of the highlighted workflow stage(s). Explore these workflows to learn more about the other products we offer to support each research area.
Resources and Publications
Educational Materials
(15)
Publications
(59)
The immune cell landscape in kidneys of patients with lupus nephritis.
Nature immunology 2019
Abstract
Lupus nephritis is a potentially fatal autoimmune disease for which the current treatment is ineffective and often toxic. To develop mechanistic hypotheses of disease, we analyzed kidney samples from patients with lupus nephritis and from healthy control subjects using single-cell RNA sequencing. Our analysis revealed 21 subsets of leukocytes active in disease, including multiple populations of myeloid cells, T cells, natural killer cells and B cells that demonstrated both pro-inflammatory responses and inflammation-resolving responses. We found evidence of local activation of B cells correlated with an age-associated B-cell signature and evidence of progressive stages of monocyte differentiation within the kidney. A clear interferon response was observed in most cells. Two chemokine receptors, CXCR4 and CX3CR1, were broadly expressed, implying a potentially central role in cell trafficking. Gene expression of immune cells in urine and kidney was highly correlated, which would suggest that urine might serve as a surrogate for kidney biopsies.
Super-Obese Patient-Derived iPSC Hypothalamic Neurons Exhibit Obesogenic Signatures and Hormone Responses.
Cell stem cell 2018 MAY
Abstract
The hypothalamus contains neurons that integrate hunger and satiety endocrine signals from the periphery and are implicated in the pathophysiology of obesity. The limited availability of human hypothalamic neurons hampers our understanding of obesity disease mechanisms. To address this, we generated human induced pluripotent stem cells (hiPSCs) from multiple normal body mass index (BMI; BMI ≤ 25) subjects and super-obese (OBS) donors (BMI ≥ 50) with polygenic coding variants in obesity-associated genes. We developed a method to reliably differentiate hiPSCs into hypothalamic-like neurons (iHTNs) capable of secreting orexigenic and anorexigenic neuropeptides. Transcriptomic profiling revealed that, although iHTNs maintain a fetal identity, they respond appropriately to metabolic hormones ghrelin and leptin. Notably, OBS iHTNs retained disease signatures and phenotypes of high BMI, exhibiting dysregulated respiratory function, ghrelin-leptin signaling, axonal guidance, glutamate receptors, and endoplasmic reticulum (ER) stress pathways. Thus, human iHTNs provide a powerful platform to study obesity and gene-environment interactions.
Inflammatory Responses and Barrier Function of Endothelial Cells Derived from Human Induced Pluripotent Stem Cells.
Stem cell reports 2018 MAY
Abstract
Several studies have reported endothelial cell (EC) derivation from human induced pluripotent stem cells (hiPSCs). However, few have explored their functional properties in depth with respect to line-to-line and batch-to-batch variability and how they relate to primary ECs. We therefore carried out accurate characterization of hiPSC-derived ECs (hiPSC-ECs) from multiple (non-integrating) hiPSC lines and compared them with primary ECs in various functional assays, which included barrier function using real-time impedance spectroscopy with an integrated assay of electric wound healing, endothelia-leukocyte interaction under physiological flow to mimic inflammation and angiogenic responses in in vitro and in vivo assays. Overall, we found many similarities but also some important differences between hiPSC-derived and primary ECs. Assessment of vasculogenic responses in vivo showed little difference between primary ECs and hiPSC-ECs with regard to functional blood vessel formation, which may be important in future regenerative medicine applications requiring vascularization.
Quality Statement:

PRODUCTS ARE FOR RESEARCH USE ONLY AND NOT INTENDED FOR HUMAN OR ANIMAL DIAGNOSTIC OR THERAPEUTIC USES UNLESS OTHERWISE STATED. FOR ADDITIONAL INFORMATION ON QUALITY AT STEMCELL, REFER TO WWW.STEMCELL.COM/COMPLIANCE.