Supporting Your Regulatory and Compliance Needs
The transition of cell therapies from the research lab to the clinic is not always straightforward. In particular, selecting and qualifying ancillary materials (AMs; also referred to as raw materials) can be challenging and confusing for researchers and cell therapy manufacturers. The absence of definitive regulations for AMs, and for supplier compliance claims, results in regulatory ambiguity for both cell therapy manufacturers and AM suppliers. To determine the best solution and smoothest pathway to the clinic, it is therefore critical for cell therapy manufacturers and AM suppliers to work closely together to understand their respective regulatory and compliance requirements and capabilities.
Find answers to common questions about qualifying AMs for cell therapy manufacturing below, and learn how STEMCELL can partner with you to navigate the process more efficiently.
An Overview of Ancillary Material Qualification
What are ancillary materials or raw materials?
Ancillary materials (AMs) are components, reagents, and materials used during the manufacture of cell therapy products, but they are not intended to be part of the final product. The term "ancillary material" is not globally recognized by regulators and nomenclature varies by region (e.g. in Europe they are referred to as "raw materials"). AMs may include cell isolation reagents, culture and cryopreservation media, and disposables such as plasticware and bioprocessing bags.
The quality of AMs is widely recognized as having a potential impact on the efficacy, safety, and consistency of a cell therapy. Therefore, AMs must be carefully evaluated for their chemical and biological characteristics as well as their effects on the final cell therapy product. Importantly, establishing the safety and suitability of an AM is critical to gaining approval for cell therapy products.
How are AMs qualified for cell therapy manufacturing?
AM qualification refers to the process of establishing the source, identity, purity, biological safety, and general suitability of a given AM.
Selecting and qualifying necessary AMs for the complex production of cell therapies can be both challenging and confusing for manufacturers. It is impossible to provide a "one-size-fits-all" qualification program for every situation and manufacturers are advised to follow a risk-based approach.1 For example, while a growing number of AMs are produced under Good Manufacturing Practices (GMPs), the specific AM that performs the best for your cell therapy application may not have been manufactured under GMP. The question then, is: "Must it?"
While there are still no specific and definitive regulations for AMs, there are resources and guidelines for developing AM qualification programs, such as from the United States Pharmacopeia (USP); the International Organization for Standardization (ISO); and the European Pharmacopoeia (Ph. Eur.).2-4 For a more detailed overview on qualifying AMs, please refer to the Technical Bulletin: Ancillary Material Qualification.
What are cGMPs?
cGMP stands for current Good Manufacturing Practices. GMP are a series of processes, policies, and controls within a quality management system (QMS) that ensures the resulting manufactured product is safe and efficacious for its intended use. "Current" signifies that although the regulations for GMP were put in place decades ago, compliance to these regulations must include current industry standards, science, and technology. In general, cGMP and GMP may be used interchangeably. The compliance requirements of GMP extend through the product life cycle and include design, manufacture, testing, labeling, and more.
Do all AMs for cell therapy require manufacture under cGMP?
The regulations will vary by region, but the use of AMs manufactured under relevant cGMPs may not be strictly required to produce cell therapies for preclinical and early-phase clinical trials. For more information on the use of AMs in cell therapy manufacturing, please refer to the Technical Bulletin: Ancillary/Raw Material Qualification.
STEMCELL may be able to support the use of our products as AMs even without GMP by following the qualification framework outlined in Chapter <1043> of the United States Pharmacopeia (USP) or Ph. Eur. 5.2.12,2,4 which provide guidance on assessing the safety of ancillary materials. We manufacture AMs under our robust quality management system (QMS), which often demonstrates sufficient control to support preclinical and early-phase clinical trials. Our Services for Cell Therapy team is available to work with you to define your specific quality requirements and design a solution that best fits your needs.
What "grade" of AM does cell therapy manufacturing require?
Contrary to widespread belief, globally there is no particular grade of AM that is required for use in cell therapy manufacturing. Indeed, any claim that a product is of "cell-therapy grade" reflects market-driven nomenclature rather than an accepted regulatory compliance standard. However, AMs manufactured under a robust quality management system (QMS) present a reduced qualification burden for cell therapy manufacturers. For this reason, it can be preferable to source AMs that are manufactured under relevant cGMPs or that are themselves approved, cleared, or licensed therapeutic products or medical devices.
It is important to note that even an approved therapeutic product used as an AM must be validated for applications outside of its intended use. In other words, GMP or other regulatory approvals do not guarantee that a particular AM is the best choice for manufacturing your final cell therapy product.
For more information on the respective accountabilities for AM suppliers and users, see Table 2 in Solomon et al. 2016.1
How can cell therapy manufacturers streamline AM qualification?
Ultimately, the responsibility for AM qualification lies with the cell therapy manufacturer. The process can be made more efficient, however, by partnering closely with the AM supplier, who can make the path to AM qualification easier to navigate.
Suppliers can assist manufacturers by providing quality documentation, allowing facility audits, communicating proactively about AM changes, and providing increased testing or custom formulations. Establishing strong working relationships and clear communication with AM suppliers at an early stage can also enable manufacturers to anticipate and resolve issues or concerns related to the use of an AM.
For a review of case studies of manufacturers and AM suppliers collaboratively resolving quality or regulatory issues, refer to Table 3 in Solomon et al. 2016.1
How Can STEMCELL Support Your Regulatory Needs?
As Scientists Helping Scientists, our goal is to enable scientific researchers and organizations to maximize their innovative potential. Through our Services for Cell Therapy Program, STEMCELL will work with you to support the use of our products as AMs (as defined in USP Chapter <1043> or Ph. Eur. General Chapter 5.2.12)2,4 under an approved Investigational New Drug (IND) application, Clinical Trial Authorisation/Application (CTA), Biologics License Application (BLA), or equivalent regulatory filing. We have successfully supported over 45 clinical trials around the globe.
WHY WORK WITH US?
We have worked with customers around the world to meet their country- or region-specific regulatory requirements.
Our stringent supplier qualification and management processes ensure consistent quality and a dependable supply of materials and services.
In-house manufacturing and testing of select products under relevant cGMPs with the ability to support AM qualification under USP <1043> or Ph. Eur. 5.2.12.
Our network of qualified distribution centers enables worldwide delivery of our products.
To design and reach the solution that best fits your needs, such as increased regulatory compliance custom manufacturing, you will be assigned a dedicated program manager who will guide you through the process summarized below to obtain a comprehensive overview of your requirements and agree upon deliverables. Your program manager will keep you informed and involved in the progression of the project from initiation to completion. Our scalable processes and compliance capabilities can support you from your preclinical research through to commercialization.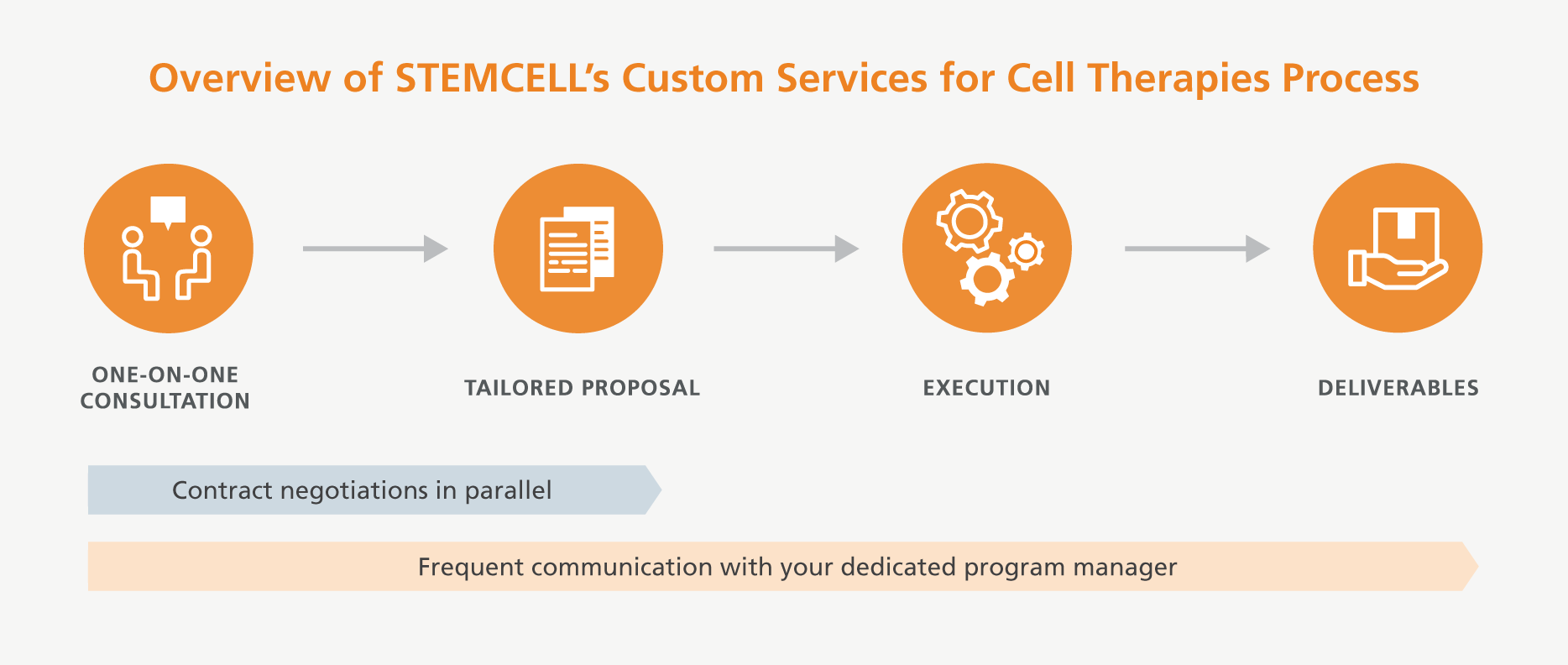 STEMCELL Technologies has over 25 years of experience providing researchers with high-quality reagents and currently operates under a quality management system (QMS) certified to ISO 13485:2016 and ISO 9001:2015, reflecting our commitment to quality. While the majority of our products are intended for research use only (RUO), select products are manufactured under higher quality tiers depending on their intended use. Additionally, RUO designation does not limit the compliance to GMP and is not a barrier for the clinic. We can provide documented evidence of a viral-safe profile for all of our GMP AM products.
Flexible Support for Your Custom Requirements
Navigate your complex and custom regulatory requirements with the support of our Services for Cell Therapy team. Your dedicated program manager will work with you to build the best solution to your needs.
Accessing Relevant Documentation and Regulatory Files
Looking for documentation? Some of our certificates and documents can be accessed via the links below. If you have trouble finding what you need, please contact us.
ISO 13485:2016, ISO 9001:2015, and ISO 14001:2015 Certification
STEMCELL operates a Quality Management System that is certified to the requirements of ISO 13485:2016 and ISO 9001:2015 for the following scope:
The design, manufacture, distribution, and sales of In Vitro Diagnostic (IVD) products and RUO products, reagents, and laboratory equipment. These products are complemented by services, including contract assays, proficiency testing, and training.
Additionally, STEMCELL's Environmental Management System, aimed at measuring and mitigating our environmental footprint, is certified to the requirements of ISO 14001:2015.
Our certificates can be downloaded below:
ISO 13485:2016
ISO 13485:2016 Medical Devices is the International Standard for a comprehensive QMS and demonstrates an organization's ability to design and manufacture medical devices and related services that consistently meet customer and applicable regulatory requirements.
ISO 9001:2015
ISO 9001:2015 is the International Standard defining requirements for a QMS and demonstrates an organization's ability to consistently provide products and services that meet customer and regulatory requirements. It is the most prominent approach to quality management systems.
ISO 14001:2015
ISO 14001:2015 maps out a framework that companies or organizations follow to set up an effective Environmental Management System. Certification indicates that STEMCELL is committed to measuring and improving its environmental impact.
Letter of Authorization (LOA) Request
STEMCELL is dedicated to supporting your clinical journey and will submit a Master File (MF) for each of our GMP products. To reference STEMCELL's Master File in your FDA application, please complete STEMCELL's online request form for a Letter of Authorization (LOA).
If you are located outside of the U.S., STEMCELL can work with you to provide Regulatory Support Files directly to your Regulatory Agency to support your submission. Please contact us here or via your local representative.
Certificate of Analysis
Certificates of analysis may be retrieved online using this form.
Glossary of Terms
Definitions for Common Quality, Regulatory, and Compliance Terms and Acronyms
Ancillary Materials (AMs): These are components, reagents, and materials used during the manufacture of cell therapy products, but which are not intended to be part of the final product. AMs may also be referred to as raw materials outside of North America.
Biologics License Agreement (BLA): An application to the U.S. Food and Drug Administration (FDA) for permission to introduce, or deliver for introduction, a biologic product to market. The BLA must provide sufficient material and data for evaluation of the product's safety and efficacy.
Corrective and Preventive Action (CAPA) Program: A defined process to investigate problems or non-conformities, analyze the root causes, and take appropriate and effective corrective action to prevent their recurrence.
Current Good Manufacturing Practices (cGMP): cGMP are a minimum set of practices recommended or required by some regulatory agencies for manufacturers to ensure that their products consistently meet the requirements for their intended use. "Current" signifies that although the regulations for GMP were put in place decades ago, compliance to these regulations must include current industry standards, science, and technology. In general, cGMP and GMP may be used interchangeably.
Certificate of Analysis (CoA): A document issued by Quality Assurance confirming that a product meets its specifications. The information on a CoA will vary depending on the specific product.
Certificate of Origin (CoO): A document provided by suppliers showing source and processing information for raw materials used in manufacturing a product. The information can be used to assess the safety or suitability of a product.
Clinical Trial Authorisation/Application (CTA): An application to regulatory authorities to conduct a clinical trial in a specific country.
Compliance: The state of meeting prescribed specifications, contract terms, regulations or standards.
Good Manufacturing Practices (GMP): A series of processes, policies, and controls within a QMS that ensures the resulting manufactured product is safe and efficacious for its intended use. See also cGMP above.
International Organization for Standardization (ISO): An independent, nongovernmental international organization that unites experts to share knowledge and develop voluntary, consensus-based, market-relevant international standards and guidelines.
Investigational New Drug (IND) Application: A request to the U.S. Food and Drug Administration (FDA) for permission to use a new drug in clinical testing.
In Vitro Diagnostic (IVD) Products: In general, IVD products are those reagents, instruments, and systems intended for use in diagnosis of disease or other conditions, including a determination of the state of health, in order to cure, mitigate, treat, or prevent disease or its sequelae. Such products are intended for use in the collection, preparation, and examination of specimens taken from the human body. IVD regulations vary around the world, and suppliers must register their products according to country-specific requirements (e.g. CE mark in the EU). For a full list of IVD-registered STEMCELL products, see our Regulated Products and Instruments page.
Letter of Authorization (LOA): A written statement by the holder or designated agent or representative permitting the FDA to refer to information in the MF in support of another person's submission.
Master File (MF): A reference providing information about specific processes or components used in the manufacturing, processing, or packaging of a drug.
Research Use Only (RUO): Indicates that a product is for research use only and not intended for human or animal diagnostic or therapeutic uses unless otherwise stated.
Quality Management System (QMS): A formal system of processes, procedures, and responsibilities for achieving quality policies and objectives