Services for Cell Therapy
Supporting Your Cellular Therapy Manufacturing Needs
Are you looking to use STEMCELL products as ancillary materials (AMs) or raw materials in the manufacture of cellular therapies? Through our Services for Cell Therapy program, we can work with you to develop solutions for your specific needs, such as custom product development, higher compliance product manufacture, regulatory support, and custom documentation.
Under the Services for Cell Therapy Program, STEMCELL may be able to support the use of our products as AMs (as defined under USP Chapter <1043> or Ph. Eur. General Chapter 5.2.12)1,2 under an approved Investigational New Drug (IND) application, Clinical Trial Authorization/Application (CTA), or equivalent regulatory filing. We have successfully supported over 45 clinical trials around the globe.
Personalized Support and Tailored Solutions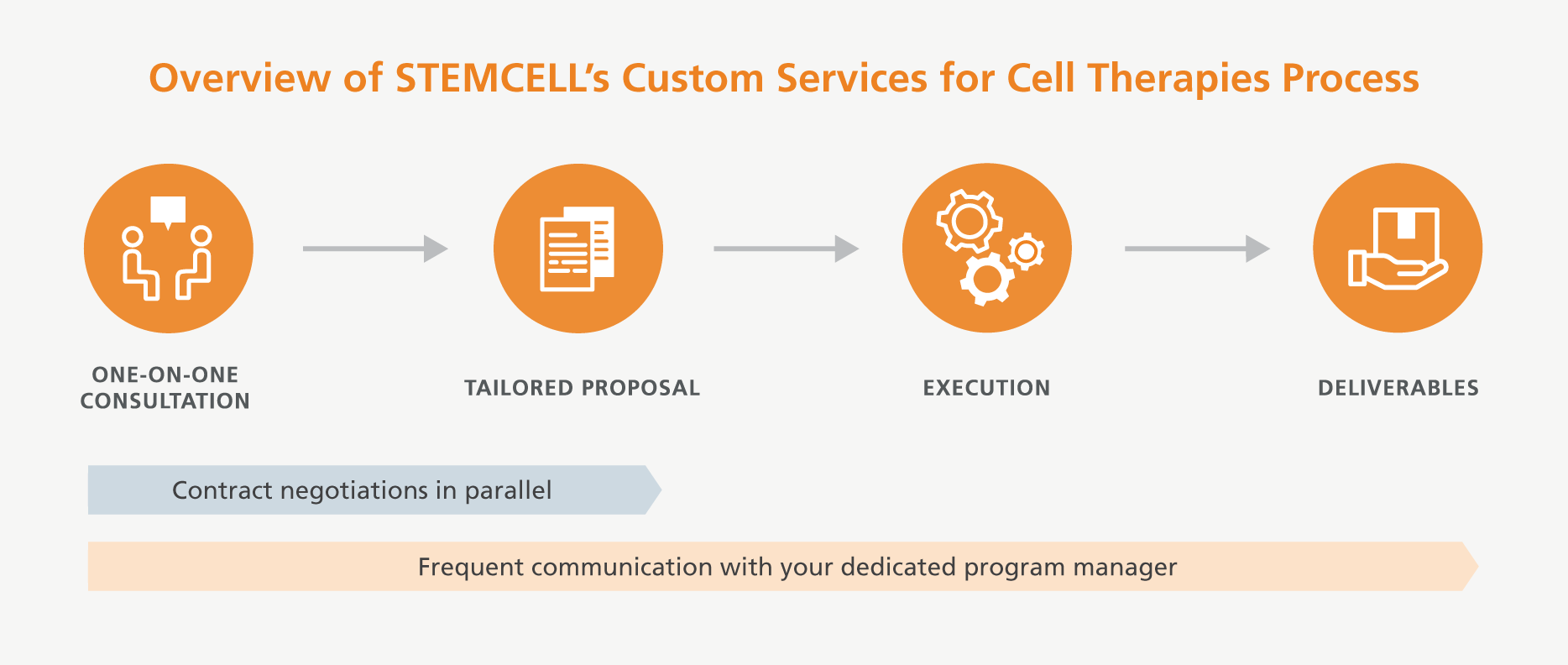 You will work with a designated Services for Cell Therapy program manager, who will initiate discussions about your custom requirements. These specialists are trained to provide information and feedback about STEMCELL's services and capabilities, and to obtain a comprehensive overview of your requirements so as to design the best solution to meet your needs.
Early in the project design phase, your program manager will consult with a cross-functional team of experienced employees from various departments, such as Research and Development, Manufacturing, Process Development, Quality Control, Quality Assurance, and Regulatory Affairs, to ensure accurate design of your project objectives. After execution of the appropriate contracts and confidentiality agreements, the project will move to the implementation phase where a dedicated team will be assigned to your project.
The Services for Cell Therapy program manager will guide you through this collaborative process and will be your single point of contact. As your dedicated project manager from initiation to completion, they will keep you informed and involved in the progress of the project. The primary objective of the program manager is to ensure delivery of the project in a timely manner, on budget, and to the quality standards you require for your application.
Why Work with Us?
We have worked with customers around the world to meet their country- or region-specific regulatory requirements.
Our stringent supplier qualification and management processes ensure consistent quality and a dependable supply of materials and services.
We can support your workflows from start to finish with innovative, specialized reagents.
In-house manufacturing and testing of select products under relevant cGMPs with the ability to support AM qualification under USP <1043> or Ph. Eur. 5.2.12.
Our network of qualified distribution centers enables worldwide delivery of our products.
Navigate your complex and custom regulatory requirements with the support of our Services for Cell Therapy team. Contact your local STEMCELL representative to begin discussing your specific regulatory or product requirements, or use the form below.

Support for Your Regulatory and Compliance Needs
Explore this resource page to learn more about qualifying AMs for cell therapy manufacturing, how we work with you to meet your compliance requirements, and how to access relevant documentation.
References
General Chapter <1043> Ancillary materials for cell, gene, and tissue engineered products. (2017) In: The United States Pharmacopeia.
Chapter 5.2.12. Raw materials for the production of cell-based and gene therapy medicinal products. In: European Pharmacopeia.