Automation of key laboratory processes can significantly improve the efficiency of your research program. Incorporating an automated platform into your assay or sample processing workflow also improves standardization and facilitates process tracking while increasing throughput and minimizing hands-on time. Together, these features can help you make more effective use of skilled personnel time.
Why Use Automation?
Achieve standardization of assays, procedures and sample processing.
Reduce hands-on time for skilled personnel.
Increase the throughput of your assay or sample processing workflow.
Products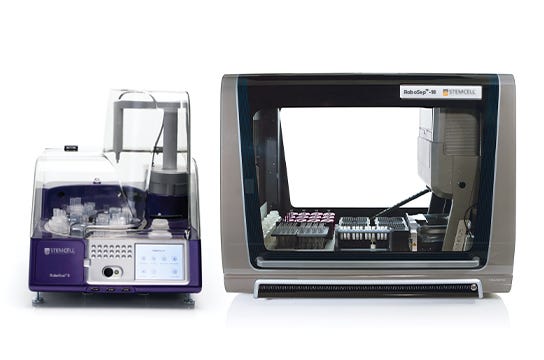 RoboSep™, the fully automated cell isolation platform, is designed to streamline your cell isolation. The
RoboSep™-S
and
RoboSep™-16
instruments offer true walk-away automation while retaining the speed and simplicity of
EasySep™
with as little as 5 minutes of hands-on time.
Advantages:
Automate cell isolation
Streamline and increase sample throughput
Obtain cells that are immediately ready for downstream applications
Perform sequential or simultaneous cell isolations
Eliminate cross-contamination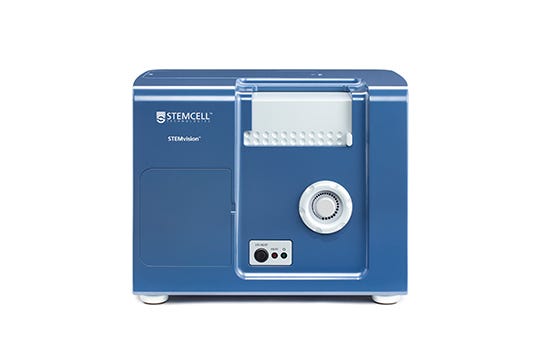 STEMvision™ is a computer-operated bench-top instrument that automatically counts colonies in CFU assays of human or mouse hematopoietic cells, significantly improving the accuracy and reproducibility of progenitor cell quantitation. STEMvision™ has been optimized for use with
MethoCult™
media and meniscus-free
SmartDish™
cultureware.
Advantages:
Achieve faster and more accurate counting of colonies than with manual assays
Reduce inter- and intra-individual and laboratory variation in colony counting
Save time in staff training and lab workflow
Record digital images of cultures for permanent record keeping
Expand Details
Collapse Details
Warranties and Support Packages
Warranty Coverage Provides Superior User Support Through:
Immediate assistance by phone
Remote technical support by an Instrument Specialist
Same-day decision on recommended course of action
Temporary replacement units
On-site support by an Instrument Specialist
All parts, labor, travel and other expenses required to complete a repair
For more information about warranties and service packages download the Instrument Service Brochure.
Summary of Service Options
Service Option
Description
Break-Fix
If you are in need of repair, our Technical Support team will perform remote diagnostics and issue a quote for the estimated cost of repair. Upon completion of the repair, an invoice will be issued for the actual costs incurred.
Preventative Maintenance (PM)
Includes regular visits by a trained instrument specialist for instrument maintenance and verification.
The instrument specialist will help identify issues with your system and advise you if your instrument needs upgrades or replacement parts.
Warranty
Includes all labor and services required for the diagnosis and repair of your instrument, should issues arise.
Covers costs associated for repairs such as replacement parts, workmanship in mechanical or electrical parts, components or assemblies.
Covers shipping/travel charges required during repair.
A temporary replacement unit is provided, if required, for the duration of the repair for applicable instruments.
IQ/OQ/IPV
Includes visit by a trained instrument specialist to perform Installation Qualification, Operation Qualification and Instrument Performance Verification.
The instrument specialist will help identify issues with your system and advise you if your instrument needs upgrades or replacement parts.
Includes audit-quality report with detailed information on instrument performance for your records and for presenting to your regulatory body.

Frequently Asked Questions on Instrument Warranties
Have a question about our instrumentation warranty or preventative maintenance plan? Read answers to some of our most frequently asked questions.
Explore FAQs >
Ordering Information for Service Options
Product
Catalog #
RoboSep™‑S
RoboSep™‑16
RoboSep™-C
STEMvision™
1-Year Warranty
21200
23200
500-0050
22201
Preventative Maintenance Visit (for an instrument without an active Warranty)
21203
23203
500-0052
22202
1-Year Warranty with 1 Preventative Maintenance Visit
21202
23202
500-0051
22203
Additional Preventative Maintenance Visit (for an instrument on an active Warranty)
21209
23209
500-0053
22209
IQ/OQ/IPV
21206
23206
500-0054
22206
IQ/OQ/IPV and Preventative Maintenance Visit
21210
23210
-
-
IQ/OQ/IPV plus 1-Year Warranty and Preventative Maintenance Visit
21211
23211
-
22208
Software
Software Updates
Our software development team regularly releases new updates for instruments. The latest software versions are below.
Please read release notes carefully before deciding to download new installer and upgrade your instrument.
Technical Resources
RoboSep™-S
Watch a series of videos that provide an overview on how to use and maintain your RoboSep™-S.