For the identification, evaluation, and isolation of stem and progenitor cells expressing high levels of ALDH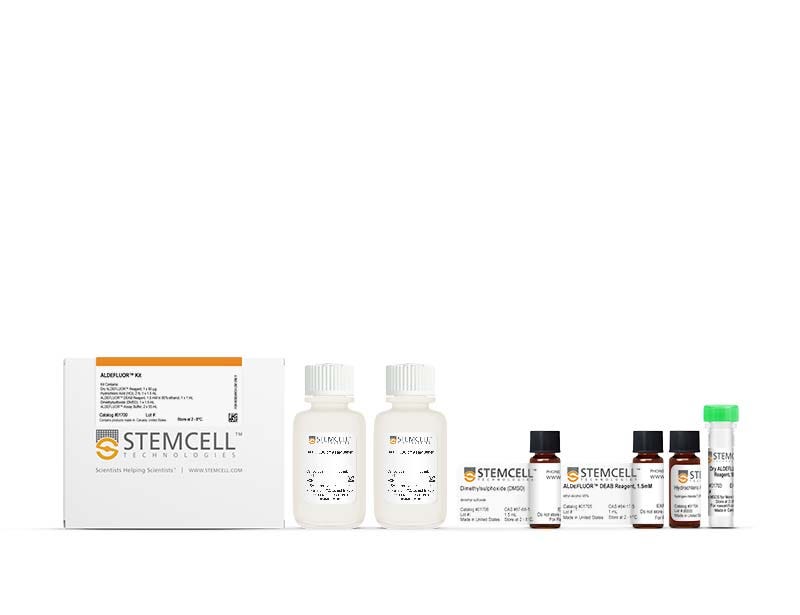 New look, same high quality and support!

You may notice that your instrument or reagent packaging looks slightly different from images displayed on the website, or from previous orders. We are updating our look but rest assured, the products themselves and how you should use them have not changed. Learn more
Request Pricing
Thank you for your interest in this product. Please provide us with your contact information and your local representative will contact you with a customized quote. Where appropriate, they can also assist you with a(n):
Estimated delivery time for your area
Product sample or exclusive offer
In-lab demonstration
By submitting this form, you are providing your consent to STEMCELL Technologies Canada Inc. and its subsidiaries and affiliates ("STEMCELL") to collect and use your information, and send you newsletters and emails in accordance with our
privacy policy
. Please
contact us
with any questions that you may have. You can unsubscribe or change your
email preferences
at any time.
New look, same high quality and support!

You may notice that your instrument or reagent packaging looks slightly different from images displayed on the website, or from previous orders. We are updating our look but rest assured, the products themselves and how you should use them have not changed. Learn more
Overview
Protocols and Documentation
Find supporting information and directions for use in the Product Information Sheet or explore additional protocols below.
Applications
This product is designed for use in the following research area(s) as part of the highlighted workflow stage(s). Explore these workflows to learn more about the other products we offer to support each research area.
Resources and Publications
Educational Materials
(23)
Frequently Asked Questions
Publications
(255)
Diet-Derived Short Chain Fatty Acids Stimulate Intestinal Epithelial Cells To Induce Mucosal Tolerogenic Dendritic Cells.
Journal of immunology 2017
Abstract
The gastrointestinal tract is continuously exposed to many environmental factors that influence intestinal epithelial cells and the underlying mucosal immune system. In this article, we demonstrate that dietary fiber and short chain fatty acids (SCFAs) induced the expression of the vitamin A-converting enzyme RALDH1 in intestinal epithelial cells in vivo and in vitro, respectively. Furthermore, our data showed that the expression levels of RALDH1 in small intestinal epithelial cells correlated with the activity of vitamin A-converting enzymes in mesenteric lymph node dendritic cells, along with increased numbers of intestinal regulatory T cells and a higher production of luminal IgA. Moreover, we show that the consumption of dietary fiber can alter the composition of SCFA-producing microbiota and SCFA production in the small intestines. In conclusion, our data illustrate that dietary adjustments affect small intestinal epithelial cells and can be used to modulate the mucosal immune system.
MSCs derived from iPSCs with a modified protocol are tumor-tropic but have much less potential to promote tumors than bone marrow MSCs.
Proceedings of the National Academy of Sciences of the United States of America 2015 JAN
Abstract
Mesenchymal stem or stromal cells (MSCs) have many potential therapeutic applications including therapies for cancers and tissue damages caused by cancers or radical cancer treatments. However, tissue-derived MSCs such as bone marrow MSCs (BM-MSCs) may promote cancer progression and have considerable donor variations and limited expandability. These issues hinder the potential applications of MSCs, especially those in cancer patients. To circumvent these issues, we derived MSCs from transgene-free human induced pluripotent stem cells (iPSCs) efficiently with a modified protocol that eliminated the need of flow cytometric sorting. Our iPSC-derived MSCs were readily expandable, but still underwent senescence after prolonged culture and did not form teratomas. These iPSC-derived MSCs homed to cancers with efficiencies similar to BM-MSCs but were much less prone than BM-MSCs to promote the epithelial-mesenchymal transition, invasion, stemness, and growth of cancer cells. The observations were probably explained by the much lower expression of receptors for interleukin-1 and TGFβ, downstream protumor factors, and hyaluronan and its cofactor TSG6, which all contribute to the protumor effects of BM-MSCs. The data suggest that iPSC-derived MSCs prepared with the modified protocol are a safer and better alternative to BM-MSCs for therapeutic applications in cancer patients. The protocol is scalable and can be used to prepare the large number of cells required for off-the-shelf" therapies and bioengineering applications."
Neutrophils support lung colonization of metastasis-initiating breast cancer cells
Nature 2015 DEC
Abstract
Despite progress in the development of drugs that efficiently target cancer cells, treatments for metastatic tumours are often ineffective. The now well-established dependency of cancer cells on their microenvironment suggests that targeting the non-cancer-cell component of the tumour might form a basis for the development of novel therapeutic approaches. However, the as-yet poorly characterized contribution of host responses during tumour growth and metastatic progression represents a limitation to exploiting this approach. Here we identify neutrophils as the main component and driver of metastatic establishment within the (pre-)metastatic lung microenvironment in mouse breast cancer models. Neutrophils have a fundamental role in inflammatory responses and their contribution to tumorigenesis is still controversial. Using various strategies to block neutrophil recruitment to the pre-metastatic site, we demonstrate that neutrophils specifically support metastatic initiation. Importantly, we find that neutrophil-derived leukotrienes aid the colonization of distant tissues by selectively expanding the sub-pool of cancer cells that retain high tumorigenic potential. Genetic or pharmacological inhibition of the leukotriene-generating enzyme arachidonate 5-lipoxygenase (Alox5) abrogates neutrophil pro-metastatic activity and consequently reduces metastasis. Our results reveal the efficacy of using targeted therapy against a specific tumour microenvironment component and indicate that neutrophil Alox5 inhibition may limit metastatic progression.
Legal Statement:

ALDEFLUOR is registered trademark of ALDAGEN Inc.

Quality Statement:

PRODUCTS ARE FOR RESEARCH USE ONLY AND NOT INTENDED FOR HUMAN OR ANIMAL DIAGNOSTIC OR THERAPEUTIC USES UNLESS OTHERWISE STATED. FOR ADDITIONAL INFORMATION ON QUALITY AT STEMCELL, REFER TO WWW.STEMCELL.COM/COMPLIANCE.