ALDEFLUOR™ Assay Optimization
.
Document # 29902
Version 1.0.0
Sep 2011
Introduction
The ALDEFLUOR™ assay was originally developed for the detection of hematopoietic stem and progenitor cells in human cord blood, bone marrow and mobilized peripheral blood. Optimize the detection of ALDH activity in non-hematopoietic cells, cultured cells and cell lines by experimenting with the assay conditions outlined below.
Optimizing Cell Sample Concentration
Perform ALDEFLUOR™ assays using several aliquots of the cell sample of interest, containing different cell concentrations in the ALDEFLUOR™ Assay Buffer. A DEAB control sample should be included at each cell concentration as the background fluorescence signal of ALDEFLUOR™-stained cells may differ by cell concentration. Suggested sample concentrations (cells/mL) are: 1 x 105, 2 x 105, 5 x 105, 1 x 106, and 2 x 106.
Use the cell concentration that gives firstly, the best distinction between ALDHbr and ALDHlow cells, and secondarily, the strongest fluorescence intensity and highest signal to background ratio.
For example, the optimal cell concentration in the SKBR3 breast cancer cell line was determined to be approximately 2 x 105 cells/mL (Figure 1).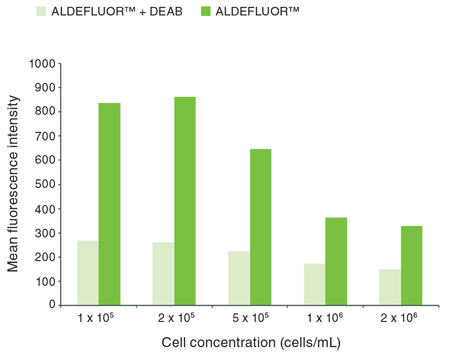 Figure 1. Effect of cell concentration on the detection of ALDEFLUOR™ activity in SKBR3 cells.
Optimizing Efflux Inhibition
Although the ALDEFLUOR™ Assay Buffer already contains ABC transporter inhibitors to prevent efflux of the activated ALDEFLUOR™ reagent (BAAA) and reaction product (BAA−), it may be useful to test the addition of various efflux inhibitors to optimize the assay for nonhematopoietic cells.
Recommended inhibitors and suggested concentrations include: verapamil (50 – 100 μM), probenecid (2.5 mM) and 2-deoxy-D-glucose (100 mM).
Efflux of BAAA and of BAA− is also inhibited at low temperature. Thus, cells should be kept on ice or at 2 – 8°C after the ALDEFLUOR™ reaction is completed and during cell sorting, to prevent loss of fluorescence intensity.
Optimizing Incubation Time
Using an optimal sample concentration, test different ALDEFLUOR™ incubation times at 37°C. Use the variables discussed in the "Optimizing Cell Sample Concentration" section to select the incubation time.
Suggested incubation times are: 15 min, 30 min, 45 min, and 60 min. For example, the optimal incubation time for the SKBR3 breast cancer cell line was determined to be 45 minutes (Figure 2).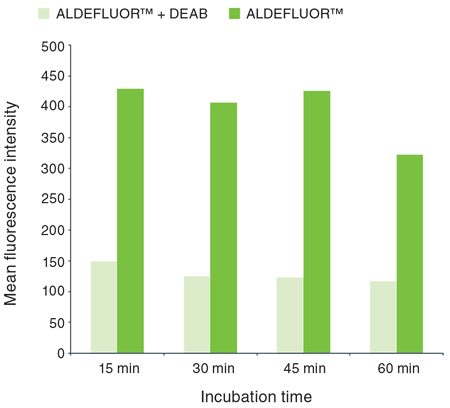 Figure 2. Effect of incubation time on the detection of ALDEFLUOR™ activity in SKBR3 cell line.
Optimizing The Negative Control
DEAB inhibits ALDH activity and is a crucial negative control for the ALDEFLUOR™ assay. The optimal DEAB concentration for the ALDEFLUOR™ assay may depend on the ALDH activity levels of the cell type of interest. For cells with very high ALDH activity, increasing DEAB concentration (up to 2-fold) and volume (up to 10-fold) may help to reveal actual background fluorescence levels. However, this may adversely impact cell viability in the sample.
DEAB effectiveness can also be increased by adding it to cells before adding activated ALDEFLUOR™ reagent. To do so, prepare 2 tubes (1 control and 1 test), each containing an equal volume of the cell suspension at the optimal concentration. Add 10 μL of DEAB per mL of cell sample to the control tube, and mix. Then add 5 μL of the activated ALDEFLUOR™ reagent per mL of cell sample to each of the tubes, and mix immediately.
Request Pricing
Thank you for your interest in this product. Please provide us with your contact information and your local representative will contact you with a customized quote. Where appropriate, they can also assist you with a(n):
Estimated delivery time for your area
Product sample or exclusive offer
In-lab demonstration
By submitting this form, you are providing your consent to STEMCELL Technologies Canada Inc. and its subsidiaries and affiliates ("STEMCELL") to collect and use your information, and send you newsletters and emails in accordance with our
privacy policy
. Please
contact us
with any questions that you may have. You can unsubscribe or change your
email preferences
at any time.