MammoCult™ Human Medium Kit
For culture of human mammospheres and tumorspheres
Request Pricing
Thank you for your interest in this product. Please provide us with your contact information and your local representative will contact you with a customized quote. Where appropriate, they can also assist you with a(n):
Estimated delivery time for your area
Product sample or exclusive offer
In-lab demonstration
By submitting this form, you are providing your consent to STEMCELL Technologies Canada Inc. and its subsidiaries and affiliates ("STEMCELL") to collect and use your information, and send you newsletters and emails in accordance with our
privacy policy
. Please
contact us
with any questions that you may have. You can unsubscribe or change your
email preferences
at any time.
Products for Your Protocol
Overview
MammoCult™ Medium (Human) is a serum-free, estrogen and progesterone-free culture medium optimized for the culture of mammospheres from normal human primary breast tissues and tumorspheres from human breast cancer cell lines. For preparation of complete MammoCult™ Medium, Hydrocortisone Stock Solution (Catalog #07925) and Heparin Solution (Catalog #07980) are also required.
Subtype
Specialized Media
Cell Type
Cancer Cells and Cell Lines, Mammary Cells
Application
Cell Culture, Maintenance, Spheroid Culture
Area of Interest
Cancer, Epithelial Cell Biology
Formulation Category
Serum-Free
Data Figures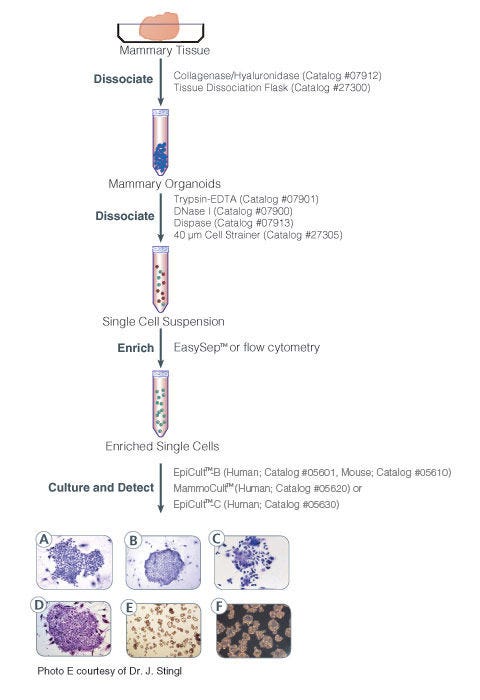 Figure 1. Protocol for Isolation and Identification of Human and Mouse Mammary Epithelial Progenitor Cells
Phase contrast photographs of (A) a pure human myoepithelial cell colony, (B) a pure human luminal cell colony, and (C) a mixed human colony. (D) is a mouse colony. Unlike human mammary CFC colonies, subtypes of mouse mammary epithelial cell colonies are not easily identifiable. All colonies were cultured in either EpiCult™-B (Human: Catalog #05601) or EpiCult™-B (Mouse:Catalog #5610) in the presence of an irradiated NIH 3T3 feeder layer. Colonies were visualized by staining with Wright"s Giemsa. (E) is a picture of mammospheres obtained from primary human mammary epithelial cells and (F) is an image of tumorspheres obtained from MCF7 human breast cancer cell line.
Protocols and Documentation
Find supporting information and directions for use in the Product Information Sheet or explore additional protocols below.
Document Type
Product Name
Catalog #
Lot #
Language
Applications
This product is designed for use in the following research area(s) as part of the highlighted workflow stage(s). Explore these workflows to learn more about the other products we offer to support each research area.
Resources and Publications
Educational Materials
(12)
Publications
(85)
Selenophosphate Synthetase 1 is an Essential Protein with Roles in Regulation of Redox Homeostasis in Mammals.
The Biochemical journal 2016 MAY
Abstract
Selenophosphate synthetase (SPS) was initially detected in bacteria and was shown to synthesize selenophosphate, the active selenium donor. However, mammals have two SPS paralogs, which are designated SPS1 and SPS2. Although it is known that SPS2 catalyzes the synthesis of selenophosphate, the function of SPS1 remains largely unclear. To examine the role of SPS1 in mammals, we generated a Sps1 knockout mouse and found that systemic SPS1 deficiency led to embryos that were clearly underdeveloped by E8.5 and virtually resorbed by E14.5. The knockout of Sps1 in the liver preserved viability, but significantly affected the expression of a large number of mRNAs involved in cancer, embryonic development, and the glutathione system. Particularly notable was the extreme deficiency of glutaredoxin 1 (GLRX1) and glutathione-S-transferase omega 1. To assess these phenotypes at the cellular level, we targeted the removal of SPS1 in F9 cells, a mouse embryonal carcinoma cell line, which affected the glutathione system proteins and accordingly led to the accumulation of hydrogen peroxide in the cell. Further, we found that several malignant characteristics of SPS1-deficient F9 cells were reversed, suggesting that SPS1 played a role in supporting and/or sustaining cancer. In addition, the overexpression of mouse or human GLRX1 led to a reversal of observed increases in reactive oxygen species (ROS) in the F9 SPS1/GLRX1-deficient cells and resulted in levels that were similar to those in F9 SPS1-sufficient cells. The results suggested that SPS1 is an essential mammalian enzyme with roles in regulating redox homeostasis and controlling cell growth.
Regulation of the T-box transcription factor Tbx3 by the tumour suppressor microRNA-206 in breast cancer.
British journal of cancer 2016 MAY
Abstract
BACKGROUND The Tbx3 transcription factor is over-expressed in breast cancer, where it has been implicated in proliferation, migration and regulation of the cancer stem cell population. The mechanisms that regulate Tbx3 expression in cancer have not been fully explored. In this study, we demonstrate that Tbx3 is repressed by the tumour suppressor miR-206 in breast cancer cells. METHODS Bioinformatics prediction programmes and luciferase reporter assays were used to demonstrate that miR-206 negatively regulates Tbx3. We examined the impact of miR-206 on Tbx3 expression in breast cancer cells using miR-206 mimic and inhibitor. Gene/protein expression was examined by quantitative reverse-transcription-PCR and immunoblotting. The effects of miR-206 and Tbx3 on apoptosis, proliferation, invasion and cancer stem cell population was investigated by cell-death detection, colony formation, 3D-Matrigel and tumorsphere assays. RESULTS In this study, we examined the regulation of Tbx3 by miR-206. We demonstrate that Tbx3 is directly repressed by miR-206, and that this repression of Tbx3 is necessary for miR-206 to inhibit breast tumour cell proliferation and invasion, and decrease the cancer stem cell population. Moreover, Tbx3 and miR-206 expression are inversely correlated in human breast cancer. Kaplan-Meier analysis indicates that patients exhibiting a combination of high Tbx3 and low miR-206 expression have a lower probability of survival when compared with patients with low Tbx3 and high miR-206 expression. These studies uncover a novel mechanism of Tbx3 regulation and identify a new target of the tumour suppressor miR-206. CONCLUSIONS The present study identified Tbx3 as a novel target of tumour suppressor miR-206 and characterised the miR-206/Tbx3 signalling pathway, which is involved in proliferation, invasion and maintenance of the cancer stem cell population in breast cancer cells. Our results suggest that restoration of miR-206 in Tbx3-positive breast cancer could be exploited for therapeutic benefit.
Evaluation of expansile nanoparticle tumor localization and efficacy in a cancer stem cell-derived model of pancreatic peritoneal carcinomatosis.
Nanomedicine (London, England) 2016 MAY
Abstract
AIM To evaluate the tumor localization and efficacy pH-responsive expansile nanoparticles (eNPs) as a drug delivery system for pancreatic peritoneal carcinomatosis (PPC) modeled in nude rats. METHODS & MATERIALS A Panc-1-cancer stem cell xeno1graft model of PPC was validated in vitro and in vivo. Tumor localization was tracked via in situ imaging of fluorescent eNPs. Survival of animals treated with paclitaxel-loaded eNPs (PTX-eNPs) was evaluated in vivo. RESULTS The Panc-1-cancer stem cell xenograft model recapitulates significant features of PPC. Rhodamine-labeled eNPs demonstrate tumor-specific, dose- and time-dependent localization to macro- and microscopic tumors following intraperitoneal injection. PTX-eNPs are as effective as free PTX in treating established PPC; but, PTX-eNPs result in fewer side effects. CONCLUSION eNPs are a promising tool for the detection and treatment of PPC.
Quality Statement:

PRODUCTS ARE FOR RESEARCH USE ONLY AND NOT INTENDED FOR HUMAN OR ANIMAL DIAGNOSTIC OR THERAPEUTIC USES UNLESS OTHERWISE STATED. FOR ADDITIONAL INFORMATION ON QUALITY AT STEMCELL, REFER TO WWW.STEMCELL.COM/COMPLIANCE.