Human Peripheral Blood Leukopak, Fresh
Primary human cells, fresh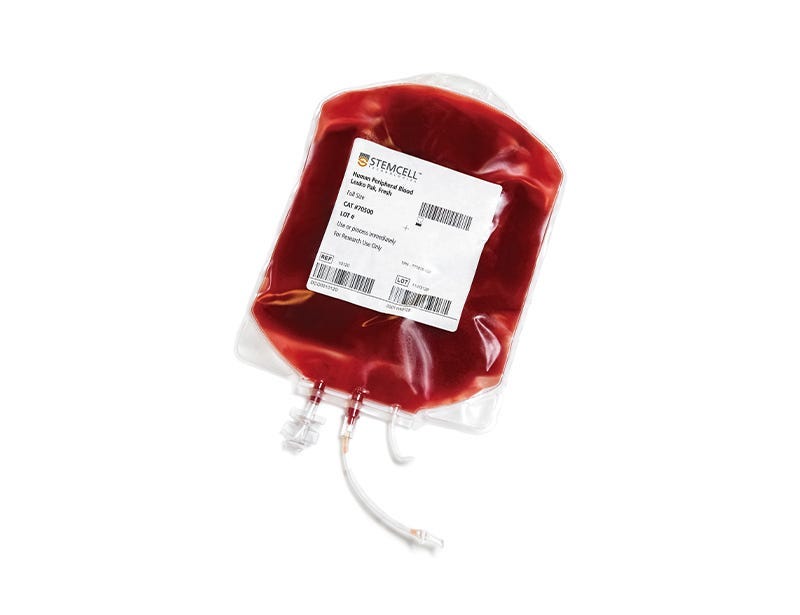 Products sold in North America are collected in the U.S. and Institutional Review Board (IRB)-approved. Products sold in the U.K. and EU are collected in the U.K. at a facility licensed by the HTA (Human Tissue Authority) and using consent forms and protocols approved by a Research Ethics Committee (REC).
Request Pricing
Thank you for your interest in this product. Please provide us with your contact information and your local representative will contact you with a customized quote. Where appropriate, they can also assist you with a(n):
Estimated delivery time for your area
Product sample or exclusive offer
In-lab demonstration
By submitting this form, you are providing your consent to STEMCELL Technologies Canada Inc. and its subsidiaries and affiliates ("STEMCELL") to collect and use your information, and send you newsletters and emails in accordance with our
privacy policy
. Please
contact us
with any questions that you may have. You can unsubscribe or change your
email preferences
at any time.
Products sold in North America are collected in the U.S. and Institutional Review Board (IRB)-approved. Products sold in the U.K. and EU are collected in the U.K. at a facility licensed by the HTA (Human Tissue Authority) and using consent forms and protocols approved by a Research Ethics Committee (REC).
Overview
Protocols and Documentation
Find supporting information and directions for use in the Product Information Sheet or explore additional protocols below.
Applications
This product is designed for use in the following research area(s) as part of the highlighted workflow stage(s). Explore these workflows to learn more about the other products we offer to support each research area.
Resources and Publications
Educational Materials
(11)
Publications
(3)
Gut-Liver Physiomimetics Reveal Paradoxical Modulation of IBD-Related Inflammation by Short-Chain Fatty Acids.
Cell systems 2020 mar
Abstract
Although the association between the microbiome and IBD and liver diseases is known, the cause and effect remain elusive. By connecting human microphysiological systems of the gut, liver, and circulating Treg and Th17 cells, we created a multi-organ model of ulcerative colitis (UC) ex vivo. The approach shows microbiome-derived short-chain fatty acids (SCFAs) to either improve or worsen UC severity, depending on the involvement of effector CD4 T cells. Using multiomics, we found SCFAs increased production of ketone bodies, glycolysis, and lipogenesis, while markedly reducing innate immune activation of the UC gut. However, during acute T cell-mediated inflammation, SCFAs exacerbated CD4+ T cell-effector function, partially through metabolic reprograming, leading to gut barrier disruption and hepatic injury. These paradoxical findings underscore the emerging utility of human physiomimetic technology in combination with systems immunology to study causality and the fundamental entanglement of immunity, metabolism, and tissue homeostasis.
Impact of mRNA chemistry and manufacturing process on innate immune activation.
Science advances 2020 jun
Abstract
Messenger RNA (mRNA) represents an attractive therapeutic modality for potentially a wide range of clinical indications but requires uridine chemistry modification and/or tuning of the production process to prevent activation of cellular innate immune sensors and a concomitant reduction in protein expression. To decipher the relative contributions of these factors on immune activation, here, we compared, in multiple cell and in vivo models, mRNA that encodes human erythropoietin incorporating either canonical uridine or N1-methyl-pseudouridine (1m$\Psi$), synthesized by either a standard process shown to have double-stranded RNA (dsRNA) impurities or a modified process that yields a highly purified mRNA preparation. Our data demonstrate that the lowest stimulation of immune endpoints was with 1m$\Psi$ made by the modified process, while mRNA containing canonical uridine was immunostimulatory regardless of process. These findings confirm that uridine modification and the reduction of dsRNA impurities are both necessary and sufficient at controlling the immune-activating profile of therapeutic mRNA.
Integrated gut/liver microphysiological systems elucidates inflammatory inter-tissue crosstalk.
Biotechnology and bioengineering 2017
Abstract
A capability for analyzing complex cellular communication among tissues is important in drug discovery and development, and in vitro technologies for doing so are required for human applications. A prominent instance is communication between the gut and the liver, whereby perturbations of one tissue can influence behavior of the other. Here, we present a study on human gut-liver tissue interactions under normal and inflammatory contexts, via an integrative multi-organ platform comprising human liver (hepatocytes and Kupffer cells), and intestinal (enterocytes, goblet cells, and dendritic cells) models. Our results demonstrated long-term (>2 weeks) maintenance of intestinal (e.g., barrier integrity) and hepatic (e.g., albumin) functions in baseline interaction. Gene expression data comparing liver in interaction with gut, versus isolation, revealed modulation of bile acid metabolism. Intestinal FGF19 secretion and associated inhibition of hepatic CYP7A1 expression provided evidence of physiologically relevant gut-liver crosstalk. Moreover, significant non-linear modulation of cytokine responses was observed under inflammatory gut-liver interaction; for example, production of CXCR3 ligands (CXCL9,10,11) was synergistically enhanced. RNA-seq analysis revealed significant upregulation of IFNα/β/γ signaling during inflammatory gut-liver crosstalk, with these pathways implicated in the synergistic CXCR3 chemokine production. Exacerbated inflammatory response in gut-liver interaction also negatively affected tissue-specific functions (e.g., liver metabolism). These findings illustrate how an integrated multi-tissue platform can generate insights useful for understanding complex pathophysiological processes such as inflammatory organ crosstalk. Biotechnol. Bioeng. 2017;114: 2648-2659. textcopyright 2017 Wiley Periodicals, Inc.
Quality Statement:

PRODUCTS ARE FOR RESEARCH USE ONLY AND NOT INTENDED FOR HUMAN OR ANIMAL DIAGNOSTIC OR THERAPEUTIC USES UNLESS OTHERWISE STATED.