Take Your Cells Further
Virtual Conference Exhibition at ISSCR 2020
It is important for scientists to keep current with the latest advances and innovations. Whether you are attending virtually from June 24 - 27 or just want to see what's new, you can explore this page to stay connected with your field and continue learning, discovering, and celebrating science.
Browse through sessions, resources, and upcoming products below for your stem cell research. Scientific talks and posters presented at ISSCR will be added here following the conference, so bookmark this page and follow @STEMCELLTech on Twitter for updates. ISSCR 2020 will begin in:
Sessions & Posters
Join STEMCELL scientists for exciting new Innovation Showcases, posters, and a detailed Focus Session with COREdinates.
12:00 - 15:00 EDT
Focus Session: Recent Insights and Trends in Pluripotent Stem Cell Research (Part of COREdinates Group: Tools for Basic and Applied Stem Cell Technology)
Speaker: Andrew Gaffney, PhD
13:00-14:00 EDT
Speaker: Juan Hou, PhD
Juan Hou is the Senior Scientist and Team Lead for the Pulmonary Tissue Team at STEMCELL Technologies. Juan obtained her MD from China and her PhD in developmental biology from Osaka University, Japan. Following her PhD studies, Juan moved to Vancouver and worked at the Terry Fox Laboratory of British Columbia Cancer Research Center as a Postdoctoral Fellow (and subsequently a Research Associate), where her main research was focused on studying the formation, patterning, and differentiation of definitive endoderm, the progenitor cells of the epithelial lining of respiratory and digestive tracts. She brings 15+ years of research experience in developmental biology and respiratory research to her current position. She is currently overseeing the existing pulmonary product portfolios and the development of new products that support cutting-edge respiratory research.
Speaker: Martin Stahl, PhD
Martin Stahl received a PhD in Microbiology at the University of Ottawa and conducted his postdoctoral research with Dr. Bruce Vallance at the University of British Columbia and the BC Children's Hospital Research Institute, where he studied infection and immunity in the gut. Martin now works with STEMCELL Technologies developing applications and assays for intestinal organoid cultures.
Speaker: Philipp Kramer, PhD
Philipp Kramer attended Freie Universität Berlin, where he studied biology. After obtaining his PhD, he undertook postdoctoral training at the University of Texas, followed by another fellowship at the Wellcome Trust Centre for Human Genetics in Oxford. In 2016, Philipp joined the Intestinal Team at STEMCELL Technologies and has successfully launched the STEMdiff™ Intestinal and Kidney Organoid Kits.
14:00 EDT
Poster: High-Throughput-Compatible Differentiation of Human Pluripotent Stem Cell Lines into Kidney Organoids for Nephrotoxic Drug Screening
Philipp Kramer, PhD | Senior Scientist, Intestinal R&D
Session 1, # MDD186
14:00 EDT
Poster: Cloning, Gene Editing and Expansion of High-Quality Human Pluripotent Stem Cells Improve Through Medium Optimization
Matthew Wong, BSc | Scientist, Pluripotent Stem Cell R&D
Poster Session 1, # CI281
14:00 EDT
Poster: Optimized Animal Component-Free Medium and Workflow for the Expansion of Human Stem Cells as Aggregates in Suspension Cultures
Eric Jervis, PhD | Principal Scientist, Bioengineering
Poster Session 1, # CA220
14:00 EDT
Poster: Generation of T and NK Cells from Pluripotent Stem Cell-Derived Hematopoietic Progenitors in a Stroma-Free, Serum-Free Culture System
Nooshin Tabatabaei-Zavareh, MD, PhD | Senior Scientist, Hematopoietic R&D
Poster Session 1, # CA162
19:00-19:30 EDT
Speaker: Nooshin Tabatabaei-Zavareh, MD, PhD
Nooshin Tabatabaei-Zavareh is a Senior Scientist in Research and Development at STEMCELL Technologies. In 2007, she received her PhD in Immunology at the University of British Columbia where she studied NK cell development. Over the past 11 years, she has contributed to the development of products for immunology research at STEMCELL. Nooshin currently leads the Immune Cell Culture Team in providing solutions for the generation, expansion, and differentiation of immune cells.
19:30-20:00 EDT
Speaker: Amanda Fentiman, MSc
Amanda Fentiman is a Product Manager on the Hematopoietic Team at STEMCELL Technologies. In 2013 she received her MSc in Interdisciplinary Oncology from the University of British Columbia, where she identified transcription factors involved in hematopoietic stem cell development in mouse embryos. Since 2014, Amanda has worked at STEMCELL supporting the growth and development of products, including StemSpan™, MethoCult™, and STEMvision™.
14:00 EDT
Poster: Methods for Media for the Differentiation of Human Intestinal Organoids and Organoid-Derived Monolayers
Martin Stahl, PhD | Scientist, Intestinal R&D
Poster Session 4, #MDD493
14:30 EDT
YouTube Live Chat with STEMCELL Technologies
Explore Resources by Research Area
Browse webinars, brochures, and technical support materials for your research area.
Organoids
Human Pluripotent Stem Cells
Hematopoietic Stem and Progenitor Cells
Watch the Livestream with STEMCELL Technologies and the Stem Cell Podcast
Join Daylon and Arun from the Stem Cell Podcast for a daily roundup of their favorite sessions. Subscribe to the STEMCELL Technologies YouTube channel to be the first to know when a new video is out.
Meet the Team

Scientists Helping Scientists™
Get to know the STEMCELL team at ISSCR, including scientific presenters and representatives at the virtual exhibit.
Join the Conversation
Tweet at us @STEMCELLTech on Twitter using #ISSCR2020.
Watch Scientific Talks and Presentations
Not able to make the talks and sessions? Watch past scientific talks and presentations on demand. Recorded talks from ISSCR 2020 will also be made available following the conference.
Browse Scientific Posters
Find out what STEMCELL scientists have been working on.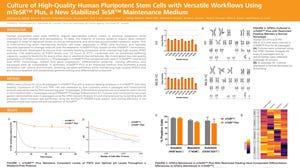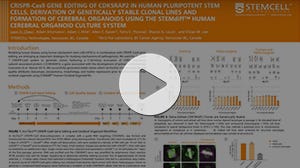 Leon Chew, MSc, Scientist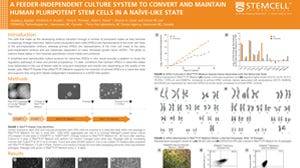 Kimberly Snyder, MSc, Scientist
Explore More Technical Resources