STEMdiff™ Mesenchymal Progenitor Kit
Defined culture kit for derivation and expansion of mesenchymal progenitor cells
Overview
STEMdiff™ Mesenchymal Progenitor Kit is a defined culture kit consisting of animal component-free (ACF) induction medium, expansion medium, and attachment substrate. It is optimized for the derivation of cells with mesenchymal progenitor cell (MPC)-like properties from human embryonic stem (ES) cells or induced pluripotent stem (iPS) cells. This kit provides a complete workflow of defined reagents for derivation and expansion of human ES- or iPS-derived MPCs.
Advantages
• Serum- and animal component-free formulation
• Efficient and reproducible generation of MPCs from human ES and iPS cell lines
• Rapid derivation of MPCs in 3 weeks
• Generates MPCs capable of long-term expansion and differentiation to adipocytes, osteoblasts, and chondrocytes
Components
STEMdiff™-ACF Mesenchymal Induction Medium, 100 mL
MesenCult™-ACF Plus Medium, 500 mL
MesenCult™-ACF Plus 500X Supplement, 1 mL
Animal Component-Free Cell Attachment Substrate, 1 mL
Subtype
Specialized Media
Cell Type
Mesenchymal Cells, PSC-Derived
Application
Cell Culture, Differentiation
Area of Interest
Stem Cell Biology
Formulation
Animal Component-Free, Serum-Free
Scientific Resources
Educational Materials
(8)
Product Applications
This product is designed for use in the following research area(s) as part of the highlighted workflow stage(s). Explore these workflows to learn more about the other products we offer to support each research area.
Data and Publications
Data

Figure 1. Schematic of Differentiation Protocol and Timeline
In Phase 1, human ES or iPS cells are cultured in mTeSR™1 or TeSR™-E8™ medium. On Day 0 (Phase 2) of the protocol, cells are ready for induction into early mesoderm progenitor cells by replacing TeSR™ medium with STEMdiff™ Mesenchymal Induction Medium. By Day 4 (Phase 3), STEMdiff™ Mesenchymal Induction Medium is replaced with MesenCult™-ACF Medium to derive early mesenchymal progenitor cells (MPCs). On Day 6, cells are passaged onto cultureware precoated with MesenCult™-ACF Attachment Substrate in MesenCult™-ACF Medium. By Day 21, human ES- or iPS-derived MPCs exhibit the suggested MPC characteristics.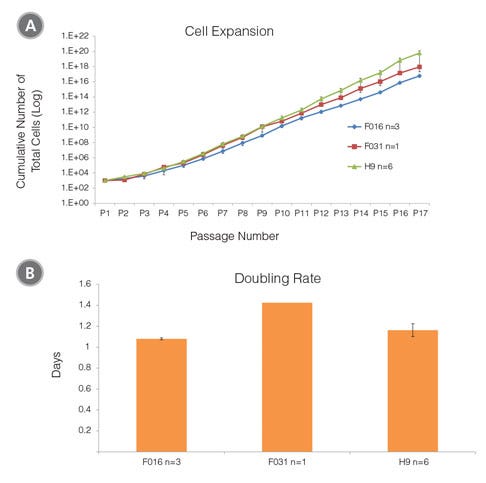 Figure 2. Cell Expansion and Doubling Rate of MPCs Derived from Human ES (H9) and iPS (STiPS-F016 and -F031) Cells in MesenCult™-ACF Medium
(A) The average cell expansion per passage over 17 passages for MPCs derived from human ES and iPS cell lines are approximately 9 and 10 fold. (B) Days to double cell number for human ES- and iPS-derived MPCs range from 1.1 to 1.4 days.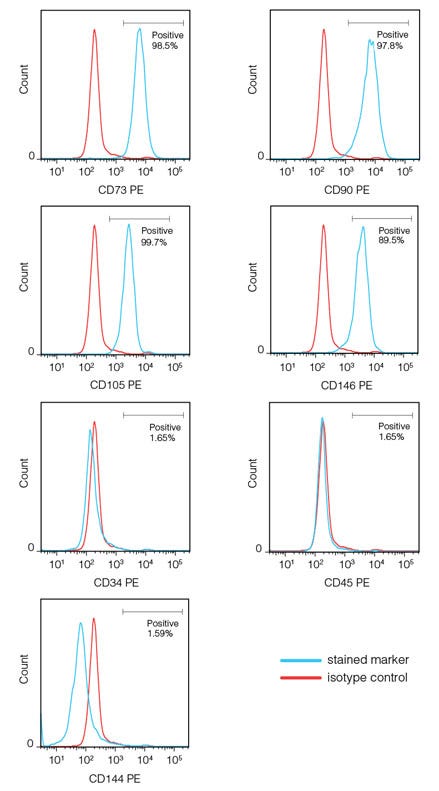 Figure 3. A Representative Flow Cytometric Analysis of STiPS-F016-derived MPCs Expressing Mesenchymal Surface Markers By Day 21
Human iPS-derived MPCs, generated using the STEMdiff™ Mesenchymal Progenitor Kit, express high levels of mesenchymal surface markers (CD73, CD90 and CD105) and the perivascular marker, CD146. MPCs do not express hematopoietic (CD34, CD45) and endothelial (CD144) surface markers. Human ES-derived MPCs express the same phenotype (data not shown).
Figure 4. Human ES- and iPS-derived MPCs Can Be Further Differentiated Into Adipogenic, Chondrogenic and Osteogenic Lineages
(A) MPCs generated from the 3 week protocol (described in Figure 1) and subsequently cultured in MesenCult™-ACF Medium develop MPC-like morphology (40X magnification). MPCs can be differentiated to (B) adipocytes (Oil Red O staining), 400X magnification; (C) chondrocytes (Alcian Blue staining), 100X magnification; and (D) osteoblasts (Fast Red and Silver Nitrate staining), 100X magnification.
Legal Statement:

CollPlant is the manufacturer of the rhCollagen component of the cell attachment substrate.

Quality Statement:

PRODUCTS ARE FOR RESEARCH USE ONLY AND NOT INTENDED FOR HUMAN OR ANIMAL DIAGNOSTIC OR THERAPEUTIC USES UNLESS OTHERWISE STATED. FOR ADDITIONAL INFORMATION ON QUALITY AT STEMCELL, REFER TO WWW.STEMCELL.COM/COMPLIANCE.