Overview
STEMdiff™ Mesenchymal Progenitor Kit is a defined culture kit consisting of animal component-free (ACF) induction medium, expansion medium, and attachment substrate. It is optimized for the derivation of cells with mesenchymal progenitor cell (MPC)-like properties from human embryonic stem (ES) cells or induced pluripotent stem (iPS) cells. This kit provides a complete workflow of defined reagents for derivation and expansion of human ES- or iPS-derived MPCs.
Advantages:
• Serum- and animal component-free formulation
• Efficient and reproducible generation of MPCs from human ES and iPS cell lines
• Rapid derivation of MPCs in 3 weeks
• Generates MPCs capable of long-term expansion and differentiation to adipocytes, osteoblasts, and chondrocytes
Components:
STEMdiff™-ACF Mesenchymal Induction Medium, 100 mL
MesenCult™-ACF Plus Medium, 500 mL
MesenCult™-ACF Plus 500X Supplement, 1 mL
Animal Component-Free Cell Attachment Substrate, 1 mL
Subtype:
Specialized Media
Cell Type:
Mesenchymal Cells, PSC-Derived
Application:
Cell Culture; Differentiation
Area of Interest:
Stem Cell Biology
Formulation:
Animal Component-Free; Serum-Free
Scientific Resources
Product Documentation
Document Type
Product Name
Catalog #
Lot #
Language
05240
Component 05241: MFG date March 2019 or earlier
05240
Component 05241: EXP date August 2021 or later
Educational Materials
(9)
Product Applications
This product is designed for use in the following research area(s) as part of the highlighted workflow stage(s). Explore these workflows to learn more about the other products we offer to support each research area.
Research Area
Workflow Stages for
Data and Publications
Data

Figure 1. Schematic of Differentiation Protocol and Timeline
In Phase 1, human ES or iPS cells are cultured in mTeSR™1 or TeSR™-E8™ medium. On Day 0 (Phase 2) of the protocol, cells are ready for induction into early mesoderm progenitor cells by replacing TeSR™ medium with STEMdiff™ Mesenchymal Induction Medium. By Day 4 (Phase 3), STEMdiff™ Mesenchymal Induction Medium is replaced with MesenCult™-ACF Medium to derive early mesenchymal progenitor cells (MPCs). On Day 6, cells are passaged onto cultureware precoated with MesenCult™-ACF Attachment Substrate in MesenCult™-ACF Medium. By Day 21, human ES- or iPS-derived MPCs exhibit the suggested MPC characteristics.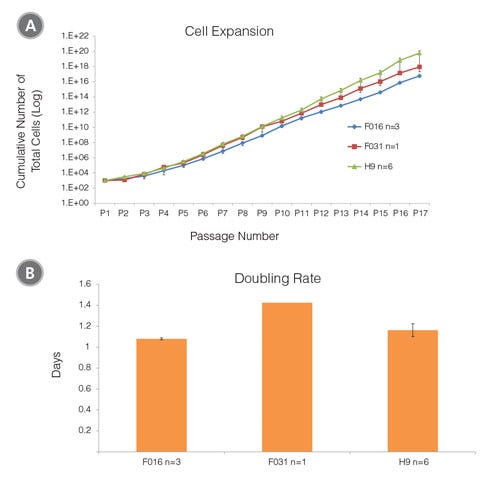 Figure 2. Cell Expansion and Doubling Rate of MPCs Derived from Human ES (H9) and iPS (STiPS-F016 and -F031) Cells in MesenCult™-ACF Medium
(A) The average cell expansion per passage over 17 passages for MPCs derived from human ES and iPS cell lines are approximately 9 and 10 fold. (B) Days to double cell number for human ES- and iPS-derived MPCs range from 1.1 to 1.4 days.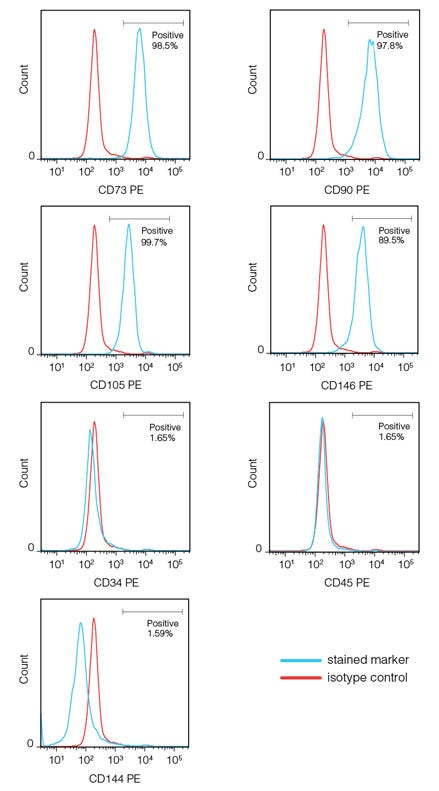 Figure 3. A Representative Flow Cytometric Analysis of STiPS-F016-derived MPCs Expressing Mesenchymal Surface Markers By Day 21
Human iPS-derived MPCs, generated using the STEMdiff™ Mesenchymal Progenitor Kit, express high levels of mesenchymal surface markers (CD73, CD90 and CD105) and the perivascular marker, CD146. MPCs do not express hematopoietic (CD34, CD45) and endothelial (CD144) surface markers. Human ES-derived MPCs express the same phenotype (data not shown).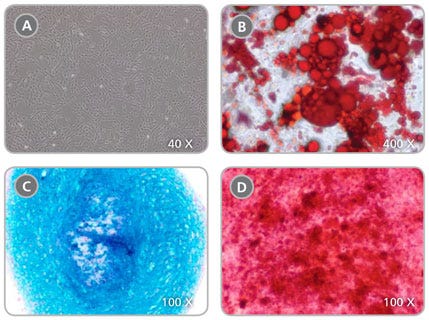 Figure 4. Human ES- and iPS-derived MPCs Can Be Further Differentiated Into Adipogenic, Chondrogenic and Osteogenic Lineages
(A) MPCs generated from the 3 week protocol (described in Figure 1) and subsequently cultured in MesenCult™-ACF Medium develop MPC-like morphology (40X magnification). MPCs can be differentiated to (B) adipocytes (Oil Red O staining), 400X magnification; (C) chondrocytes (Alcian Blue staining), 100X magnification; and (D) osteoblasts (Fast Red and Silver Nitrate staining), 100X magnification.
Publications
(2)
BMC cancer 2019 jun
miR-520d-5p can reduce the mutations in hepatoma cancer cells and iPSCs-derivatives.
Abstract
BACKGROUND Human microRNAs (miRNAs) have diverse functions in biology, and play a role in nearly every biological process. Here we report that miR-520d-5p (520d-5p) causes undifferentiated cancer cells to adopt benign or normal status in vivo in immunodeficient mice via demethylation and P53 upregulation. Further we found that 520-5p causes normal cells to elongate cellular lifetime and mesenchymal stem cell-like status with CD105 positivity. We hypothesized that ectopic 520d-5p expression reduced mutations in undifferentiated type of hepatoma (HLF) cells through synergistic modulation of methylation-related enzymatic expression. METHODS To examine whether there were any changes in mutation status in cells treated with 520d-5p, we performed next generation sequencing (NGS) in HLF cells and human iPSC-derivative cells in pre-mesenchymal stem cell status. We analyzed the data using both genome-wide and individual gene function approaches. RESULTS 520d-5p induced a shift towards a wild type or non-malignant phenotype, which was regulated by nucleotide mutations in both HLF cells and iPSCs. Further, 520d-5p reduced mutation levels in both the whole genome and genomic fragment assemblies. CONCLUSIONS Cancer cell genomic mutations cannot be repaired in most contexts. However, these findings suggest that applied development of 520d-5p would allow new approaches to cancer research and improve the quality of iPSCs used in regenerative medicine.
Nature 2018
Linking a cell-division gene and a suicide gene to define and improve cell therapy safety.
Abstract
Human pluripotent cell lines hold enormous promise for the development of cell-based therapies. Safety, however, is a crucial prerequisite condition for clinical applications. Numerous groups have attempted to eliminate potentially harmful cells through the use of suicide genes1, but none has quantitatively defined the safety level of transplant therapies. Here, using genome-engineering strategies, we demonstrate the protection of a suicide system from inactivation in dividing cells. We created a transcriptional link between the suicide gene herpes simplex virus thymidine kinase (HSV-TK) and a cell-division gene (CDK1); this combination is designated the safe-cell system. Furthermore, we used a mathematical model to quantify the safety level of the cell therapy as a function of the number of cells that is needed for the therapy and the type of genome editing that is performed. Even with the highly conservative estimates described here, we anticipate that our solution will rapidly accelerate the entry of cell-based medicine into the clinic.
STEMCELL TECHNOLOGIES INC.'S QUALITY MANAGEMENT SYSTEM IS CERTIFIED TO ISO 13485. PRODUCTS ARE FOR RESEARCH USE ONLY AND NOT INTENDED FOR HUMAN OR ANIMAL DIAGNOSTIC OR THERAPEUTIC USES UNLESS OTHERWISE STATED.