Tube for density gradient centrifugation for in vitro diagnostic (IVD) applications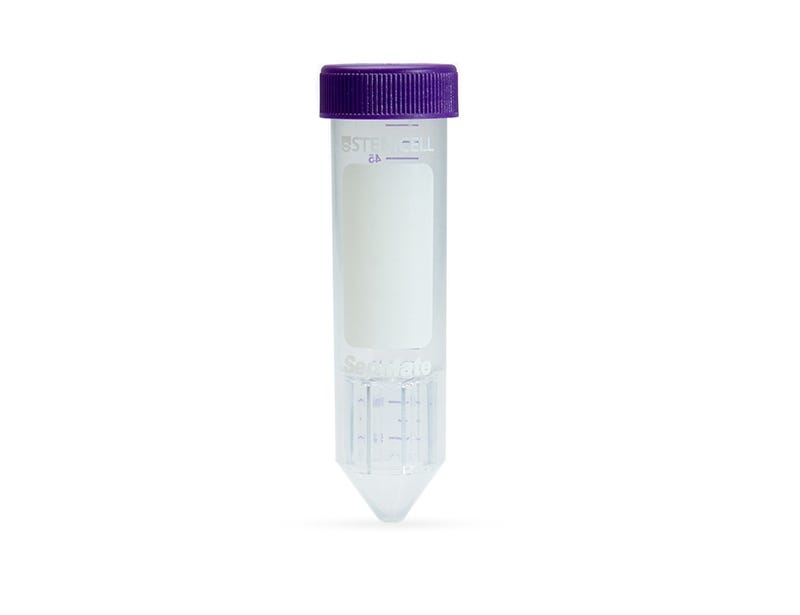 Try SepMate™-50 (IVD) tubes for density gradient centrifugation in your IVD applications. Request a Sample
Request Pricing
Thank you for your interest in this product. Please provide us with your contact information and your local representative will contact you with a customized quote. Where appropriate, they can also assist you with a(n):
Estimated delivery time for your area
Product sample or exclusive offer
In-lab demonstration
By submitting this form, you are providing your consent to STEMCELL Technologies Canada Inc. and its subsidiaries and affiliates ("STEMCELL") to collect and use your information, and send you newsletters and emails in accordance with our
privacy policy
. Please
contact us
with any questions that you may have. You can unsubscribe or change your
email preferences
at any time.
Try SepMate™-50 (IVD) tubes for density gradient centrifugation in your IVD applications. Request a Sample
Products for Your Protocol
What Our Scientist Says
Traditional isolation of PBMCs requires careful layering of blood onto density gradient media prior to centrifugation. We developed SepMate™ to simplify this process, so anyone can isolate PBMCs with a simple pour while maintaining consistency across samples.
Peter Morin
Technical Scientist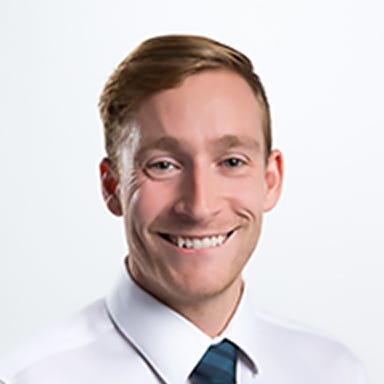 Overview
Simplify peripheral blood mononuclear cell (PBMC) isolation by incorporating SepMate™ into your density gradient centrifugation step.
SepMate™ tubes contain an insert that creates a barrier between the density gradient medium and blood, thus eliminating the need for careful blood layering and allowing mononuclear cells to be easily harvested with a simple pour. This product can be used with
RosetteSep™
to isolate specific immune cell subsets.
SepMate™ is manufactured under cGMP and registered as an In Vitro Diagnostic (IVD) device in Australia, Canada, Europe, and the USA. In China, SepMate™ is considered a nonmedical device by the China Food and Drug Administration (CFDA) and should be used as general lab equipment. The end user is responsible for determining whether the product is suitable for their specific application.
Browse our
Frequently Asked Questions (FAQs)
on SepMate™.
Contains
Polypropylene tube containing an insert
Subtype
Centrifugation Tubes
Cell Type
B Cells, Dendritic Cells, Monocytes, Mononuclear Cells, NK Cells, T Cells, T Cells, CD4+, T Cells, CD8+, T Cells, Other Subsets, T Cells, Regulatory
Sample Source
Bone Marrow, Whole Blood
Selection Method
Negative
Application
Cell Isolation, In Vitro Diagnostic
Area of Interest
Chimerism, HLA, Immunology
Data Figures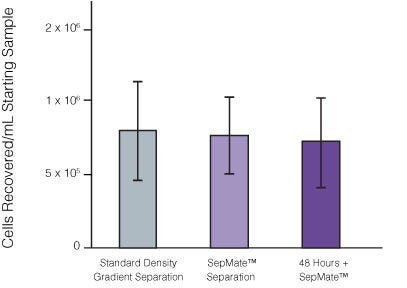 Figure 1. Recovery of mononuclear cells (MNCs) from peripheral blood using SepMate™-50 versus standard density gradient centrifiguation. Recovery of MNCs from fresh and 48-hour post blood draw enriched by density gradient centrifugation with SepMate™ (purple) or without (grey). There was no significant difference in the recovery of MNCS with and without SepMate™.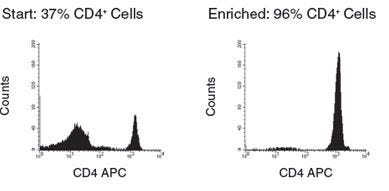 Figure 2. Human CD4+ T Cell Isolation using SepMate™-50 and RosetteSep™ Human CD4+ T Cell Enrichment Cocktail
Protocols and Documentation
Find supporting information and directions for use in the Product Information Sheet or explore additional protocols below.
Document Type
Product Name
Catalog #
Lot #
Language
Applications
This product is designed for use in the following research area(s) as part of the highlighted workflow stage(s). Explore these workflows to learn more about the other products we offer to support each research area.
Resources and Publications
Educational Materials
(11)
Publications
(44)
Profiling HPV-16-specific T cell responses reveals broad antigen reactivities in oropharyngeal cancer patients.
The Journal of experimental medicine 2020 oct
Abstract
Cellular immunotherapeutics targeting the human papillomavirus (HPV)-16 E6 and E7 proteins have achieved limited success in HPV-positive oropharyngeal cancer (OPC). Here we have conducted proteome-wide profiling of HPV-16-specific T cell responses in a cohort of 66 patients with HPV-associated OPC and 22 healthy individuals. Unexpectedly, HPV-specific T cell responses from OPC patients were not constrained to the E6 and E7 antigens; they also recognized E1, E2, E4, E5, and L1 proteins as dominant targets for virus-specific CD8+ and CD4+ T cells. Multivariate analysis incorporating tumor staging, treatment status, and smoking history revealed that treatment status had the most significant impact on HPV-specific CD8+ and CD4+ T cell immunity. Specifically, the breadth and overall strength of HPV-specific T cell responses were significantly higher before the commencement of curative therapy than after therapy. These data provide the first glimpse of the overall human T cell response to HPV in a clinical setting and offer groundbreaking insight into future development of cellular immunotherapies for HPV-associated OPC patients.
The Effect of Bovine Viral Diarrhea Virus (BVDV) Strains and the Corresponding Infected-Macrophages' Supernatant on Macrophage Inflammatory Function and Lymphocyte Apoptosis.
Viruses 2020 jun
Abstract
Bovine viral diarrhea virus (BVDV) is an important viral disease of cattle that causes immune dysfunction. Macrophages are the key cells for the initiation of the innate immunity and play an important role in viral pathogenesis. In this in vitro study, we studied the effect of the supernatant of BVDV-infected macrophage on immune dysfunction. We infected bovine monocyte-derived macrophages (MDM) with high or low virulence strains of BVDV. The supernatant recovered from BVDV-infected MDM was used to examine the functional activity and surface marker expression of normal macrophages as well as lymphocyte apoptosis. Supernatants from the highly virulent 1373-infected MDM reduced phagocytosis, bactericidal activity and downregulated MHC II and CD14 expression of macrophages. Supernatants from 1373-infected MDM induced apoptosis in MDBK cells, lymphocytes or BL-3 cells. By protein electrophoresis, several protein bands were unique for high-virulence, 1373-infected MDM supernatant. There was no significant difference in the apoptosis-related cytokine mRNA (IL-1beta, IL-6 and TNF-a) of infected MDM. These data suggest that BVDV has an indirect negative effect on macrophage functions that is strain-specific. Further studies are required to determine the identity and mechanism of action of these virulence factors present in the supernatant of the infected macrophages.
Vaccination of koalas during antibiotic treatment for Chlamydia-induced cystitis induces an improved antibody response to Chlamydia pecorum.
Scientific reports 2020 jun
Abstract
Chlamydia infection and disease are endemic in free-ranging koalas. Antibiotics remain the front line treatment for Chlamydia in koalas, despite their rates of treatment failure and adverse gut dysbiosis outcomes. A Chlamydia vaccine for koalas has shown promise for replacing antibiotic treatment in mild ocular Chlamydia disease. In more severe disease presentations that require antibiotic intervention, the effect of vaccinating during antibiotic use is not currently known. This study investigated whether a productive immune response could be induced by vaccinating koalas during antibiotic treatment for Chlamydia-induced cystitis. Plasma IgG antibody levels against the C. pecorum major outer membrane protein (MOMP) dropped during antibiotic treatment in both vaccinated and unvaccinated koalas. Post-treatment, IgG levels recovered. The IgG antibodies from naturally-infected, vaccinated koalas recognised a greater proportion of the MOMP protein compared to their naturally-infected, unvaccinated counterparts. Furthermore, peripheral blood mononuclear cell gene expression revealed an up-regulation in genes related to neutrophil degranulation in vaccinated koalas during the first month post-vaccination. These findings show that vaccination of koalas while they are being treated with antibiotics for cystitis can result in the generation of a productive immune response, in the form of increased and expanded IgG production and host response through neutrophil degranulation.
Legal Statement:

SepMate™ (IVD) is only available in regions where it is registered as an In Vitro Diagnostic (IVD) device for the isolation of MNCs from whole blood or bone marrow by density gradient centrifugation. SepMate™ is manufactured under a cGMP quality managment system compliant to 21 CFR 820.

Quality Statement:

PRODUCTS ARE FOR RESEARCH USE ONLY AND NOT INTENDED FOR HUMAN OR ANIMAL DIAGNOSTIC OR THERAPEUTIC USES UNLESS OTHERWISE STATED. FOR ADDITIONAL INFORMATION ON QUALITY AT STEMCELL, REFER TO WWW.STEMCELL.COM/COMPLIANCE.