IntestiCult™ Organoid Growth Medium (Human)
Cell culture medium for establishment and maintenance of human intestinal organoids
You may notice that your reagent packaging looks slightly different from images displayed here or from previous orders. Due to pandemic-related plasticware shortages, we are temporarily using alternative bottles for this product. Rest assured that the products themselves and how you should use them have not changed.
Overview
Model key characteristics of the adult intestinal epithelium using intestinal organoids established and maintained with this complete medium formulation and optimized protocol. Using the easy-to-follow and robust protocol, you can derive organoids from human intestinal crypts in one week; organoid growth across donor samples, including those that are otherwise difficult to grow, is enabled by an enriched stem cell population.
Organoids grown in IntestiCult™ Organoid Growth Medium (Human) incorporate a functional lumen enclosed by a polarized intestinal epithelial cell layer and, for versatile modeling applications, can be further differentiated in 3D or in 2D as submerged monolayers or air-liquid interface (ALI) cultures using
IntestiCult™ Organoid Differentiation Medium (Human
; Catalog #100-0214).
Applications of intestinal organoid cultures include studying the development and function of intestinal epithelium, modeling intestinal diseases, and screening molecules for both efficacy and toxicity in an intestinal model. Intestinal organoid cultures can also be used for investigation of adult stem cell properties and for regenerative therapy approaches.
Advantages
• Convenient, in vitro system that recapitulates many key characteristics of the adult intestinal epithelium, including intra- and intercellular signaling, self-propagating stem cell niche, and functional transport into and out of the lumen
• Complete medium formulation that delivers consistent results
• Enables generation of intestinal organoids in one week
• Easy-to-use format and optimized protocol
Components
IntestiCult™ OGM Human Basal Medium, 50 mL
Organoid Supplement, 50 mL
Subtype
Specialized Media
Cell Type
Intestinal Cells
Application
Cell Culture, Differentiation, Expansion, Maintenance, Organoid Culture
Area of Interest
Disease Modeling, Drug Discovery and Toxicity Testing, Epithelial Cell Biology, Stem Cell Biology
Scientific Resources
Educational Materials
(45)
Load More Educational Materials
Product Applications
This product is designed for use in the following research area(s) as part of the highlighted workflow stage(s). Explore these workflows to learn more about the other products we offer to support each research area.
Data and Publications
Data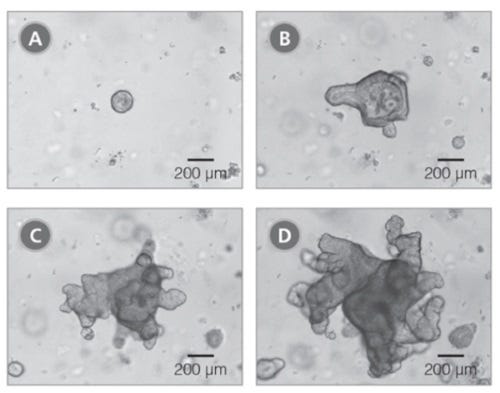 Figure 1. Primary Organoids Grown in IntestiCult™ Organoid Growth Medium (Human) are Fully Mature After 10-14 Days in Culture
Primary organoids were cultured from human colonic biopsy samples and grown in IntestiCult Organoid Growth Medium (Human). Organoids were imaged after (A) two days, (B) six days, (C) eight days and (D) ten days growth.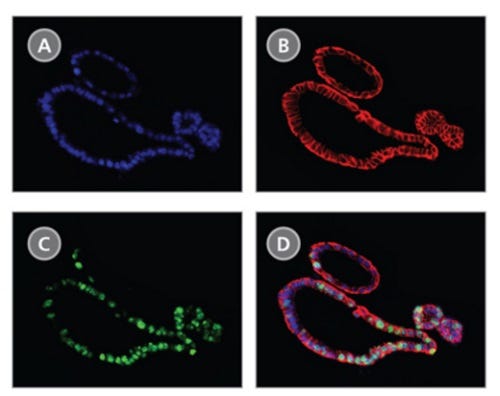 Figure 2. Organoids Grown in IntestiCult™ Organoid Growth Medium (Human) Display Markers of Human Intestinal Epithelial Cells
Immunofluorescence of organoids grown in IntestiCult™ Organoid Growth Medium (Human) showing colocalization of (A) DAPI, (B) EPCAM and (C) Ki67. (D) A merged image shows the position of actively proliferating (Ki67+) intestinal stem cells within the epithelial layer (EPCAM+).

Figure 3. Forskolin-Induced Swelling of Organoids Grown in IntestiCult™ Organoid Growth Medium (Human)
Organoids were treated with (A) 5 μM Forskolin or (B) DMSO and organoid area was measured at 0 minutes and 120 minutes. (C)Forskolin-treated organoids increased in size 33.5 ± 3.8% compared to 7.5 ± 0.8% for DMSO-treated organoids.
Legal Statement:

This product was developed under a license to intellectual property owned by Hubrecht Organoid Technology (HUB). This product is sold for research use only. Purchase of this product does not include the right to use this product for growing organoids for drug screening aiming for commercial gain or for other commercial purposes. Purchasers wishing to use the product for purposes other than research use should contact HUB to obtain a further license (an "Organoid-Growth License"). Purchasers may apply for an Organoid-Growth License from HUB and such license will not be unreasonably withheld by HUB.

Quality Statement:

PRODUCTS ARE FOR RESEARCH USE ONLY AND NOT INTENDED FOR HUMAN OR ANIMAL DIAGNOSTIC OR THERAPEUTIC USES UNLESS OTHERWISE STATED. FOR ADDITIONAL INFORMATION ON QUALITY AT STEMCELL, REFER TO WWW.STEMCELL.COM/COMPLIANCE.