7-AAD (7-Aminoactinomycin D)
Cell viability dye (DNA-labeling dye)
Overview
7‐AAD (7‐Aminoactinomycin D) is a fluorescent cell viability dye which is excluded from live cells with intact membranes but penetrates dead or damaged cells and binds to double‐stranded DNA with high affinity by intercalating between GC base pairs. It is often used as an alternative to propidium iodide (PI; Catalog #75002) to differentiate and exclude non-viable cells in flow cytometric analyses, and can be excited using 488 nm (blue), 532 nm (green), and 561 nm (yellow-green) laser lines. Compared to PI, 7-AAD offers the advantage of having minimal overlap in its emission spectra with mostly blue and green, and many red fluorophores, including the commonly used phycoerythrin (PE) and fluorescein isothiocyanate (FITC). 7‐AAD is also used in DNA fluorescence imaging applications to discriminate early and late stages of apoptosis, to study cell‐mediated cytotoxicity, and for chromosome banding analysis. 7‐AAD has been found to exhibit antibacterial properties and exhibits growth‐inhibitory activity against certain types of leukemia and sarcoma.
Species
Human, Mouse, Rat, Non-Human Primate, Other
Application
Flow Cytometry, Immunocytochemistry, Immunofluorescence
Area of Interest
Immunology, Neuroscience, Stem Cell Biology
Chemical Formula
C₆₂H₈₇N₁₃O₁₆
Molecular Weight
1270.4 g/mol
Data Figures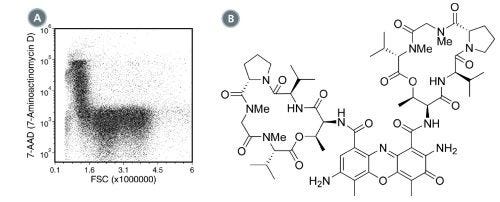 Figure 1. (A) Flow cytometry analysis of human peripheral blood mononuclear cells (PBMCs) labeled with 7-AAD (7-Aminoactinomycin D)
(B) Chemical structure of 7-AAD (7-Aminoactinomycin D).
Protocols and Documentation
Find supporting information and directions for use in the Product Information Sheet or explore additional protocols below.
Document Type
Product Name
Catalog #
Lot #
Language
Applications
This product is designed for use in the following research area(s) as part of the highlighted workflow stage(s). Explore these workflows to learn more about the other products we offer to support each research area.
Resources and Publications
Educational Materials
(1)
Quality Statement:

PRODUCTS ARE FOR RESEARCH USE ONLY AND NOT INTENDED FOR HUMAN OR ANIMAL DIAGNOSTIC OR THERAPEUTIC USES UNLESS OTHERWISE STATED. FOR ADDITIONAL INFORMATION ON QUALITY AT STEMCELL, REFER TO WWW.STEMCELL.COM/COMPLIANCE.