Overview
mTeSR™1 is the most widely published feeder-free cell culture medium for human embryonic stem cells (ES cells) and induced pluripotent stem cells (iPS cells), with established protocols for applications ranging from derivation to differentiation. It has been used to successfully maintain hundreds of ES and iPS cell lines in over 40 countries, and has supported top pluripotent stem cell publications and researchers. mTeSR™1 is a highly specialized, serum-free, and complete cell culture medium. With pre-screened raw materials that ensure batch-to-batch consistency and robust feeder-free protocols for ES and iPS cell culture, mTeSR™1 provides more consistent cultures with homogeneous, undifferentiated phenotypes.
Components:
mTeSR™1 Complete Kit (Catalog #05850)

mTeSR™1 Basal Medium, 400 mL
mTeSR™1 5X Supplement, 100 mL

mTeSR™1 Complete Kit, 1 L (Catalog #05857)

mTeSR™1 Basal Medium, 800 mL
mTeSR™1 5X Supplement, 100 mL, 2 Bottles

mTeSR™1 Complete Kit, 10 Pack (Catalog #05870)

mTeSR™1 Basal Medium, 400 mL, 10 Bottles
mTeSR™1 5X Supplement, 100 mL, 10 Bottles

mTeSR™1 Complete Kit, 25 Pack (Catalog #05875)

mTeSR™1 Basal Medium, 400 mL, 25 Bottles
mTeSR™1 5X Supplement, 100 mL, 25 Bottles
Subtype:
Specialized Media
Cell Type:
Pluripotent Stem Cells
Application:
Maintenance; Expansion; Cell Culture
Area of Interest:
Stem Cell Biology
Formulation:
Serum-Free; Defined
Technical Resources
Product Documentation
Document Type
Product Name
Catalog #
Lot #
Language
Educational Materials
(21)
Load More Educational Materials
Product Applications
This product is designed for use in the following research area(s) as part of the highlighted workflow stage(s). Explore these workflows to learn more about the other products we offer to support each research area.
Research Area
Workflow Stages for
Data and Publications
Data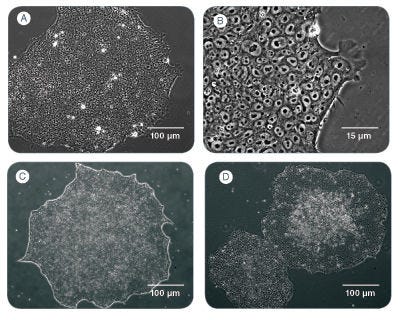 Figure 1. Morphology of hESCs and hiPSCs Cultured in mTeSR™1
H1 hESCs grow as colonies with (A) defined edges and (B) high nucleus-to-cytoplasm ratio. hiPSC lines (C) iPSC(IMR90)-3 and (D) MSC-iPSC1 maintained in mTeSR™1 show similar morphological characteristics. hiPSC photographs courtesy of M. O'Connor and C. Eaves, The Vancouver Human Embryonic Stem Cell Core Facility.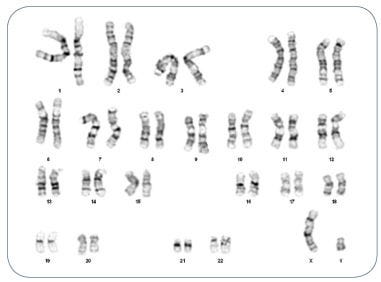 Figure 2. Human Embryonic Stem Cells Cultured in mTeSR™1 Retain Normal Karyotype Following Long-Term Passage
Chromosomal analysis of H1 hESCs cultured in mTeSR™1 for 48 passages shows that normal karyotype is retained during long-term passaging. Data from Dr. T Ludwig, WiCell Research Institute.
Figure 3. Human Embryonic Stem Cell Cultures in mTeSR™1 Are Pluripotent
H9 hESCs were cultured for 6 passages in mTeSR™1 then injected subcutaneously into immunocompromised mice. The resulting teratoma contained cell types from all 3 germ layers. Representative tissue types are shown.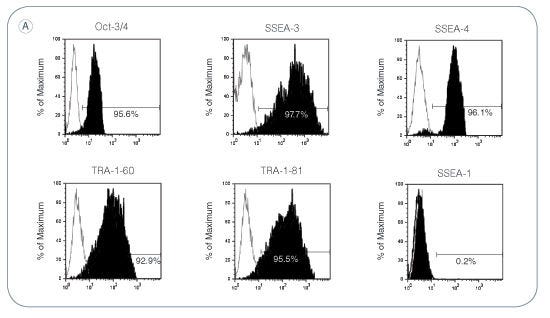 Figure 4. Human Embryonic Stem Cells Cultured in mTeSR™1 Express High Levels of Pluripotent Markers and Low Levels of Differentiation Markers
Flow cytometric analysis of H9 hESCs maintained in mTeSR™1 for 17 passages.
This product was developed under license to intellectual property owned by WiCell™ Research Institute (patent pending). This product is sold for research use only (whether the buyer is an academic or for-profit entity) under a non-transferable, limited-use license. Purchase of this product does not include the right to sell, use or otherwise transfer this product for commercial purposes (i.e., any activity undertaken for consideration, such as use of this product for manufacturing, or resale of this product or any materials made using this product, or use of this product or any materials made using this product to provide services) or clinical use (i.e., administration of this product or any material using this product to humans) or the right to implant any material made using this product into an animal by, or in collaboration with, a for-profit entity, for purposes other than basic pre-clinical research applications (including without limitation teratoma assays) to validate the function of the cells. Purchasers wishing to use the product for purposes other than research use should contact Asterias Biotherapeutics, Inc. legal department at (650) 433-2900 or legal@asteriasbio.com. Purchasers who do not agree to the terms and conditions set forth above should return the product in acceptable conditions to the seller for a refund.
STEMCELL TECHNOLOGIES INC.'S QUALITY MANAGEMENT SYSTEM IS CERTIFIED TO ISO 13485. PRODUCTS ARE FOR RESEARCH USE ONLY AND NOT INTENDED FOR HUMAN OR ANIMAL DIAGNOSTIC OR THERAPEUTIC USES UNLESS OTHERWISE STATED.