PneumaCult™ Culture System for Airway Epithelial Cells
PneumaCult™ is a defined, serum- and bovine pituitary extract (BPE)-free culture system that supports the expansion and differentiation of human airway epithelial cells. Use
PneumaCult™-Ex
to expand airway epithelial cells in submerged culture. Use
PneumaCult™-ALI
to achieve extensive mucociliary differentiation at the
air-liquid interface (ALI)
or in
sphere culture
. Cells expanded and differentiated with the PneumaCult™ system retain key features of the in vivo airway epithelium such as a pseudostratified mucociliated epithelial cell layer consisting of goblet cells, basal cells and motile cilia. ALI cultures provide a physiologically relevant model for studying respiratory biology, infection and disease.

What is Air-Liquid Interface Culture?
Air-liquid interface (ALI) culture is the most physiologically relevant model for studying the respiratory epithelium in vitro. In these cultures, airway epithelial basal cells are seeded in a tissue culture insert with a porous membrane. After cells reach confluence, the medium is removed from the apical chamber to expose the cells to the air. This "air-lift", in combination with a specialized medium in the basal chamber, triggers basal cell differentiation to produce a pseudostratified mucociliary epithelium that can be used to study cell biology, respiratory disease, toxicity of inhaled substances and more. In this video Dr. Samuel Wadsworth discusses how ALI cultures hold enormous potential for respiratory research.

Modeling the Human Airway
Primary airway epithelial cells must be cultured at the air-liquid interface in order to recapitulate the pseudostratified mucociliary phenotype observed in vivo. Cells differentiated with the PneumaCult™ culture system exhibit the appropriate three-dimensional architecture with basal cells lining the transwell inserts and ciliated and goblet cells extending to the apical surface. In this video Dr. Michael Riedel provides an overview of PneumaCult™-ALI and how it is optimized for ALI culture.
Why Use PneumaCult™?
Primary human airway epithelial cells differentiated with PneumaCult™-ALI closely model the human airway.
Defined and BPE-free PneumaCult™ media formulations maximize experimental reproducibility.
Simple and optimized protocols make PneumaCult™ media easy to use.
Why Go BPE-Free?
Bovine pituitary extract (BPE) is an undefined component used in several types of serum-free medium. However its presence can lead to experimental variability. Removing BPE reduces the variability and maximizes experimental reproducibility. The PneumaCult™ system has been formulated to be BPE-free while maintaining the highest possible performance of the media. See the results when PneumaCult™-Ex goes head-to-head with a BPE-containing medium.
The PneumaCult™ Culture System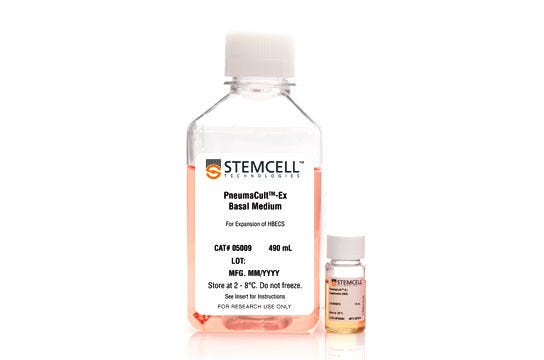 Recommended for:
Expansion of primary human airway epithelial cells
Culture Type:
Submerged culture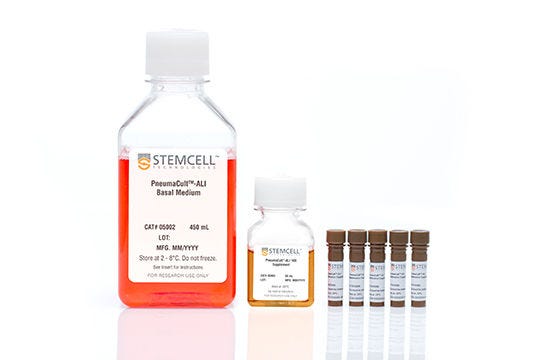 Recommended for:
Extensive mucociliary differentiation of primary human airway epithelial cells
Culture Type:
Air-liquid interface (ALI) or sphere culture
Expand Details
Collapse Details

Figure 1. Overview of the PneumaCult™ Culture System

Expansion of human bronchial epithelial cells (HBECs) in submerged culture is performed with PneumaCult™-Ex. During the 'Expansion Phase' of the ALI culture procedure, PneumaCult™-Ex is applied in both the apical and basal chambers. Upon reaching confluence, the cultures are air-lifted by removing the culture medium and adding PneumaCult™-ALI to the basal chamber only. Differentiated cultures exhibiting a pseudostratified epithelium are obtained following 21-28 days incubation at ALI and can be maintained for extended periods of time (>6 months).
Key Applications