Fully Automated, High Purity Cell Isolation for Chimerism Labs
Document # 29081
Version 2.0.0
Sep 2019
Introduction
the term "chimerism" in hematopoietic cell transplantation (hct) refers to the presence of donor cells in the recipient following transplantation. donor- and recipient-derived cells can be distinguished by testing informative genetic markers in dna isolated from the donor or recipient. a growing body of evidence suggests an association between engraftment kinetics over time and transplant outcome. therefore, treatment decisions post-hct are often made on the basis of chimerism analysis.
As patients can show complete chimerism in one cell lineage and partial chimerism in another, chimerism analysis on specific cell subsets can improve the sensitivity of the assay.
Chimerism analysis is often performed on small blood samples, especially with pediatric patients. As a result, analysis of purified cell subsets requires techniques that can isolate more than one cell type from an undivided starting sample. This series of isolations from a single blood sample is referred to as sequential separations. We describe a method to sequentially isolate lymphoid (T and B cells) and myeloid lineages starting with less than 4 mL of human whole blood and using a fully automated pipetting robot (RoboSep™). Cell isolations with RoboSep™ are gentle, and there is no risk of cross-contamination between samples.
Methods
Preparation of Sample
Whole blood was collected in a blood collection tube containing heparin. Blood was used directly or a buffy coat suspension was prepared. For buffy coat preparation, buffer (PBS with 2% FBS and 1mM EDTA) was added to the blood at a 5:1 ratio. The tube was then centrifuged at 1200 rpm (300 x g) for 10 minutes, with no brake. The buffy coat layer (roughly 10% of total starting volume) was collected.
EasySep™ Red Blood Cell Lysis Buffer (Catalog #20110) was added to the blood or buffy coat sample in a 14 mL round-bottom tube at a ratio of 1:1. Separation was performed with RoboSep™. The starting cell number per experiment ranged between 2.0 x 106 – 3.0 x 107 nucleated cells, from a starting blood volume of 0.5 – 4.25 mL.
Automated Cell Isolations
The labeling and sequential separation of CD19, CD3 and myeloid cells were fully automated with RoboSep™ (Figure 1), which employed immunomagnetic, column-free positive selection from an undivided sample of whole blood. In quadrant 1 (Figure 2), cells were first labeled with antibody targeting CD19+ cells. These were then coupled to magnetic nanoparticles and the sample was transferred to the quadrant 1 magnet. The supernatant containing unlabeled cells was transferred to a new tube, leaving isolated CD19+ cells in the first magnet's tube.
Subsequently, the CD19-depleted supernatant was labeled with anti-CD3 antibody and magnetic particles and transferred to the quadrant 2 magnet. As with the first isolation, the CD19CD3 -depleted supernatant containing unlabeled cells was automatically pipetted into a fresh tube in quadrant 3. Highly purified CD3+ cells remained in the second magnet's tube.
Finally, myeloid cells were labeled with a combination of anti- CD33, anti-CD66b antibodies and magnetic nanoparticles and transferred to the magnet in quadrant 3. Unlabeled cells were removed, leaving highly enriched myeloid cells in the third magnet's tube.
Selection from whole blood was performed using the CD19 Whole Blood Positive Section Kit (Catalog #18084RF); the CD3 Whole Blood Positive Selection Kit (Catalog #18081HLARF); and the Myeloid Whole Blood Positive Selection Kit (Catalog #18683HLARF).
Purity Assessment
Purity of selected cell populations was determined by flow cytometry. Alternate markers were used for assessment to avoid any receptor blocking due to the positive selection antibodies. CD19+ B cells were defined as CD19/20+CD5+ or CD19/20+. CD3+ T cells were defined as CD5+CD19/20-. Myeloid cells were defined as CD14/15+.
DNA was isolated using a QIAampDNA Blood Mini Kit (Qiagen) following the manufacturer's instructions with one exception: The spin columns were spun at maximum speed at all steps.
FIGURE 1. Fully Automated Isolation of Highly Purified Cells with RoboSep™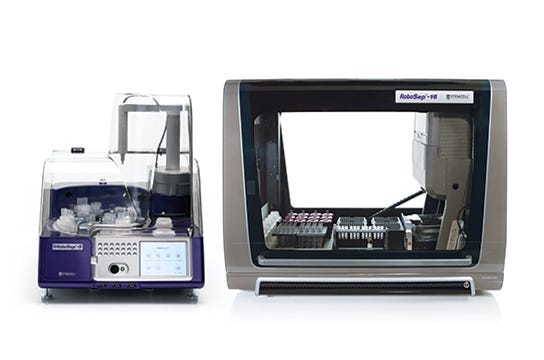 FIGURE 2. Fully Automated Separation of B, T and Myeloid Cells from a Single Sample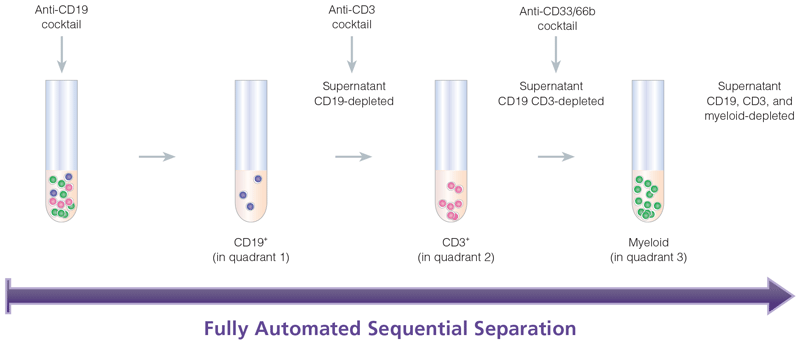 When cell enrichment is automated using RoboSep™, cells in the first quadrant are labeled with anti-CD19 cocktail and magnetic nanoparticles. The first wash from the CD19 positive selection (quadrant 1) is transferred to the sample tube for the CD3 positive selection (quadrant 2). RoboSep™ continues with the washing of the CD19 sample and begins to label the quadrant 2 sample with anti-CD3 cocktail and magnetic nanoparticles. As the isolation progresses, the first wash from the CD3 sample is transferred to the sample tube in quadrant 3 to begin the myeloid cell selection. After the three samples have been processed, the enriched cells can be found in individual tubes in the corresponding magnet in the RoboSep™. Samples are ready for flow cytometric analysis or DNA extraction.
Results
TABLE 1. Percent purity and percent recovery of CD19+, CD3+ and myeloid cells enriched from a single whole blood sample using RoboSep™.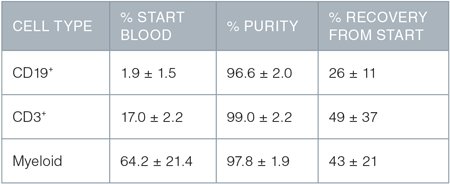 Purities determined by flow cytometry. All samples gated on CD45+, viable (PI-) cells. Values are expressed as means +/- 1 sd (n=3).
TABLE 2. Amount of genomic DNA isolated from samples enriched from approximately 2.4 mL of whole blood. Results are the average of 3 donors.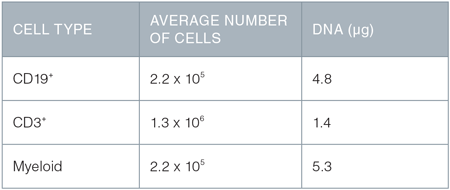 FIGURE 3.Typical FACS plots before and after enrichment of selected cells (plots show viable (PI-) cells gated on CD45+).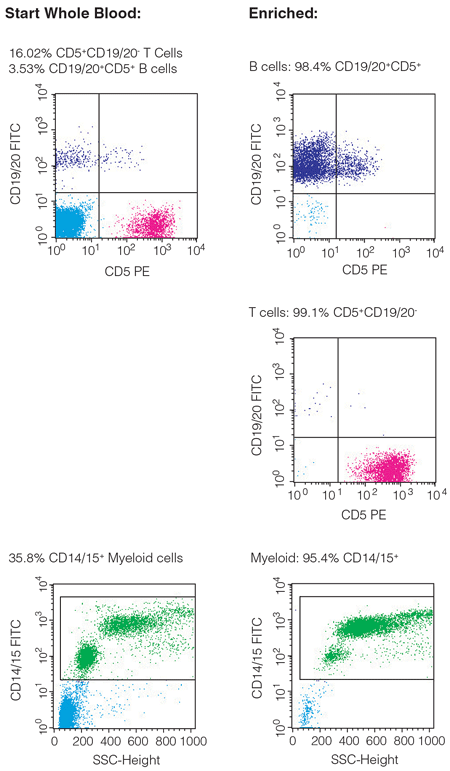 Conclusions
Up to four cell types can be isolated sequentially from the same sample of whole blood using RoboSep™.
No columns are required.
Entire procedure takes less than 2 hours.
All isolated cell types can be collected after a single loading of the RoboSep™ machine with the whole blood sample and reagents.
No cross contamination occurs during enrichment as different filter tips are used to isolate each cell sample.
No layering over Ficoll™ or post-enrichment lysis step is required.
High cell purity and viability (96 - 99%) with good recovery of desired cells can be achieved.
Small volumes of blood (0.5 - 4.5 mL containing 2 x 106 - 3 x 107 cells) yield sufficient cells to run flow cytometry and DNA analysis.