Tube for density gradient centrifugation for in vitro diagnostic (IVD) applications
Try SepMate™-15 (IVD) tubes for density gradient centrifugation in your IVD applications. Request a Sample
Required Products
Lymphoprep™

Density gradient medium for the isolation of mononuclear cells
Overview
Simplify peripheral blood mononuclear cell (PBMC) isolation by incorporating SepMate™ into your density gradient centrifugation step.
SepMate™ tubes contain an insert that creates a barrier between the density gradient medium and blood, thus eliminating the need for careful blood layering and allowing mononuclear cells to be easily harvested with a simple pour. This product can be used with
RosetteSep™
to isolate specific immune cell subsets.
SepMate™ is manufactured under cGMP and registered as an In Vitro Diagnostic (IVD) device in Australia, Canada, Europe, and the USA. In China, SepMate™ is considered a nonmedical device by the China Food and Drug Administration (CFDA) and should be used as general lab equipment. The end user is responsible for determining whether the product is suitable for their specific application.
Advantages
• Eliminates the need for carefully layering blood over the density gradient medium (e.g. Lymphoprep™, etc.)
• Reduces total centrifuge time to 10 minutes with the brake on for fresh samples
• Allows fast and easy harvesting of the isolated mononuclear cells by simply pouring off the supernatant
• Can be combined with RosetteSep™ enrichment cocktails to isolate specific cell types in just 30 minutes
Components
SepMate™-15 (IVD), 100 Tubes (Catalog #85415)

Dispenser box containing 4 bags, 25 Tubes/Bag
SepMate™-15 (IVD), 500 Tubes (Catalog #85420)

Dispenser box containing 4 bags, 25 Tubes/Bag (Catalog #85415) x 5
Contains
Polypropylene tube containing an insert
Subtype
Centrifugation Tubes
Cell Type
B Cells, Dendritic Cells, Monocytes, Mononuclear Cells, NK Cells, T Cells, T Cells, CD4+, T Cells, CD8+, T Cells, Other Subsets, T Cells, Regulatory
Sample Source
Bone Marrow, Cord Blood, Whole Blood
Selection Method
Negative
Application
Cell Isolation, In Vitro Diagnostic
Area of Interest
Chimerism, HLA, Immunology
Scientific Resources
Educational Materials
(15)
Load More Educational Materials
Product Applications
This product is designed for use in the following research area(s) as part of the highlighted workflow stage(s). Explore these workflows to learn more about the other products we offer to support each research area.
Data and Publications
Data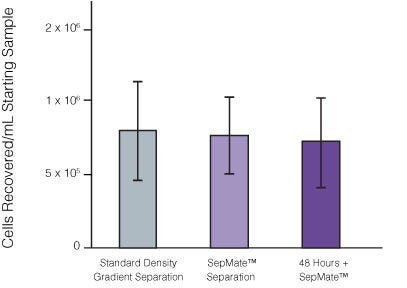 Figure 1. Recovery of mononuclear cells (MNCs) from peripheral blood using SepMate™-50 versus standard density gradient centrifiguation.
Recovery of MNCs from fresh and 48-hour post blood draw enriched by density gradient centrifugation with SepMate™ (purple) or without (grey). There was no significant difference in the recovery of MNCS with and without SepMate™.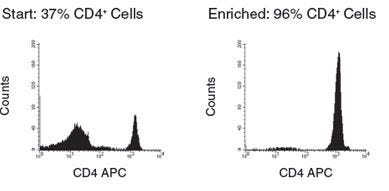 Figure 2. Human CD4+ T Cell Isolation using SepMate™-50 and RosetteSep™ Human CD4+ T Cell Enrichment Cocktail
Legal Statement:

SepMate™ (IVD) is only available in regions where it is registered as an In Vitro Diagnostic (IVD) device for the isolation of MNCs from whole blood or bone marrow by density gradient centrifugation. SepMate™ is manufactured under a cGMP quality managment system compliant to 21 CFR 820.

Quality Statement:

PRODUCTS ARE FOR RESEARCH USE ONLY AND NOT INTENDED FOR HUMAN OR ANIMAL DIAGNOSTIC OR THERAPEUTIC USES UNLESS OTHERWISE STATED. FOR ADDITIONAL INFORMATION ON QUALITY AT STEMCELL, REFER TO WWW.STEMCELL.COM/COMPLIANCE.