cGMP, feeder-free maintenance medium for human ES and iPS cells
New look, same high quality and support!

You may notice that your instrument or reagent packaging looks slightly different from images displayed on the website, or from previous orders. We are updating our look but rest assured, the products themselves and how you should use them have not changed. Learn more
Overview
Use this specialized, feeder-free culture medium to achieve more consistent human pluripotent stem cell (hPSC) cultures with homogenous, undifferentiated phenotypes.
Manufactured under relevant cGMPs, mTeSR™1 ensures the highest quality and consistency for reproducible results in your fundamental research, as well as for cell therapy and investigational new drug research applications. This serum-free, complete cell culture medium is made with pre-screened raw materials to ensure batch-to-batch consistency and robust performance in feeder-free hPSC culture.
Use established protocols for applications ranging from derivation to differentiation with this most widely published feeder-free hPSC culture medium, which has been used by leading pluripotent stem cell researchers to successfully maintain thousands of hPSC lines in over 50 countries. For enhanced cell performance and versatile maintenance, you may also be interested in
mTeSR™ Plus medium
, which is also manufactured under relevant cGMPs and features stabilized components and enhanced buffering.
To request a Letter of Authorization (LOA) for mTeSR™1's Drug Master File,
click here
.
Components
mTeSR™1 Complete Kit (Catalog #85850)

mTeSR™1 Basal Medium, 400 mL
mTeSR™1 5X Supplement, 100 mL

mTeSR™1 Complete Kit, 1 L (Catalog #85857)

mTeSR™1 Basal Medium, 800 mL
mTeSR™1 5X Supplement, 100 mL, 2 Bottles

mTeSR™1 Complete Kit, 10 Pack (Catalog #85870)

mTeSR™1 Basal Medium, 400 mL, 10 Bottles
mTeSR™1 5X Supplement, 100 mL, 10 Bottles

mTeSR™1 Complete Kit, 25 Pack (Catalog #85875)

mTeSR™1 Basal Medium, 400 mL, 25 Bottles
mTeSR™1 5X Supplement, 100 mL, 25 Bottles
Subtype
Specialized Media
Cell Type
Pluripotent Stem Cells
Application
Cell Culture, Expansion, Maintenance
Area of Interest
Stem Cell Biology
Scientific Resources
Educational Materials
(40)
Load More Educational Materials
Product Applications
This product is designed for use in the following research area(s) as part of the highlighted workflow stage(s). Explore these workflows to learn more about the other products we offer to support each research area.
Data and Publications
Data


Figure 1. Normal hES and hiPS Cell Morphology is Observed in cGMP mTeSR™1 Cultures
Undifferentiated (A) H1 human embryonic stem (hES) and (B) WLS-1C human induced pluripotent stem (hiPS) cells cultured on Corning® Matrigel® Matrix in cGMP mTeSR™1 retain the prominent nucleoli and high nuclear-to-cytoplasmic ratio characteristic of this cell type after 10 passages. Densely packed cells and multi-layering are prominent when cells are ready to be passaged.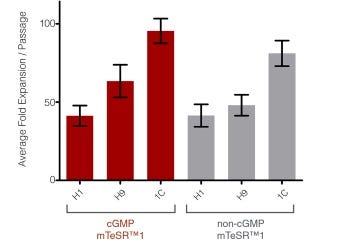 Figure 2. High Expansion Rates are Observed in cGMP mTeSR™1 Cultures
Graph shows the average fold expansion per passage +/- SEM obtained for hES (H1 and H9) and hiPS (WLS-1C) cells cultured in cGMP mTeSR­™1 (red) or non-cGMP mTeSR™1 (gray) on Corning® Matrigel® Matrix over 10 passages. Expansion was determined by enumerating the cell aggregates obtained at harvest and dividing by the number of cell aggregates seeded. Note that this data is representative of cultures passaged after 6-7 days in culture, lower expansion should be expected if using shorter culture times.
Figure 3. Cells Cultured in cGMP mTeSR™1 Medium Express Undifferentiated Cell Markers
Histogram analysis for hES (H1 and H9) and hiPS (WLS-1C) cells characterized using FACS for undifferentiated cell markers, OCT4 (OCT3) (Catalog #60093) and TRA-1-60 (Catalog #60064), after 8 - 10 passages in cGMP mTeSR™1 (filled = sample, blank = isotype control).

Figure 4. hPSCs Maintained in cGMP mTeSR™1 Display a Normal Karyotype
Karyograms of (A) H1 hES and (B) WLS-1C hiPS cells cultured in cGMP mTeSR™1 for 11 passages shows that a normal karyotype is retained.
Legal Statement:

This product was developed under license to intellectual property owned by WiCell™ Research Institute. This product is sold for research use only (whether the buyer is an academic or for-profit entity) under a non-transferable, limited-use license. Purchase of this product does not include the right to sell, use or otherwise transfer this product for commercial purposes (i.e., any activity undertaken for consideration, such as use of this product for manufacturing, or resale of this product or any materials made using this product, or use of this product or any materials made using this product to provide services) or clinical use (i.e., administration of this product or any material using this product to humans) or the right to implant any material made using this product into an animal by, or in collaboration with, a for-profit entity, for purposes other than basic pre-clinical research applications (including without limitation teratoma assays) to validate the function of the cells. Purchasers who do not agree to the terms and conditions set forth above should return the product in acceptable conditions to the seller for a refund.

Quality Statement:

PRODUCTS ARE FOR RESEARCH USE ONLY AND NOT INTENDED FOR HUMAN OR ANIMAL DIAGNOSTIC OR THERAPEUTIC USES UNLESS OTHERWISE STATED. FOR ADDITIONAL INFORMATION ON QUALITY AT STEMCELL, REFER TO WWW.STEMCELL.COM/COMPLIANCE.