Dickkopf-related protein 1
Overview
Dickkopf-related protein 1 (DKK-1) is a member of the Dickkopf family and is a secreted protein that inhibits the canonical WNT pathway by competitive binding to low-density lipoprotein receptors (LRP)-5 and 6 with high affinity, thereby decreasing β-catenin protein stability (Niehrs). DKK-1 regulates embryonic development and contains two conserved cysteine-rich domains separated by a linker region and an N-terminal signal peptide (Krupnik et al.; Lieven et al.). A family of human DKK-related genes composed of DKK-1, DKK-2, DKK-3, and DKK-4 have been characterized together with a unique DKK-3 related protein termed Soggy (Krupnik et al.). DKK-1 has been shown to support the generation of myeloid-derived suppressor cells (MDSCs) and thus is a negative regulator of antitumor immune responses (D'Amico et al.). DKK-1 from thrombocytes is an important regulator of leukocyte infiltration and induces Th2 cell polarization and potentiates Th2 cell cytokine expression (Chae et al.). DKK-1 has also been shown to drive cardiac and retinal differentiation from induced pluripotent stem (iPS) cells (Lian et al.). Protein contains a His-residue tag at the carboxyl end of the polypeptide chain.
Alternative Names
Dickkopf-1, hDkk-1, SK, Dickkopf WNT signaling pathway inhibitor 1
Cell Type
Endoderm, PSC-Derived, Myeloid Cells, Pluripotent Stem Cells
Area of Interest
Stem Cell Biology
Molecular Weight
17 - 22 kDa
Data Figures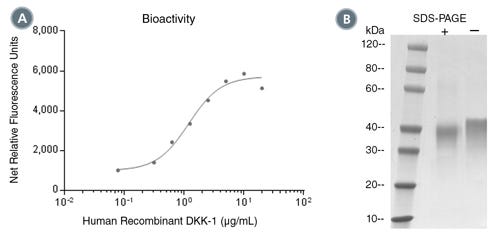 (A) The biological activity of Human Recombinant DKK-1 was tested by its ability to promote alkaline phosphatase production in CCL-226 cells. Alkaline phosphatase production was measured using a fluorometric assay method. The EC50 is defined as the effective concentration of the growth factor at which alkaline phosphatase production is at 50% of maximum. The EC50 in the above example is less than 4 μg/mL. (B) 2 μg of Human Recombinant DKK-1 was resolved with SDS-PAGE under reducing (+) and non-reducing (-) conditions and visualized by Coomassie Blue staining. Human Recombinant DKK-1 has a predicted molecular mass of 26.6 kDa.
Protocols and Documentation
Find supporting information and directions for use in the Product Information Sheet or explore additional protocols below.
Document Type
Product Name
Catalog #
Lot #
Language
Catalog #
78208.1, 78208.2
Catalog #
78208.1, 78208.2
Applications
This product is designed for use in the following research area(s) as part of the highlighted workflow stage(s). Explore these workflows to learn more about the other products we offer to support each research area.
Resources and Publications
Educational Materials
(2)
Quality Statement:

PRODUCTS ARE FOR RESEARCH USE ONLY AND NOT INTENDED FOR HUMAN OR ANIMAL DIAGNOSTIC OR THERAPEUTIC USES UNLESS OTHERWISE STATED. FOR ADDITIONAL INFORMATION ON QUALITY AT STEMCELL, REFER TO WWW.STEMCELL.COM/COMPLIANCE.