Overview
BIRB-796 is a highly potent inhibitor of p38 MAPK (Kd = 0.1 nM) that blocks TNFα release in LPS-stimulated THP-1 cells (IC₅₀ = 18 nM) (Pargellis et al.). At 10 μM, BIRB-796 can also inhibit JNK2α2 in vitro, but at lower concentrations BIRB-796 inhibits p38 MAPK without affecting phosphorylation of JNK substrates (Bain et al.; Kuma et al.).

MAINTENANCE AND SELF-RENEWAL
· Rescues the self-renewal ability of muscle satellite cells from aged mice (Bernet et al.).
· Increases the regenerative capacity of functional aged skeletal muscle stem cells grown in hydrogel (Cosgrove et al.).
· Blocks GADD45G-induced differentiation of long-term repopulating hematopoietic stem cells (Thalheimer et al.).
· Enhances stem cell activity of cultured umbilical cord blood-derived hematopoietic cells cultured in serum-free medium supplemented with SCF, TPO, and FLT3L (Baudet et al.).
· Blocks the osteogenic differentiation effect of myocilin on human mesenchymal stem cells (Kwon et al.).
Alternative Names
Doramapimod
Cell Type
Hematopoietic Stem and Progenitor Cells, Mesenchymal Stem and Progenitor Cells, Myogenic Stem and Progenitor Cells
Species
Human, Mouse, Rat, Non-Human Primate, Other
Application
Expansion, Maintenance
Area of Interest
Stem Cell Biology
Chemical Formula
C₃₁H₃₇N₅O₃
Molecular Weight
527.7 g/mol
Scientific Resources
Product Documentation
Find supporting information and directions for use in the Product Information Sheet or explore additional protocols below.
Document Type
Product Name
Catalog #
Lot #
Language
Educational Materials
(3)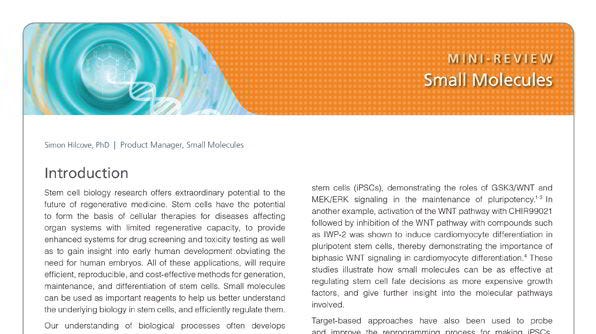 Mini Review
Product Applications
This product is designed for use in the following research area(s) as part of the highlighted workflow stage(s). Explore these workflows to learn more about the other products we offer to support each research area.
Data and Publications
Publications
(8)
Rejuvenation of the muscle stem cell population restores strength to injured aged muscles.
Nature medicine 2014 MAR
Abstract
The elderly often suffer from progressive muscle weakness and regenerative failure. We demonstrate that muscle regeneration is impaired with aging owing in part to a cell-autonomous functional decline in skeletal muscle stem cells (MuSCs). Two-thirds of MuSCs from aged mice are intrinsically defective relative to MuSCs from young mice, with reduced capacity to repair myofibers and repopulate the stem cell reservoir in vivo following transplantation. This deficiency is correlated with a higher incidence of cells that express senescence markers and is due to elevated activity of the p38α and p38β mitogen-activated kinase pathway. We show that these limitations cannot be overcome by transplantation into the microenvironment of young recipient muscles. In contrast, subjecting the MuSC population from aged mice to transient inhibition of p38α and p38β in conjunction with culture on soft hydrogel substrates rapidly expands the residual functional MuSC population from aged mice, rejuvenating its potential for regeneration and serial transplantation as well as strengthening of damaged muscles of aged mice. These findings reveal a synergy between biophysical and biochemical cues that provides a paradigm for a localized autologous muscle stem cell therapy for the elderly.
p38 MAPK signaling underlies a cell-autonomous loss of stem cell self-renewal in skeletal muscle of aged mice.
Nature medicine 2014 MAR
Abstract
Skeletal muscle aging results in a gradual loss of skeletal muscle mass, skeletal muscle function and regenerative capacity, which can lead to sarcopenia and increased mortality. Although the mechanisms underlying sarcopenia remain unclear, the skeletal muscle stem cell, or satellite cell, is required for muscle regeneration. Therefore, identification of signaling pathways affecting satellite cell function during aging may provide insights into therapeutic targets for combating sarcopenia. Here, we show that a cell-autonomous loss in self-renewal occurs via alterations in fibroblast growth factor receptor-1, p38α and p38β mitogen-activated protein kinase signaling in satellite cells from aged mice. We further demonstrate that pharmacological manipulation of these pathways can ameliorate age-associated self-renewal defects. Thus, our data highlight an age-associated deregulation of a satellite cell homeostatic network and reveal potential therapeutic opportunities for the treatment of progressive muscle wasting.
Cytokine-regulated GADD45G induces differentiation and lineage selection in hematopoietic stem cells.
Stem cell reports 2014 JUL
Abstract
The balance of self-renewal and differentiation in long-term repopulating hematopoietic stem cells (LT-HSC) must be strictly controlled to maintain blood homeostasis and to prevent leukemogenesis. Hematopoietic cytokines can induce differentiation in LT-HSCs; however, the molecular mechanism orchestrating this delicate balance requires further elucidation. We identified the tumor suppressor GADD45G as an instructor of LT-HSC differentiation under the control of differentiation-promoting cytokine receptor signaling. GADD45G immediately induces and accelerates differentiation in LT-HSCs and overrides the self-renewal program by specifically activating MAP3K4-mediated MAPK p38. Conversely, the absence of GADD45G enhances the self-renewal potential of LT-HSCs. Videomicroscopy-based tracking of single LT-HSCs revealed that, once GADD45G is expressed, the development of LT-HSCs into lineage-committed progeny occurred within 36 hr and uncovered a selective lineage choice with a severe reduction in megakaryocytic-erythroid cells. Here, we report an unrecognized role of GADD45G as a central molecular linker of extrinsic cytokine differentiation and lineage choice control in hematopoiesis.
Quality Statement:

PRODUCTS ARE FOR RESEARCH USE ONLY AND NOT INTENDED FOR HUMAN OR ANIMAL DIAGNOSTIC OR THERAPEUTIC USES UNLESS OTHERWISE STATED. FOR ADDITIONAL INFORMATION ON QUALITY AT STEMCELL, REFER TO WWW.STEMCELL.COM/COMPLIANCE.