Overview
Heregulin-beta 1 also known as neuregulin-1 (NRG-1) is a member of the epidermal growth factor (EGF) family of growth factors and acts as a ligand for ErbB family receptor tyrosine kinases (Britsch et al.). Heregulin/neuregulin is a family of structurally related polypeptide growth factors derived from alternatively spliced genes (NRG1, NRG2, NRG3, and NRG4). Heregulin-beta 1 plays an important role during the development of the nervous system, heart, and mammary glands (Britsch). Heregulin-beta 1 is expressed in neuronal cells, and modulates cell growth and differentiation of the cells during development and wound healing (Mei & Xiong). It has been implicated through in vivo and in vitro studies that heregulin-beta 1/ErbB signaling is crucial for multiple aspects of cardiovascular development and protects the heart from ischemic injury (Odiete et al.). Heregulin-beta 1 also promotes invasiveness and metastasis of breast cancer cells (Hutcheson et al.). It has also been shown that heregulin-beta 1 has a role in the growth and maintenance of human embryonic stem cells (Wang et al.).
Alternative Names:
Acetylcholine receptor-inducing activity, ARIA, Breast cancer cell differentiation factor p45, Glial growth factor, Heregulin Neu differentiation factor, HRG, HRG1, HRG1-beta 1, Neuregulin-1, NRG1, NRG1-beta 1, Sensory and motor neuron-derived factor
Cell Type:
Cancer Cells and Cell Lines; Neural Cells, PSC-Derived; Neural Stem and Progenitor Cells; Neurons
Area of Interest:
Cancer Research; Neuroscience; Stem Cell Biology
Molecular Weight:
7.5 kDa
Scientific Resources
Product Documentation
Document Type
Product Name
Catalog #
Lot #
Language
78071, 78071.1, 78071.2
All
78071, 78071.1, 78071.2
All
Product Applications
This product is designed for use in the following research area(s) as part of the highlighted workflow stage(s). Explore these workflows to learn more about the other products we offer to support each research area.
Research Area
Workflow Stages for
Data and Publications
Data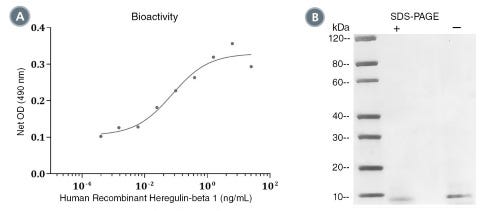 (A) The biological activity of Human Recombinant Heregulin-beta 1 was tested by its ability to promote the proliferation of MCF-7 cells. Cell proliferation was measured using a fluorometric assay method. The EC50 is defined as the effective concentration of the growth factor at which cell proliferation is at 50% of maximum. The EC50 in the example above is less than 0.1 ng/mL. (B) 2 μg of Human Recombinant Heregulin-beta 1 was resolved with SDS-PAGE under reducing (+) and non-reducing (-) conditions and visualized by Coomassie Blue staining. Human Recombinant Heregulin-beta 1 has a predicted molecular mass of 7.5 kDa.
STEMCELL TECHNOLOGIES INC.'S QUALITY MANAGEMENT SYSTEM IS CERTIFIED TO ISO 13485. PRODUCTS ARE FOR RESEARCH USE ONLY AND NOT INTENDED FOR HUMAN OR ANIMAL DIAGNOSTIC OR THERAPEUTIC USES UNLESS OTHERWISE STATED.