Infectious Diseases and Immunology
Infectious diseases are caused by pathogens, including viruses and bacteria. Researchers aim to understand the interactions between these microorganisms and immune cells in order to develop vaccines and therapies against infectious diseases.
Below is a collection of scientific resources for your infectious disease research.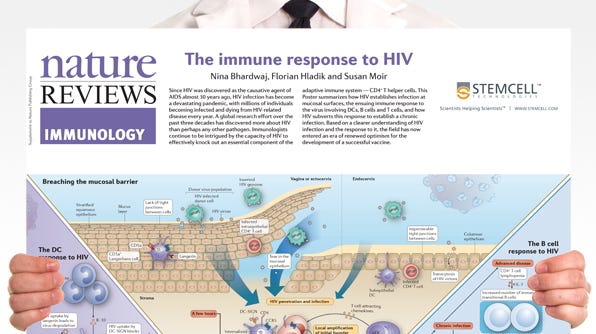 Featured
Nina Bhardwaj, Florian Hladik and Susan Moir. This Poster summarizes how HIV establishes infection at mucosal surfaces, the ensuing immune response to the virus involving DCs, B cells and T cells, and how HIV subverts this response to establish a chronic infection.
Get Your Free Copy >
There are many different infectious diseases caused by viral, bacterial and other types of infections. Researchers continue to study immune responses against these pathogens so that they can develop better therapies against them.

Immune Response to HIV
In 1996, major advances in human immunodeficiency virus (HIV) therapy were named "Breakthrough of the Year" by Science. By combining protease inhibitors with other drugs, researchers were able to substantially reduce viral loads in infected individuals. Despite this discovery, HIV researchers still have much to do before the disease is truly eradicated.

The Role of Memory B Cells in Infectious Diseases
B cells have an important and complex role in the immune response to infectious diseases, which poses a challenge to understanding infection risks and developing vaccines. In this review, we will focus on the complexity of memory B cells and their role in infectious diseases, and will highlight recent advancements in the field.
Find tools and more resources for your infectious disease research: