MesenCult™-ACF Plus Culture Kit
Animal component-free medium and attachment substrate for human mesenchymal stem cells
Request Pricing
Thank you for your interest in this product. Please provide us with your contact information and your local representative will contact you with a customized quote. Where appropriate, they can also assist you with a(n):
Estimated delivery time for your area
Product sample or exclusive offer
In-lab demonstration
By submitting this form, you are providing your consent to STEMCELL Technologies Canada Inc. and its subsidiaries and affiliates ("STEMCELL") to collect and use your information, and send you newsletters and emails in accordance with our
privacy policy
. Please
contact us
with any questions that you may have. You can unsubscribe or change your
email preferences
at any time.
Products for Your Protocol
Overview
Reduce variability in your human mesenchymal stromal cell (MSC; also known as mesenchymal stem cell) cultures and improve experimental reproducibility by using this animal component-free (ACF) and extracellular vesicle (EV)-free medium. MesenCult™-ACF Plus Culture Kit is optimized so you can derive human MSCs from multiple sources, such as bone marrow or adipose tissue, without serum.
Compared to serum-containing or EV-depleted serum-containing media, MSCs cultured with this kit expand more efficiently (rate and cumulative cell total) and without compromising function. The cultured cells exhibit characteristic MSC surface marker expression and retain robust expansion rate and trilineage differentiation capacities.
This kit is part of a complete ACF workflow—for deriving, expanding, and cryopreserving MSCs, as well as differentiating human pluripotent stem cells into mesenchymal progenitors—that is optimized for efficient and consistent MSC cultures.
For animal component-free and optimized cryopreservation,
MesenCult™-ACF Freezing Medium
is recommended for human MSCs previously cultured in MesenCult™ media, including MesenCult™-ACF Plus. For a complete list of related products, including available differentiation media, explore
our MSC area of interest page
or contact us at
techsupport@stemcell.com
.
NOTE: Complete MesenCult™-ACF Plus Medium must be supplemented with
L-Glutamine
. The medium and supplement required for preparation of the complete medium is also available for purchase, without the substrate, as
MesenCult™-ACF Plus Medium Kit
.
CollPlant
is the manufacturer of the rhCollagen component of the cell attachment substrate.
The Product may be used for research purposes only. Please contact STEMCELL for any clinical or commercial application of the Product.
Subtype
Specialized Media
Cell Type
Mesenchymal Cells, PSC-Derived, Mesenchymal Stem and Progenitor Cells
Application
Cell Culture, Expansion, Maintenance
Area of Interest
Extracellular Vesicle Research, Stem Cell Biology
Formulation Category
Animal Component-Free, Serum-Free
Data Figures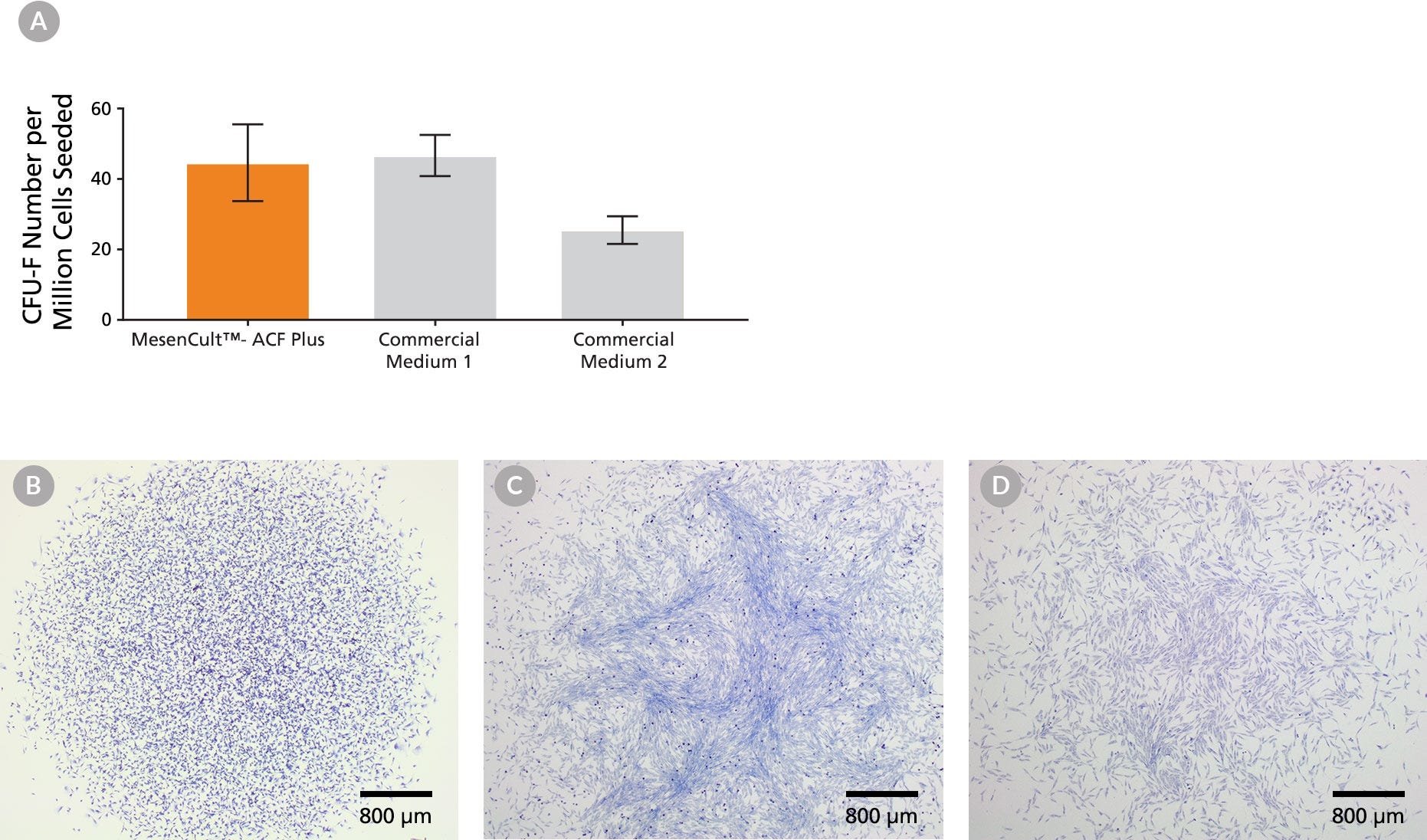 Figure 1. CFU-F Assay of Human BM-Derived MSCs Expanded in MesenCult™-ACF Plus Medium and Commercial Media.
(A) An average of 45 CFU-Fs per million cells were observed when BM mononuclear cells were seeded in MesenCult™-ACF Plus (n = 4). An average of 47 and 25 CFU-Fs per million cells were observed when cells were seeded in Commercial Medium 1 (n = 3) and Medium 2 (n = 4), respectively. Vertical lines indicate Standard Error of Mean (SEM). Representative image of CFU-F colonies expanded in (B) MesenCult™-ACF Plus Medium (9 days of culture), (C) Commercial Medium 1 (10 days of culture) and (D) Commercial Medium 2 (10 days of culture). Commercial Medium 1 and Medium 2 were supplemented with 2.5% human AB serum to derive MSCs from BM, as per their protocols for derivation. No addition of serum is required when using MesenCult™-ACF Plus Medium.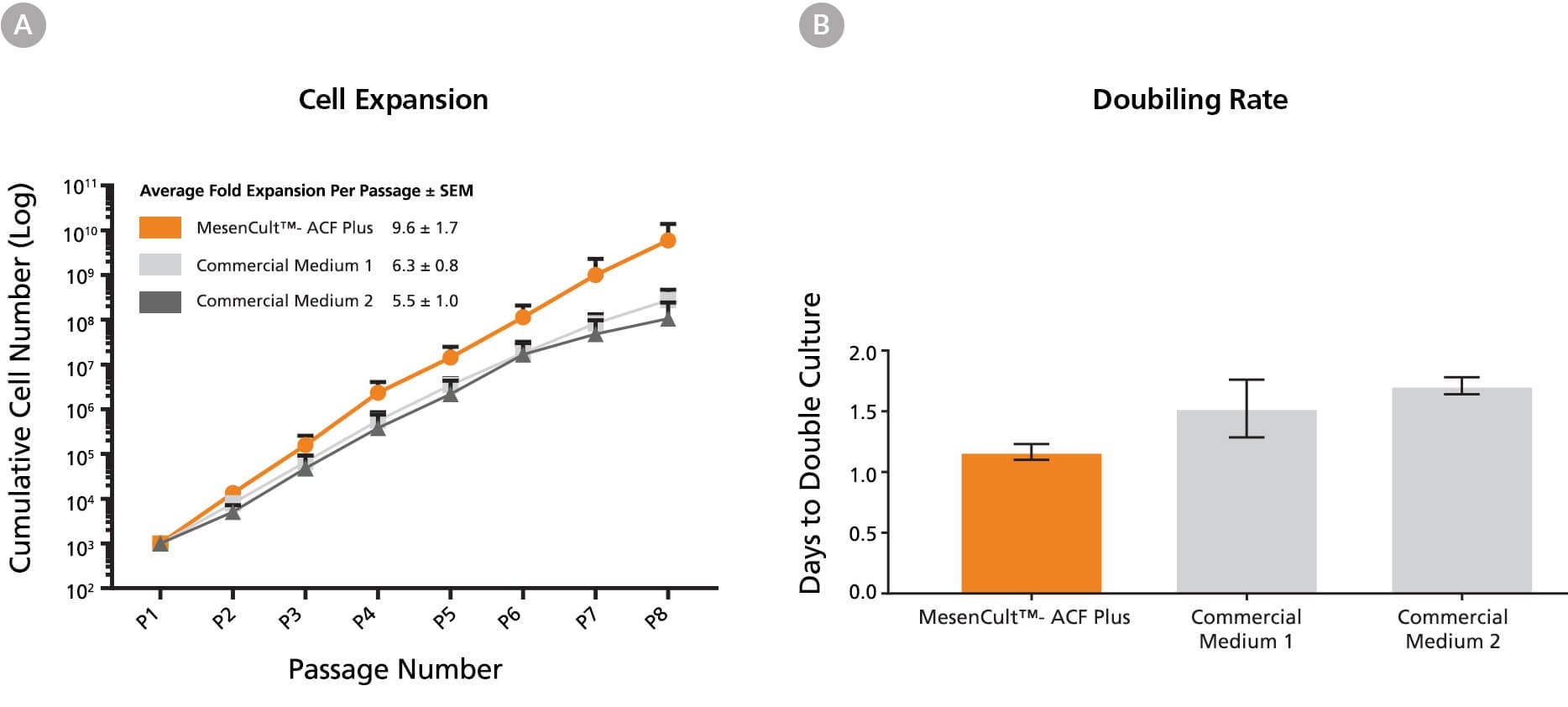 Figure 2. Human BM-Derived MSCs Cultured in MesenCult™-ACF Plus Medium Expand Faster than MSCs Cultured in Commercial Xeno-Free and Serum-Free Media.
(A) A greater number of BM-derived MSCs were generated per passage using MesenCult™-ACF Plus Medium (n=4) compared to Commercial Medium 1 (n=3) and Commercial Medium 2 (n=2). (B) Rates of BM-derived MSC expansion were compared between MesenCult™-ACF Plus Medium, Commercial Medium 1, and Commercial Medium 2. The time required to double the number of MSCs using MesenCult™ -ACF Plus Medium (n=4) was shorter than when MSCs were cultured in Commercial Medium 1 (n=3) and Commercial Medium 2 (n=4). Vertical lines indicate Standard Error of Mean (SEM).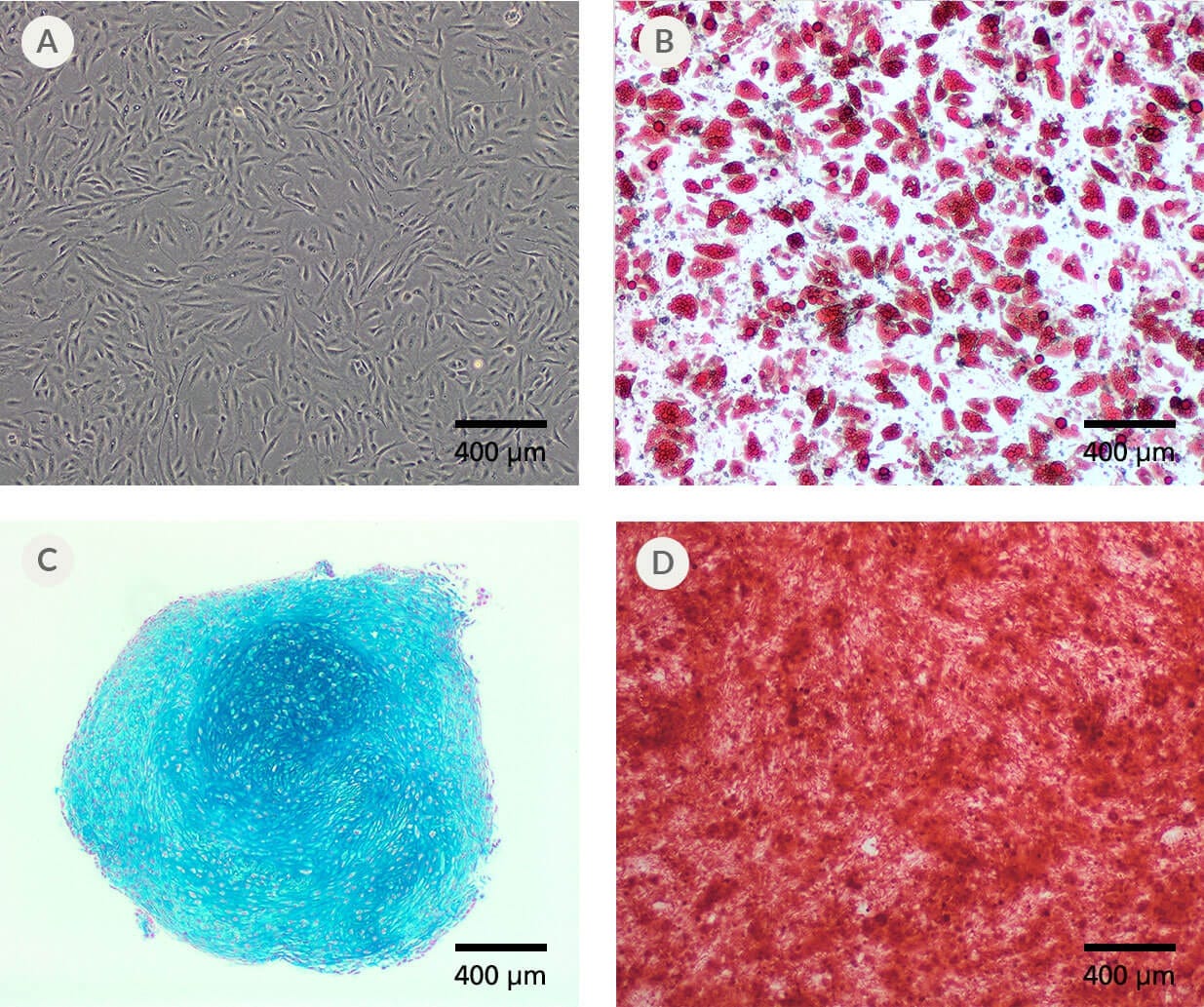 Figure 3. Human BM-Derived MSCs Expanded in MesenCult™-ACF Plus Medium Display Multi-Lineage Differentiation Potential.
(A) Human BM-derived MSCs expanded in MesenCult™-ACF Plus Medium differentiated into (B) adipocytes (Oil Red O staining; passage 5), (C) chondrocytes (Alcian Blue staining; passage 4) and (D) osteoblasts (Alizarin Red S staining; passage 5).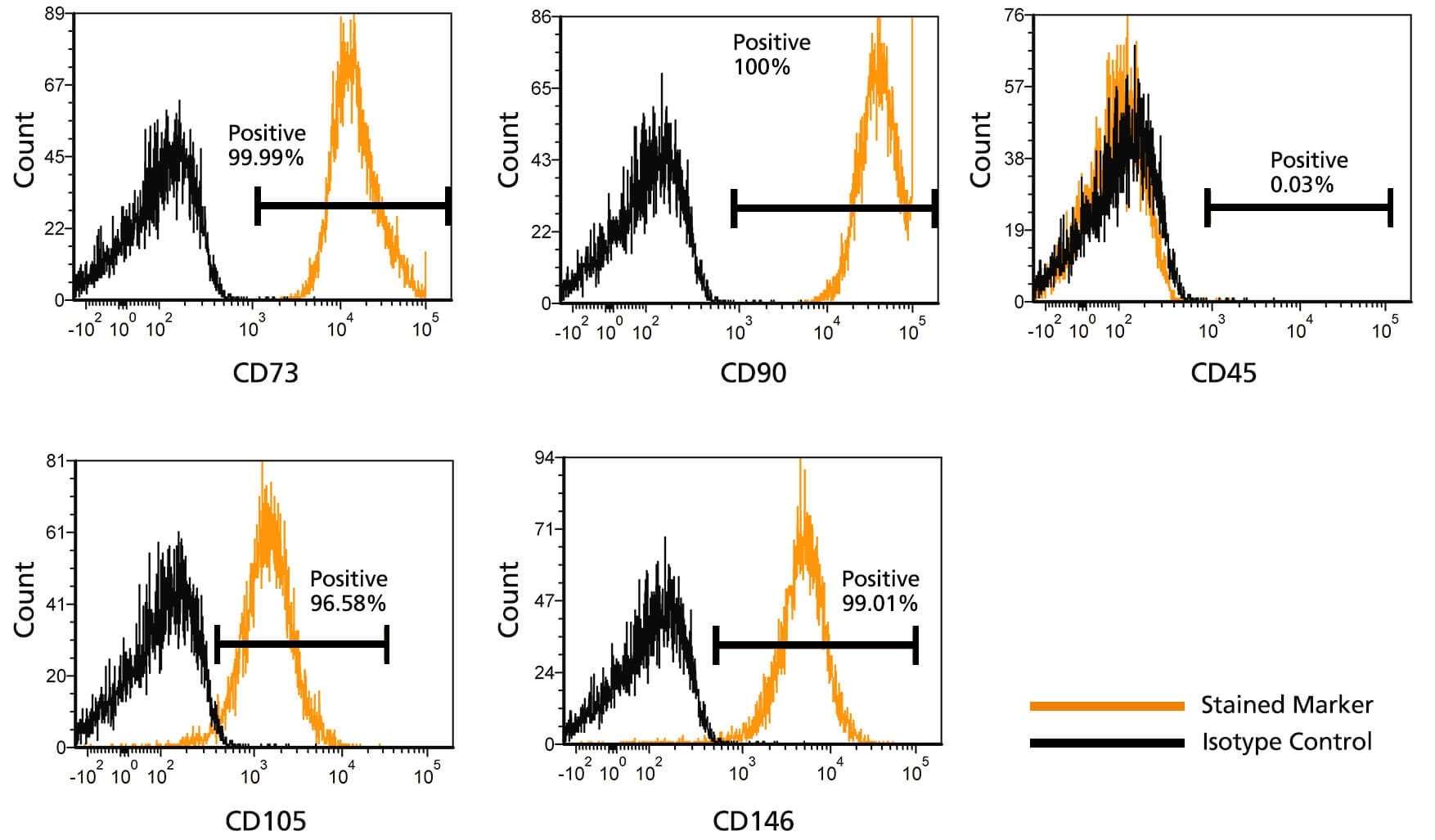 Figure 4. Flow Cytometric Analysis of MSCs Cultured in MesenCult™-ACF Plus Medium.
BM-derived MSCs were cultured and expanded in MesenCult™-ACF Plus Medium. At passage 8 MSCs were stained for mesenchymal surface markers (CD73, CD90, CD105,), pericyte marker (CD146) and hematopoietic marker (CD45). MSCs expressed high levels of CD73, CD90, CD105 and CD146 and lacked expression of CD45.
Protocols and Documentation
Find supporting information and directions for use in the Product Information Sheet or explore additional protocols below.
Document Type
Product Name
Catalog #
Lot #
Language
Applications
This product is designed for use in the following research area(s) as part of the highlighted workflow stage(s). Explore these workflows to learn more about the other products we offer to support each research area.
Resources and Publications
Educational Materials
(13)
Publications
(8)
CD81 Controls Beige Fat Progenitor Cell Growth and Energy Balance via FAK Signaling.
Cell 2020 jun
Abstract
Adipose tissues dynamically remodel their cellular composition in response to external cues by stimulating beige adipocyte biogenesis; however, the developmental origin and pathways regulating this process remain insufficiently understood owing to adipose tissue heterogeneity. Here, we employed single-cell RNA-seq and identified a unique subset of adipocyte progenitor cells (APCs) that possessed the cell-intrinsic plasticity to give rise to beige fat. This beige APC population is proliferative and marked by cell-surface proteins, including PDGFR$\alpha$, Sca1, and CD81. Notably, CD81 is not only a beige APC marker but also required for de novo beige fat biogenesis following cold exposure. CD81 forms a complex with $\alpha$V/$\beta$1 and $\alpha$V/$\beta$5 integrins and mediates the activation of integrin-FAK signaling in response to irisin. Importantly, CD81 loss causes diet-induced obesity, insulin resistance, and adipose tissue inflammation. These results suggest that CD81 functions as a key sensor of external inputs and controls beige APC proliferation and whole-body energy homeostasis.
Despite mutation acquisition in hematopoietic stem cells, JMML-propagating cells are not always restricted to this compartment.
Leukemia 2020 jun
Abstract
Juvenile myelomonocytic leukemia (JMML) is a rare aggressive myelodysplastic/myeloproliferative neoplasm of early childhood, initiated by RAS-activating mutations. Genomic analyses have recently described JMML mutational landscape; however, the nature of JMML-propagating cells (JMML-PCs) and the clonal architecture of the disease remained until now elusive. Combining genomic (exome, RNA-seq), Colony forming assay and xenograft studies, we detect the presence of JMML-PCs that faithfully reproduce JMML features including the complex/nonlinear organization of dominant/minor clones, both at diagnosis and relapse. Further integrated analysis also reveals that although the mutations are acquired in hematopoietic stem cells, JMML-PCs are not always restricted to this compartment, highlighting the heterogeneity of the disease during the initiation steps. We show that the hematopoietic stem/progenitor cell phenotype is globally maintained in JMML despite overexpression of CD90/THY-1 in a subset of patients. This study shed new lights into the ontogeny of JMML, and the identity of JMML-PCs, and provides robust models to monitor the disease and test novel therapeutic approaches.
Precision installation of a highly efficient suicide gene safety switch in human induced pluripotent stem cells.
Stem cells translational medicine 2020 jul
Abstract
Human pluripotent stem cells including induced pluripotent stem cells (iPSCs) and embryonic stem cells hold great promise for cell-based therapies, but safety concerns that complicate consideration for routine clinical use remain. Installing a safety switch" based on the inducible caspase-9 (iCASP9) suicide gene system should offer added control over undesirable cell replication or activity. Previous studies utilized lentiviral vectors to integrate the iCASP9 system into T cells and iPSCs. This method results in random genomic insertion of the suicide switch and inefficient killing of the cells after the switch is "turned on" with a small molecule (eg AP1903). To improve the safety and efficiency of the iCASP9 system for use in iPSC-based therapy we precisely installed the system into a genomic safe harbor the AAVS1 locus in the PPP1R12C gene. We then evaluated the efficiencies of different promoters to drive iCASP9 expression in human iPSCs. We report that the commonly used EF1$\alpha$ promoter is silenced in iPSCs and that the endogenous promoter of the PPP1R12C gene is not strong enough to drive high levels of iCASP9 expression. However the CAG promoter induces strong and stable iCASP9 expression in iPSCs and activation of this system with AP1903 leads to rapid killing and complete elimination of iPSCs and their derivatives including MSCs and chondrocytes in vitro. Furthermore iPSC-derived teratomas shrank dramatically or were completely eliminated after administration of AP1903 in mice. Our data suggest significant improvements on existing iCASP9 suicide switch technologies and may serve as a guide to other groups seeking to improve the safety of stem cell-based therapies."
Quality Statement:

PRODUCTS ARE FOR RESEARCH USE ONLY AND NOT INTENDED FOR HUMAN OR ANIMAL DIAGNOSTIC OR THERAPEUTIC USES UNLESS OTHERWISE STATED. FOR ADDITIONAL INFORMATION ON QUALITY AT STEMCELL, REFER TO WWW.STEMCELL.COM/COMPLIANCE.