Serum-free media for suspension culture of human ES and iPS cells

New look, same high quality and support!

You may notice that your instrument or reagent packaging looks slightly different from images displayed on the website, or from previous orders. We are updating our look but rest assured, the products themselves and how you should use them have not changed. Learn more
Serum-free media for suspension culture of human ES and iPS cells
What's Included
mTeSR™3D Seed Basal Medium, 400 mL
mTeSR™3D Seed 5X Supplement, 100 mL
mTeSR™3D Feed Supplement A, 100 mL
mTeSR™3D Feed Supplement B, 12 mL
New look, same high quality and support!

You may notice that your instrument or reagent packaging looks slightly different from images displayed on the website, or from previous orders. We are updating our look but rest assured, the products themselves and how you should use them have not changed. Learn more
Products for Your Protocol
Reversible Strainers

Reversible strainer for filtration of single cells and isolation of cellular aggregates, including embryoid bodies and spheroids
Overview
mTeSR™3D was developed for expansion and scale-up of undifferentiated human embryonic stem (ES) cells and human induced pluripotent stem (iPS) cells as aggregates in 3D suspension culture. The novel fed-batch workflow saves time and media. Daily feeds replenish nutrients and eliminate the need for medium exchanges on non-passaging days.

mTeSR™3D is a specialised and serum-free formulation. This culture system is compatible with a range of suspension culture vessels.
Subtype
Specialized Media
Cell Type
Pluripotent Stem Cells
Application
Cell Culture, Expansion
Area of Interest
Stem Cell Biology
Data Figures

Figure 1. hPSC growth in mTeSR™3D
mTeSR™3D supports expansion of hES and hiPS cells over multiple passages in aggregate suspension culture. Shown are cumulative viable cell numbers for (A) hESC line H9 cultured in shaker bottles (10 passages) and (B) hiPSC line STiPS-F016 cultured in spinner flasks (5 passages). Some cell lines may experience 1 passage of adaptation from 2D to 3D, as shown in (B).

Figure 2. hPSC aggregate morphology in mTeSR3D
Representative images of hPSC aggregates cultured in mTeSR™3D. (A) H9 cells (B) H7 cells (C) STiPS-F016 cells.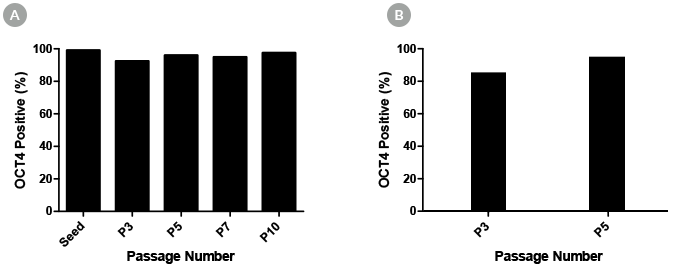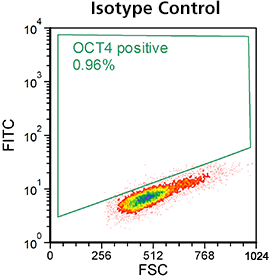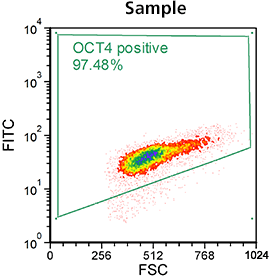 Figure 3. Expression of undifferentiated cell markers
hPSCs cultured in mTeSR™3D maintain high expression of OCT4. (A) H9 cells after 10 passages in shaker bottles. (B) STiPS-F016 cells after 5 passages in spinner flasks. Representative flow cytometry plots shown.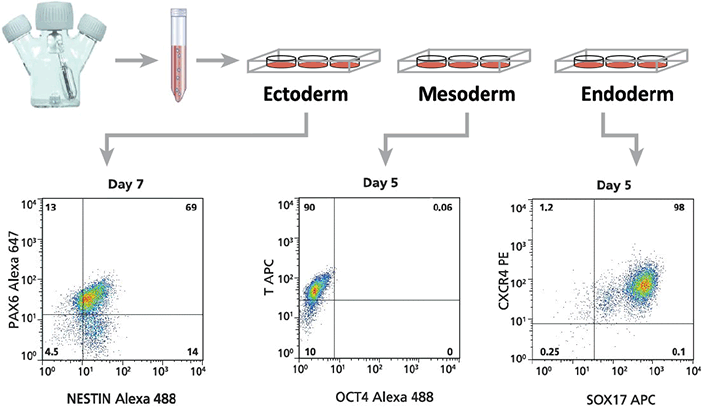 Figure 4. Tri-lineage Differentiation
hPSCs cultured in mTeSR™3D can be efficiently differentiated to all three germ layers. Trilineage differentiation potential was assessed using the STEMdiff™ Trilineage Differentiation Kit (Cat # 05230).
Protocols and Documentation
Find supporting information and directions for use in the Product Information Sheet or explore additional protocols below.
Document Type
Product Name
Catalog #
Lot #
Language
Applications
This product is designed for use in the following research area(s) as part of the highlighted workflow stage(s). Explore these workflows to learn more about the other products we offer to support each research area.
Resources and Publications
Educational Materials
(11)
Legal Statement:

mTeSR™3D is manufactured and sold under global exclusive license from Accellta for culture medium for hPSCs in suspension under feeder-free, non-adherent conditions. This product was developed under license to intellectual property owned by WiCell™ Research Institute. This product is sold for research use only (whether the buyer is an academic or for-profit entity) under a non-transferable, limited-use license. Purchase of this product does not include the right to sell, use or otherwise transfer this product for commercial purposes (i.e., any activity undertaken for consideration, such as use of this product for manufacturing, or resale of this product or any materials made using this product, or use of this product or any materials made using this product to provide services) or clinical use (i.e., administration of this product or any material using this product to humans) or the right to implant any material made using this product into an animal by, or in collaboration with, a for-profit entity, for purposes other than basic pre-clinical research applications (including without limitation teratoma assays) to validate the function of the cells. Purchasers who do not agree to the terms and conditions set forth above should return the product in acceptable conditions to the seller for a refund.

Quality Statement:

PRODUCTS ARE FOR RESEARCH USE ONLY AND NOT INTENDED FOR HUMAN OR ANIMAL DIAGNOSTIC OR THERAPEUTIC USES UNLESS OTHERWISE STATED. FOR ADDITIONAL INFORMATION ON QUALITY AT STEMCELL, REFER TO WWW.STEMCELL.COM/COMPLIANCE.