Serum-Free Expansion of CD34+ Cells with SFEM II and UM729
Explore the use of StemSpan™ SFEM II medium, StemSpan™ CD34+ Expansion Supplement and small molecules UM171 or UM729 to enhance expansion of HSPCs
We have spoken previously about the
cytokine supplements used for the expansion of CD34+ cells
. This tech tip takes a deeper dive into the use of StemSpan™ SFEM II medium, StemSpan™ CD34
+
Expansion Supplement and small molecules for generating large numbers of CD34
+
cells under serum-free conditions. These culture conditions can promote > 10-fold expansion of primitive CD34
+
CD45RA
-
CD90
+
progenitor cells after 7 days of culture.
You will need:
*Size/format depends on scale of experiment, see Table 1 below.
**UM171 may also be used to achieve similar results when added at a final concentration of 175 nM.
When deciding on your starting cell source, you may have some of the following questions:
Should I use fresh or frozen primary cells?
Both fresh or cryopreserved CD34+ cells can be used for expansion experiments. Favourable results can be achieved with either of these cell sources, provided that their content of hematopoietic progenitor cells, and their overall quality and viability, is good. Differences in cell quality are often larger between individual CB samples from different donors than would be observed between fresh or frozen samples from the same donor. Typically, one can obtain better results with frozen cells from "good" CB samples than with fresh cells from "poor" CB samples.
I have fresh or frozen whole blood or BM. Which EasySep™ kit should I use to select for CD34+ cells?
For more information about choosing the correct cell separation product for your cell source please read our previous tech tip "Isolating Hematopoietic Progenitors". If you are isolating CD34+ cells from fresh CB, find out why the EasySep™ Human Cord Blood CD34 Positive Selection Kit II is the best choice for this cell type.
Step 2. Set Up Cultures
CD34+ cells can be expanded in SFEM II medium using any type or size of cultureware, including flasks. Table 1 below can be used to determine how many CD34+ cells to plate in each well of 3 recommended tissue culture plate formats. These numbers are meant as guidelines only, as the optimal culture format and cell concentrations are dependent on the objectives of your experiment and the quality of the cells.
Table 1. General Recommendations for CD34+ Cell Plating Concentrations in Different Culture Plate Formats

*Both tissue culture-treated and non-tissue culture-treated plates are suitable for culture and have not been found to affect CD34+ cell expansion.
**StemSpan™ CD34+ Expansion Supplement is supplied as 10 mL of 10X concentrate, which is sufficient for use at 1X when combined with 90 mL of SFEM II.
Recommended Culture Protocol
Day 0 - Plate CD34+ cells (refer to the recommendations in Table 1 above) in SFEM II containing StemSpan™ CD34+ Expansion Supplement (by diluting 10 mL of 10X concentrate in 90 mL of SFEM II), with or without adding UM729 (to a final concentration of 1μM*). The related small molecule UM171 may also be used at a concentration of 175 nM, as shown in Figure 1 below.
Day 7 - Harvest cells for evaluation or downstream application.

NOTE: The culture period of 7 days has been determined as optimal for cell yield, CD34 expression and progenitor cell function. Shorter culture periods may be used if it is more important to preserve CD34 expression and progenitor cell function than to obtain high cell yield. Culturing beyond 7 days can be considered if high cell yields are desired. Note that CD34 expression and progenitor cell function is reduced with longer culture times, due to cell differentiation. If CD34
+
cells are cultured for more than 7 days then cells should be fed at day 4, and then diluted and/or replated on day 7 in fresh medium and supplement to maintain their growth and viability. Feed cultures either by adding an equal volume of fresh medium and supplement, or perform a half medium change on day 4.
*Further titration may be necessary to optimize cell fold expansion in specific conditions. For more information including data comparing UM171 and UM729, see Fares et al. 2014.
Step 3. Quantification and Use in Downstream Applications
After culture, it is recommended to count the number of both total and viable cells, e.g., using trypan blue and a hemocytometer, or using an automated cell counting method, and to measure CD34
+
expression by flow cytometry. Additional immunophenotyping may be done to identify CD34
+
cell subsets and/or differentiated CD34- cells produced in the cultures. Request our new wallchart for more information on
human hematopoietic stem and progenitor cell (HSPC) cell surface markers
for immunophenotyping or fluorescence-activated cell sorting (FACS).
Note: Antigen expression on CD34+ cells changes during culture and may not be as informative of differentiation stage or lineage potential as antigen expression on CD34+ cells that have not been cultured. For example, primary CD34+ cells with low or undetectable CD38 expression (CD34+CD38- phenotype) are highly enriched for hematopoietic stem cells and primitive progenitor cells, but CD34+CD38- cells that are detected in expansion cultures may not be as primitive.
Expected Results
SFEM II supplemented with CD34+ Expansion Supplement supports the expansion of CD34+ cells in culture. The addition of UM729 or UM171 further enhances expansion of CD34+cells, in addition to more primitive subsets such as CD34+CD45RA-CD90+cells (~10 fold at day 7 compared to cultures without one of these small molecules).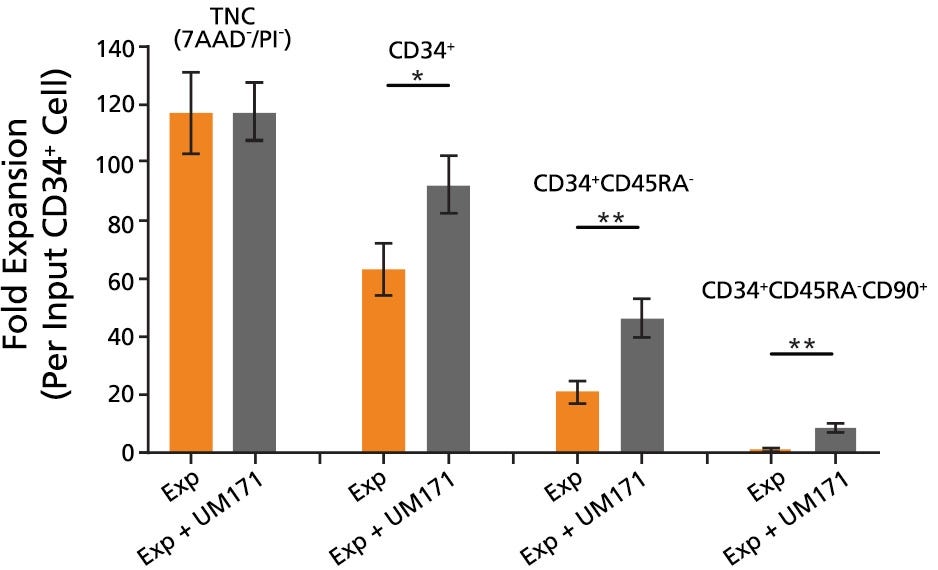 Figure 1. Expansion of CD34+Cells Cultured in StemSpan™ SFEM II
CD34+cells were cultured in StemSpan™ SFEM II containing CD34+Expansion Supplement (Exp) alone, or with UM171 (to a final concentration of 175 nM). Similar results are expected when using UM729 to a final concentration of 1 μM. Shown is the average fold expansion of the total nucleated cells (TNC), CD34+, CD34+CD45RA-and CD34+CD45RA-CD90+cell subsets after 7 days of culture. Data shown are mean ± SEM (n = 7). P-values were calculated using a two-tailed paired Student's t-test (*P < 0.05; **P < 0.01).
This tech tip is published as part of our
Hematopoiesis Hub
. Visit to find more tips about classic and new products, see conversations with experts in the field about their science, request a wallchart and more!
Request Pricing
Thank you for your interest in this product. Please provide us with your contact information and your local representative will contact you with a customized quote. Where appropriate, they can also assist you with a(n):
Estimated delivery time for your area
Product sample or exclusive offer
In-lab demonstration
By submitting this form, you are providing your consent to STEMCELL Technologies Canada Inc. and its subsidiaries and affiliates ("STEMCELL") to collect and use your information, and send you newsletters and emails in accordance with our
privacy policy
. Please
contact us
with any questions that you may have. You can unsubscribe or change your
email preferences
at any time.