Overview
Interleukin 6 (IL-6) is a pleiotropic growth factor with a wide range of biological activities in immune regulation, hematopoiesis, and oncogenesis. IL-6 is produced by a variety of cell types including T cells, B cells, monocytes and macrophages, fibroblasts, hepatocytes, vascular endothelial cells, and various tumor cell lines. On its own or in combination with other factors such as IL-2 and interferon-γ, IL-6 stimulates the proliferation of B cells, T cells, and hybridoma cells (Nordan et al.; Van Snick et al.; Gauldie et al.; Mihara et al.; Tanaka et al). In combination with cytokines such as IL-3, GM-CSF, and SCF, IL-6 has been shown to promote hematopoietic progenitor cell proliferation and differentiation in vitro. IL-6 signals through a cell surface type I cytokine receptor complex consisting of the ligand-binding IL-6α (CD126) and the signal-transducing gp130 subunits. The binding of IL-6 to its receptor system includes activation of the JAK/STAT signaling pathway (Mihara et al.; Peters et al; Tanaka et al.).
Alternative Names:
B cell differentiation factor, BSF-2, IFN-β2, Interleukin-6
Cell Type:
Airway Cells; Intestinal Cells; Hematopoietic Stem and Progenitor Cells; Neurons; T Cells; B Cells; Lymphocytes; Pluripotent Stem Cells
Area of Interest:
Stem Cell Biology; Immunology; Epithelial Cell Biology; Neuroscience
Molecular Weight:
21.9 kDa
Scientific Resources
Product Documentation
Document Type
Product Name
Catalog #
Lot #
Language
Educational Materials
(3)
Brochure Tools For Your Immunology Research
Wallchart Human Immune Cytokines
Product Applications
This product is designed for use in the following research area(s) as part of the highlighted workflow stage(s). Explore these workflows to learn more about the other products we offer to support each research area.
Research Area
Workflow Stages for
Data and Publications
Data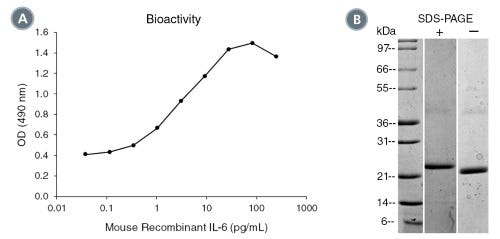 (A) The biological activity of Mouse Recombinant IL-6 was tested by its ability to promote the proliferation of 7TD1 cells. Cell proliferation was measured after 66 hours of culture using a fluorometric assay method. The EC50 is defined as the effective concentration of the growth factor at which cell proliferation is at 50% of maximum. The EC50 in the above example is 2.4 - 3.6 pg/mL.
(B) 1 μg of Mouse Recombinant IL-6 was resolved with SDS-PAGE under reducing (+) and non-reducing (-) conditions and visualized by Coomassie Blue staining. Mouse Recombinant IL-6 has a predicted molecular mass of 21.9 kDa.
STEMCELL TECHNOLOGIES INC.'S QUALITY MANAGEMENT SYSTEM IS CERTIFIED TO ISO 13485. PRODUCTS ARE FOR RESEARCH USE ONLY AND NOT INTENDED FOR HUMAN OR ANIMAL DIAGNOSTIC OR THERAPEUTIC USES UNLESS OTHERWISE STATED.