EasySep™ Human T Cell Enrichment Kit
Immunomagnetic negative selection kit
New look, same high quality and support!

You may notice that your instrument or reagent packaging looks slightly different from images displayed on the website, or from previous orders. We are updating our look but rest assured, the products themselves and how you should use them have not changed. Learn more
Request Pricing
Thank you for your interest in this product. Please provide us with your contact information and your local representative will contact you with a customized quote. Where appropriate, they can also assist you with a(n):
Estimated delivery time for your area
Product sample or exclusive offer
In-lab demonstration
By submitting this form, you are providing your consent to STEMCELL Technologies Canada Inc. and its subsidiaries and affiliates ("STEMCELL") to collect and use your information, and send you newsletters and emails in accordance with our
privacy policy
. Please
contact us
with any questions that you may have. You can unsubscribe or change your
email preferences
at any time.
New look, same high quality and support!

You may notice that your instrument or reagent packaging looks slightly different from images displayed on the website, or from previous orders. We are updating our look but rest assured, the products themselves and how you should use them have not changed. Learn more
Products for Your Protocol

Overview
The EasySep™ Human T Cell Enrichment Kit is designed to isolate T cells from fresh or previously frozen peripheral blood mononuclear cells by negative selection. Unwanted cells are targeted for removal with Tetrameric Antibody Complexes recognizing non-T cells and dextran-coated magnetic particles. The labeled cells are separated using an EasySep™ magnet without the use of columns. Desired cells are poured off into a new tube.
For even faster cell isolations, we recommend the new
EasySep™ Human T Cell Isolation Kit (17951)
which isolates cells in just 8 minutes.
Magnet Compatibility
• EasySep™ Magnet (Catalog #18000)
• "The Big Easy" EasySep™ Magnet (Catalog #18001)
• Easy 50 EasySep™ Magnet (Catalog #18002)
• EasyPlate™ EasySep™ Magnet (Catalog 18102)
• EasyEights™ EasySep™ Magnet (Catalog #18103)
• RoboSep™-S (Catalog #21000)
Subtype
Cell Isolation Kits
Sample Source
Leukapheresis, PBMC
Selection Method
Negative
Application
Cell Isolation
Area of Interest
Immunology
Data Figures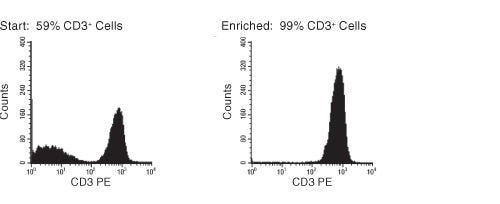 Figure 1. FACS Histogram Results With EasySep™ Human T Cell Enrichment Kit
Starting with previously frozen mononuclear cells, the CD3+ cell content of the enriched fraction typically ranges from 95% - 99%.
Protocols and Documentation
Find supporting information and directions for use in the Product Information Sheet or explore additional protocols below.
Document Type
Product Name
Catalog #
Lot #
Language
Applications
This product is designed for use in the following research area(s) as part of the highlighted workflow stage(s). Explore these workflows to learn more about the other products we offer to support each research area.
Resources and Publications
Educational Materials
(11)
Frequently Asked Questions
Can EasySep™ be used for either positive or negative selection?
Yes. The EasySep™ kits use either a negative selection approach by targeting and removing unwanted cells or a positive selection approach targeting desired cells. Depletion kits are also available for the removal of cells with a specific undesired marker (e.g. GlyA).
How does the separation work?
Magnetic particles are crosslinked to cells using Tetrameric Antibody Complexes (TAC). When placed in the EasySep™ Magnet, labeled cells migrate to the wall of the tube. The unlabeled cells are then poured off into a separate fraction.
Which columns do I use?
The EasySep™ procedure is column-free. That's right - no columns!
How can I analyze the purity of my enriched sample?
The Product Information Sheet provided with each EasySep™ kit contains detailed staining information.
Can EasySep™ separations be automated?
Yes. RoboSep™, the fully automated cell separator, automates all EasySep™ labeling and cell separation steps.
Can EasySep™ be used to isolate rare cells?
Yes. We recommend a cell concentration of 2x108 cells/mL and a minimum working volume of 100 µL. Samples containing 2x107 cells or fewer should be suspended in 100 µL of buffer.
Are the EasySep™ magnetic particles FACS-compatible?
Yes, the EasySep™ particles are flow cytometry-compatible, as they are very uniform in size and about 5000X smaller than other commercially available magnetic beads used with column-free systems.
Can the EasySep™ magnetic particles be removed after enrichment?
No, but due to the small size of these particles, they will not interfere with downstream applications.
Can I alter the separation time in the magnet?
Yes; however, this may impact the kit's performance. The provided EasySep™ protocols have already been optimized to balance purity, recovery and time spent on the isolation.
For positive selection, can I perform more than 3 separations to increase purity?
Yes, the purity of targeted cells will increase with additional rounds of separations; however, cell recovery will decrease.
How does the binding of the EasySep™ magnetic particle affect the cells? is the function of positively selected cells altered by the bound particles?
Hundreds of publications have used cells selected with EasySep™ positive selection kits for functional studies. Our in-house experiments also confirm that selected cells are not functionally altered by the EasySep™ magnetic particles.

If particle binding is a key concern, we offer two options for negative selection. The EasySep™ negative selection kits can isolate untouched cells with comparable purities, while RosetteSep™ can isolate untouched cells directly from whole blood without using particles or magnets.
Publications
(14)
An allosteric MALT1 inhibitor is a molecular corrector rescuing function in an immunodeficient patient.
Nature chemical biology 2019 mar
Abstract
MALT1 paracaspase is central for lymphocyte antigen-dependent responses including NF-kappaB activation. We discovered nanomolar, selective allosteric inhibitors of MALT1 that bind by displacing the side chain of Trp580, locking the protease in an inactive conformation. Interestingly, we had previously identified a patient homozygous for a MALT1 Trp580-to-serine mutation who suffered from combined immunodeficiency. We show that the loss of tryptophan weakened interactions between the paracaspase and C-terminal immunoglobulin MALT1 domains resulting in protein instability, reduced protein levels and functions. Upon binding of allosteric inhibitors of increasing potency, we found proportionate increased stabilization of MALT1-W580S to reach that of wild-type MALT1. With restored levels of stable MALT1 protein, the most potent of the allosteric inhibitors rescued NF-kappaB and JNK signaling in patient lymphocytes. Following compound washout, MALT1 substrate cleavage was partly recovered. Thus, a molecular corrector rescues an enzyme deficiency by substituting for the mutated residue, inspiring new potential precision therapies to increase mutant enzyme activity in other deficiencies.
Multifactorial heterogeneity of virus-specific T cells and association with the progression of human chronic hepatitis B infection.
Science immunology 2019 feb
Abstract
Associations between chronic antigen stimulation, T cell dysfunction, and the expression of various inhibitory receptors are well characterized in several mouse and human systems. During chronic hepatitis B virus (HBV) infection (CHB), T cell responses are blunted with low frequencies of virus-specific T cells observed, making these parameters difficult to study. Here, using mass cytometry and a highly multiplexed combinatorial peptide-major histocompatibility complex (pMHC) tetramer strategy that allows for the detection of rare antigen-specific T cells, we simultaneously probed 484 unique HLA-A*1101-restricted epitopes spanning the entire HBV genome on T cells from patients at various stages of CHB. Numerous HBV-specific T cell populations were detected, validated, and profiled. T cells specific for two epitopes (HBVpol387 and HBVcore169) displayed differing and complex heterogeneities that were associated with the disease progression, and the expression of inhibitory receptors on these cells was not linearly related with their extent of T cell dysfunction. For HBVcore169-specific CD8+ T cells, we found cellular markers associated with long-term memory, polyfunctionality, and the presence of several previously unidentified public TCR clones that correlated with viral control. Using high-dimensional trajectory analysis of these cellular phenotypes, a pseudo-time metric was constructed that fit with the status of viral infection in corresponding patients. This was validated in a longitudinal cohort of patients undergoing antiviral therapy. Our study uncovers complex relationships of inhibitory receptors between the profiles of antigen-specific T cells and the status of CHB with implications for new strategies of therapeutic intervention.
PD-1 Status in CD8+ T Cells Associates with Survival and Anti-PD-1 Therapeutic Outcomes in Head and Neck Cancer.
Cancer research 2017 NOV
Abstract
Improved understanding of expression of immune checkpoint receptors (ICR) on tumor-infiltrating lymphocytes (TIL) may facilitate more effective immunotherapy in head and neck cancer (HNC) patients. A higher frequency of PD-1+ TIL has been reported in human papillomavirus (HPV)+ HNC patients, despite the role of PD-1 in T-cell exhaustion. This discordance led us to hypothesize that the extent of PD-1 expression more accurately defines T-cell function and prognostic impact, because PD-1high T cells may be more exhausted than PD-1low T cells and may influence clinical outcome and response to anti-PD-1 immunotherapy. In this study, PD-1 expression was indeed upregulated on HNC patient TIL, and the frequency of these PD-1+ TIL was higher in HPV+ patients (P = 0.006), who nonetheless experienced significantly better clinical outcome. However, PD-1high CD8+ TILs were more frequent in HPV- patients and represented a more dysfunctional subset with compromised IFN-γ secretion. Moreover, HNC patients with higher frequencies of PD-1high CD8+ TIL showed significantly worse disease-free survival and higher hazard ratio for recurrence (P < 0.001), while higher fractions of PD-1low T cells associated with HPV positivity and better outcome. In a murine HPV+ HNC model, anti-PD-1 mAb therapy differentially modulated PD-1high/low populations, and tumor rejection associated with loss of dysfunctional PD-1high CD8+ T cells and a significant increase in PD-1low TIL. Thus, the extent of PD-1 expression on CD8+ TIL provides a potential biomarker for anti-PD-1-based immunotherapy. Cancer Res; 77(22); 6353-64. textcopyright2017 AACR.
Quality Statement:

PRODUCTS ARE FOR RESEARCH USE ONLY AND NOT INTENDED FOR HUMAN OR ANIMAL DIAGNOSTIC OR THERAPEUTIC USES UNLESS OTHERWISE STATED. FOR ADDITIONAL INFORMATION ON QUALITY AT STEMCELL, REFER TO WWW.STEMCELL.COM/COMPLIANCE.