Fibroblast growth factor 5
Overview
Fibroblast growth factor 5 (FGF-5) is a secreted, heparin-binding member of the FGF subfamily. FGFs possess broad mitogenic and cell survival activities and are expressed during embryonic development. FGF-5 is expressed in the mesenchyme, skeletal muscles, central nervous systems, and hair follicles. FGF-5 promotes cell differentiation and proliferation by binding FGF receptor 1 and FGF receptor 2 (FGFR1 and FGFR2, respectively). FGF-5 plays an important regulatory role in skeletal muscle development. FGF-5 has also been identified in neurons of the limbic system, especially those of the olfactory bulb and pyramidal cells of the hippocampus (Haub & Goldfarb).
Subtype
Cytokines, Growth Factors
Alternative Names
Fibroblast growth factor 5, HBGF-5, Heparin-binding growth factor 5, Smag-82
Cell Type
Mesenchymal Stem and Progenitor Cells, Neurons
Area of Interest
Neuroscience, Stem Cell Biology
Molecular Weight
27.7 kDa
Product Applications
This product is designed for use in the following research area(s) as part of the highlighted workflow stage(s). Explore these workflows to learn more about the other products we offer to support each research area.
Data and Publications
Data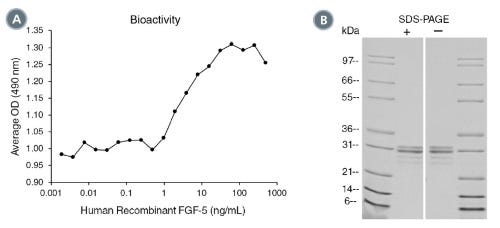 (A) The biological activity of Human Recombinant FGF-5 was tested by its ability to promote proliferation of NR6R-3T3 cells in the presence of 1 μg heparin. Cell proliferation was measured using a fluorometric assay method. The EC50 is defined as the effective concentration of the growth factor at which cell proliferation is at 50% of maximum. The EC50 in the example above is 3.11 ng/mL. (B) 1 μg of Human Recombinant FGF-5 was resolved with SDS-PAGE under reducing (+) and non-reducing (-) conditions and visualized by Coomassie Blue staining. Human Recombinant FGF-5 has a predicted molecular mass of 27.7 kDa.
Quality Statement:

PRODUCTS ARE FOR RESEARCH USE ONLY AND NOT INTENDED FOR HUMAN OR ANIMAL DIAGNOSTIC OR THERAPEUTIC USES UNLESS OTHERWISE STATED. FOR ADDITIONAL INFORMATION ON QUALITY AT STEMCELL, REFER TO WWW.STEMCELL.COM/COMPLIANCE.