Overview
Interleukin 31 (IL-31), a four-helix bundle inflammatory cytokine, belongs to the IL-6 cytokine family which includes IL-6 (Catalog #78050), oncostatin M (Catalog #78094), leukemia inhibitory factor (LIF; Catalog #78055), and cardiotrophin-1 (Catalog #78160; Dillon et al.). IL-31 signals through a heterodimer composed of IL-31RA (also known as gp130-like receptor or GPL) and the oncostatin-M receptor (OSMR), both of which are expressed on monocytes (Diveu et al.; Ghilardi et al.), epithelial cells (Ip et al.), and keratinocytes (Kato et al.). Signaling through the GPL/OSMR complex activates the JAK/STAT, RAS/ERK, and PI3K/AKT signaling pathways, resulting in the downstream activation of STAT1, STAT3, and STAT5 transcription factors (Cornelissen et al.; Dambacher et al.; Dillon et al.; Ip et al.). IL-31 responses have been associated with allergic responses and inflammatory skin diseases including atopic dermatitis (Cornelissen et al.; Gangemi et al.).
Alternative Names
Interleukin-31
Cell Type
Dendritic Cells, Intestinal Cells, Macrophages, Monocytes, T Cells
Area of Interest
Immunology, Stem Cell Biology
Molecular Weight
15.8 kDa
Product Applications
This product is designed for use in the following research area(s) as part of the highlighted workflow stage(s). Explore these workflows to learn more about the other products we offer to support each research area.
Data and Publications
Data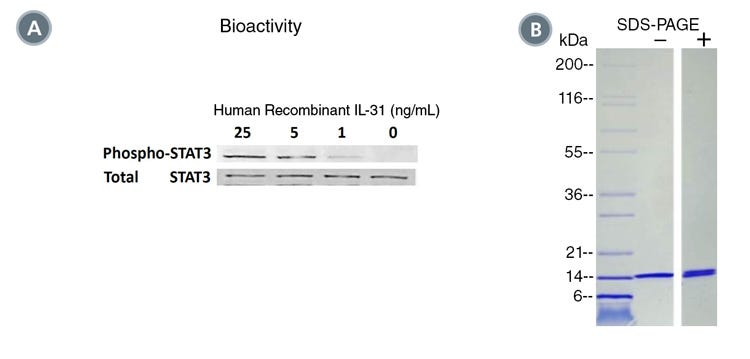 (A) The biological activity of Human Recombinant IL-31 was tested by STAT3 activation in U-87 MG cells. The detection limit was ≤ 25 ng/mL. (B) Human Recombinant IL-31 was resolved with SDS-PAGE under reducing (+) conditions and non-reducing (-) conditions and visualized by Coomassie Blue staining. Human Recombinant IL-31 has a predicted molecular mass of 15.8 kDa.
Quality Statement:

PRODUCTS ARE FOR RESEARCH USE ONLY AND NOT INTENDED FOR HUMAN OR ANIMAL DIAGNOSTIC OR THERAPEUTIC USES UNLESS OTHERWISE STATED. FOR ADDITIONAL INFORMATION ON QUALITY AT STEMCELL, REFER TO WWW.STEMCELL.COM/COMPLIANCE.