Human Recombinant IFN-alpha 2A
Overview
Interferon-alpha (IFN-α) is a type I interferon, produced by virus-infected cells, and is released as a soluble factor to initiate antiviral responses (Isaacs & Lindenmann). IFN-α2 is the most potent IFN-α used in fundamental research and in most clinical applications. The best-known IFN-α2 subvariants, 2A and 2B, differ by only one or two amino acids at positions 23 and/or 34 of the mature protein (von Gabain et al.). Type I IFNs exert potent antitumor activity by increasing the cytotoxic activity of NK and T cells, as well as by inhibiting the proliferation of cancer cells (Paul et al.). Additionally, it has been shown that proinflammatory IFN-α modulates the function of B cells in patients with systemic lupus erythematosus (Chang et al.), and pegylated forms of IFN-alpha 2A and 2B have implications in the treatment of hepatitis C (Foster et al.).
Alternative Names
IFN-alpha 2, IFNA2, IFNA2a
Cell Type
B Cells, Cancer Cells and Cell Lines, NK Cells, T Cells
Area of Interest
Cancer, Immunology
Molecular Weight
19.4 kDa
Product Applications
This product is designed for use in the following research area(s) as part of the highlighted workflow stage(s). Explore these workflows to learn more about the other products we offer to support each research area.
Data and Publications
Data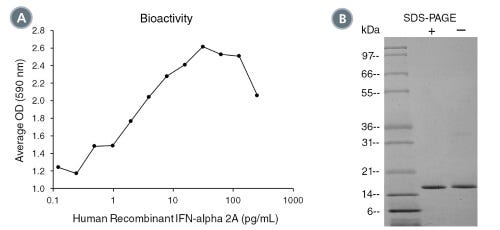 (A) The biological activity of Human Recombinant IFN-alpha 2A was measured with A549 cells exposed to the encephalomyocarditis (EMC) virus in a cytopathic effect (CPE) assay. Cell survival was measured using a fluorometric assay method. The EC50 is defined as the effective concentration of the cytokine at which cell survival is at 50% of maximum. The EC50 in the example above is 3.6 pg/mL. (B) 1 μg of Human Recombinant IFN-alpha 2A was resolved with SDS-PAGE under reducing (+) and non-reducing (-) conditions and visualized by Coomassie Blue staining. Human Recombinant IFN-alpha 2A has a predicted molecular mass of 19.4 kDa.
Quality Statement:

PRODUCTS ARE FOR RESEARCH USE ONLY AND NOT INTENDED FOR HUMAN OR ANIMAL DIAGNOSTIC OR THERAPEUTIC USES UNLESS OTHERWISE STATED. FOR ADDITIONAL INFORMATION ON QUALITY AT STEMCELL, REFER TO WWW.STEMCELL.COM/COMPLIANCE.