Bone Marrow Products
For Your Cell-Based Assays
Human bone marrow (BM) is a rich source of human primary cells, including hematopoietic stem and progenitor cells (HSPCs), mononuclear cells (MNCs), as well as mesenchymal stromal cells (MSCs), also referred to as stromal cells or mesenchymal stem cells. Human primary cells isolated directly from BM retain key aspects of the tissue of origin, reflecting the donor in vivo microenvironment more accurately than cell lines. Consequently, this higher physiological relevance makes them a more attractive starting point for research areas such as regenerative medicine and cell therapy.
Why Choose Human Bone Marrow Products from STEMCELL Technologies?
STEMCELL offers a comprehensive collection of ethically sourced fresh or cryopreserved BM primary cell products to support your research needs.* Ensure continuity in your research and start experiments according to your schedule with a reliable supply of high-quality, donor-specific primary cells that are ready to use upon receipt, with guaranteed viability and purity documented in the lot-specific Certificate of Analysis (CoA).
Learn more about how we can work closely with you as your primary cells supplier.
Why Use Human Primary Cells from STEMCELL Technologies?
Choose cells that are more physiologically representative of cells in vivo.
Access donor samples collected using regulatory authority-approved consent forms and protocols.
Request custom products for non-standard cell types or collections with specific requirements.
Reserve large numbers of cryopreserved cells and start experiments on your schedule with cells you've already tested.
Reduce time spent collecting and culturing primary cells.

Request an Offer for Human Primary Cells
Fill out this form to request information about introductory offers to try STEMCELL's human primary cell products.
Request Offer >

Frequently Asked Questions on Primary Cells
Find answers to frequently asked questions on our primary cell products.
Learn More >
Our Human Bone Marrow Product Portfolio
Explore our range of BM products* obtained from healthy human donors, available in a range of quantities and ready for use in your research.

Whole Human Bone Marrow, Fresh
Choose from different volumes of fresh, heparinized human bone marrow, each supplied in one 100 mL bottle.
View Product >

Human Bone Marrow Mononuclear Cells, Frozen
Obtain a heterogeneous population of mononuclear cells (MNCs) that includes hematopoietic lineage cells as well as MSCs.
View Product >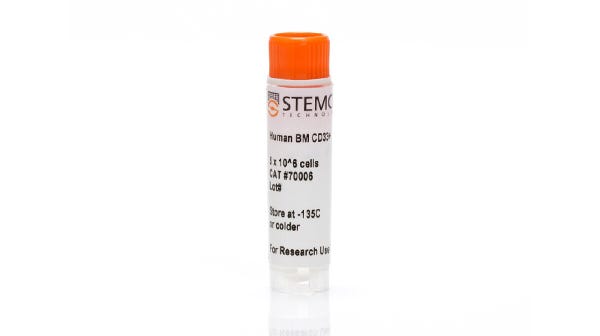 Human Bone Marrow CD33+ Cells, Frozen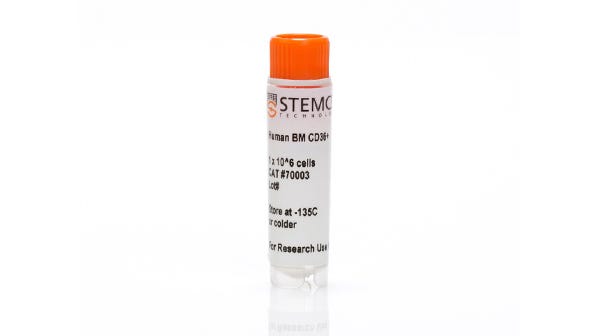 Human Bone Marrow CD36+ Cells, Frozen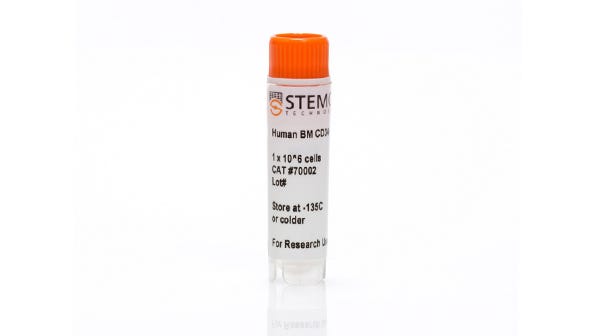 Human Bone Marrow CD34+ Cells, Frozen
Get the Custom Cell Products and Assay Services You Need
STEMCELL is committed to helping you find the right human primary cells as well as providing expert assay services customized to fit your research specifications and needs.

Primary Cell-Based Assay Services
Partner with our in-house Contract Assay Services (CAS) team to design and complete your drug discovery and development studies. Get the data you require by choosing from our portfolio of standardized assays or discuss your customized needs with our scientific experts.
Learn More >

Custom Products
Get custom primary cell products—including unique peripheral blood isolations, collections using alternative anticoagulants, and donor-matched collections, additional testing, and more.
Learn More >
Standardize Your Downstream Cell Processes
Standardize your cell culture systems by using our expert cell processing technologies and resources to support every stage of your research workflow.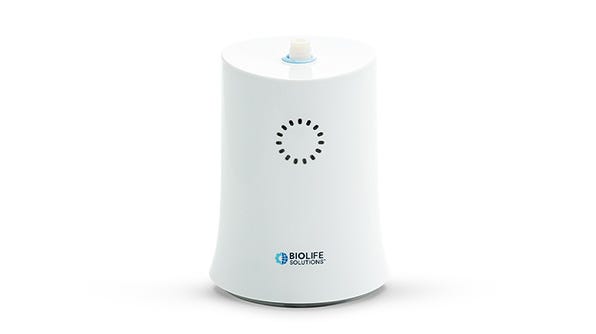 Cell Thawing Instrument
Standardize your cell thawing process with the ThawSTAR® CFT2 Automated Thawing System—a sensor-based, water-free instrument that delivers cell thawing profiles similar to those of a water bath in ~2.5 minutes.
View Product >
Cell Isolation Kit for CD34+ Cells
Isolate CD34+ cells from fresh or frozen BM MNCs using the EasySep™ Human CD34 Positive Selection Kit II.
View Product >

Cell Separation Guide E-Book
Learn everything you need to know about cell isolation techniques by downloading our cell separation e-book.
Get Your Free Copy >
We offer a range of specialized cell culture media and supplements for HSPC expansion and differentiation, as well as for the detection of hematopoietic cells in functional assays. Find out more below:
Protocols and Resources for Your Cell-Based Assays
Find protocols and technical resources to help you work with human CB primary cells in your research.
*Certain products are only available in select territories. Please contact your sales representative or the Product & Scientific Support team at techsupport@stemcell.com for further information.