Overview
The EasySep™ Release Human CD3 Positive Selection Kit is designed to isolate CD3+ cells from fresh or previously frozen peripheral blood mononuclear cells or washed leukapheresis samples by immunomagnetic positive selection.
Desired cells are labeled with antibodies and magnetic particles, and separated without columns using an EasySep™ magnet. Unwanted cells are simply poured off, while desired cells remain in the tube. Then, bound magnetic particles are removed from the EasySep™-isolated CD3+ cells, which are immediately available for downstream applications. Following cell isolation with this EasySep™ Release kit, antibody complexes remain bound to the cell surface and may interact with Brilliant Violet™ antibody conjugates, polyethylene glycol-modified proteins or other chemically related ligands. The CD3 antigen is expressed on all T cells and CD56+ NKT cells.
This product is designed for cell therapy research applications following the recommendations of USP<1043> on Ancillary Materials, and we can currently work with you to qualify this reagent under an approved investigational new drug (IND) or clinical trial application (CTA).
This product aims to be developed as a cGMP-grade reagent for cellular therapy research. Learn more at
www.stemcell.com/t-cell-therapy
Advantages:
• Highly purified human CD3+ cells isolated in less than 30 minutes
• No-wash removal of EasySep™ Releasable RapidSpheres™
Components:
EasySep™ Release Human CD3 Positive Selection Kit (Catalog #17751)

EasySep™ Release Human CD3 Positive Selection Cocktail, 1 mL

EasySep™ Releasable RapidSpheres™ 50201, 1 mL

EasySep™ Release Buffer (Concentrate), 3 x 1 mL
Magnet Compatibility:
• EasySep™ Magnet (Catalog #18000)
• "The Big Easy" EasySep™ Magnet (Catalog #18001)
• EasyPlate™ Magnet (Catalog #18102)
• EasyEights™ Magnet (Catalog #18103)
Subtype:
Cell Isolation Kits
Sample Source:
Leukapheresis; PBMC
Selection Method:
Positive
Area of Interest:
Immunology; T Cell Engineering
Scientific Resources
Product Documentation
Document Type
Product Name
Catalog #
Lot #
Language
Educational Materials
(11)
Product Applications
This product is designed for use in the following research area(s) as part of the highlighted workflow stage(s). Explore these workflows to learn more about the other products we offer to support each research area.
Research Area
Workflow Stages for
Data and Publications
Data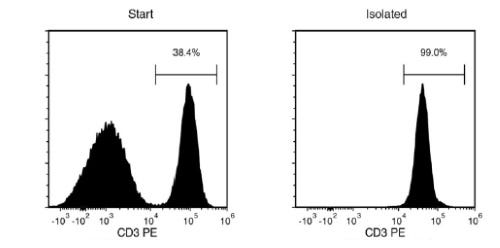 Starting with a single-cell suspension of human PBMCs, the CD3+ cell content of the isolated fraction is typically 98.7 ± 0.9% (mean ± SD using the purple EasySep™ Magnet). In the above example, the purities of the start and final isolated fractions are 38.4% and 99.0%, respectively.
STEMCELL TECHNOLOGIES INC.'S QUALITY MANAGEMENT SYSTEM IS CERTIFIED TO ISO 13485. PRODUCTS ARE FOR RESEARCH USE ONLY AND NOT INTENDED FOR HUMAN OR ANIMAL DIAGNOSTIC OR THERAPEUTIC USES UNLESS OTHERWISE STATED.