NeuroCult™ Chemical Dissociation Kit (Mouse)
Kit for chemical dissociation of mouse neurospheres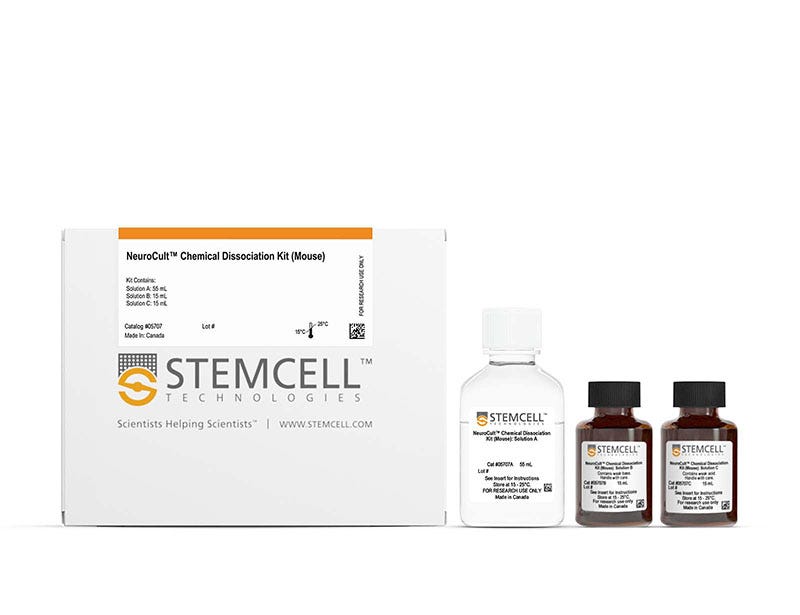 New look, same high quality and support!

You may notice that your instrument or reagent packaging looks slightly different from images displayed on the website, or from previous orders. We are updating our look but rest assured, the products themselves and how you should use them have not changed. Learn more
Request Pricing
Thank you for your interest in this product. Please provide us with your contact information and your local representative will contact you with a customized quote. Where appropriate, they can also assist you with a(n):
Estimated delivery time for your area
Product sample or exclusive offer
In-lab demonstration
By submitting this form, you are providing your consent to STEMCELL Technologies Canada Inc. and its subsidiaries and affiliates ("STEMCELL") to collect and use your information, and send you newsletters and emails in accordance with our
privacy policy
. Please
contact us
with any questions that you may have. You can unsubscribe or change your
email preferences
at any time.
New look, same high quality and support!

You may notice that your instrument or reagent packaging looks slightly different from images displayed on the website, or from previous orders. We are updating our look but rest assured, the products themselves and how you should use them have not changed. Learn more
Overview
The NeuroCult™ Chemical Dissociation Kit is recommended for the non-mechanical and non-enzymatic dissociation of neurospheres derived from embryonic or adult mouse central nervous system tissue. A significantly higher viability and total cell number is observed after expansion, in comparison to neurospheres dissociated by trituration, and the functional properties of the cells are maintained.
Cell Type
Neural Stem and Progenitor Cells
Area of Interest
Neuroscience, Stem Cell Biology
Data Figures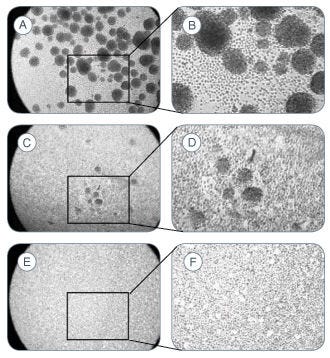 Figure 1. Chemical Dissociation of Mouse Neurospheres
Photomicrographs showing the chemical dissociation of mouse neurospheres at (A) 2 minutes (C) 5 minutes and (E) 7 minutes after the addition of NeuroCult™ Chemical Dissociation Solution B. Figures (B), (D) and (F) are enlargements of the boxed areas in figures (A), (C) and (E), respectively. A single cell suspension is evident in (E) and (F).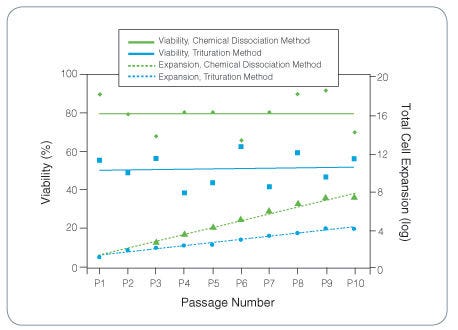 Figure 2. Comparison of Percent Viability and Cell Expansion Between the Neurocult™ Chemical Dissociation Kit and Trituration
Mouse neurospheres were dissociated at each passage (up to P10) with the NeuroCult™ Chemical Dissociation Kit or trituration. Cells dissociated with the NeuroCult™ Chemical Dissociation Kit had a significantly higher percent viability and total cell number (after expansion) in comparison with trituration.
Protocols and Documentation
Find supporting information and directions for use in the Product Information Sheet or explore additional protocols below.
Document Type
Product Name
Catalog #
Lot #
Language
Applications
This product is designed for use in the following research area(s) as part of the highlighted workflow stage(s). Explore these workflows to learn more about the other products we offer to support each research area.
Resources and Publications
Educational Materials
(6)
Publications
(35)
Cathepsin B Improves ß-Amyloidosis and Learning and Memory in Models of Alzheimer's Disease.
Journal of neuroimmune pharmacology : the official journal of the Society on NeuroImmune Pharmacology 2017 JUN
Abstract
Amyloid-ß (Aß) precursor protein (APP) metabolism engages neuronal endolysosomal pathways for Aß processing and secretion. In Alzheimer's disease (AD), dysregulation of APP leads to excess Aß and neuronal dysfunction; suggesting that neuronal APP/Aß trafficking can be targeted for therapeutic gain. Cathepsin B (CatB) is a lysosomal cysteine protease that can lower Aß levels. However, whether CatB-modulation of Aß improves learning and memory function deficits in AD is not known. To this end, progenitor neurons were infected with recombinant adenovirus expressing CatB and recovered cell lysates subjected to proteomic analyses. The results demonstrated Lamp1 deregulation and linkages between CatB and the neuronal phagosome network. Hippocampal injections of adeno-associated virus expressing CatB reduced Aß levels, increased Lamp1 and improved learning and memory. The findings were associated with the emergence of c-fos + cells. The results support the idea that CatB can speed Aß metabolism through lysosomal pathways and as such reduce AD-associated memory deficits.
DNA polymerase β decrement triggers death of olfactory bulb cells and impairs olfaction in a mouse model of Alzheimer's disease.
Aging cell 2017 FEB
Abstract
Alzheimer's disease (AD) involves the progressive degeneration of neurons critical for learning and memory. In addition, patients with AD typically exhibit impaired olfaction associated with neuronal degeneration in the olfactory bulb (OB). Because DNA base excision repair (BER) is reduced in brain cells during normal aging and AD, we determined whether inefficient BER due to reduced DNA polymerase-β (Polβ) levels renders OB neurons vulnerable to degeneration in the 3xTgAD mouse model of AD. We interrogated OB histopathology and olfactory function in wild-type and 3xTgAD mice with normal or reduced Polβ levels. Compared to wild-type control mice, Polβ heterozygous (Polβ+/- ), and 3xTgAD mice, 3xTgAD/Polβ+/- mice exhibited impaired performance in a buried food test of olfaction. Polβ deficiency did not affect the proliferation of OB neural progenitor cells in the subventricular zone. However, numbers of newly generated neurons were reduced by approximately 25% in Polβ+/- and 3xTgAD mice, and by over 60% in the 3xTgAD/Polβ+/- mice compared to wild-type control mice. Analyses of DNA damage and apoptosis revealed significantly greater degeneration of OB neurons in 3xTgAD/Polβ+/- mice compared to 3xTgAD mice. Levels of amyloid β-peptide (Aβ) accumulation in the OB were similar in 3xTgAD and 3xTgAD/Polβ+/- mice, and cultured Polβ-deficient neurons exhibited increased vulnerability to Aβ-induced death. Olfactory deficit is an early sign in human AD, but the mechanism is not yet understood. Our findings in a new AD mouse model demonstrate that diminution of BER can endanger OB neurons, and suggest a mechanism underlying early olfactory impairment in AD.
Therapeutic potential of targeting microRNA-10b in established intracranial glioblastoma: first steps toward the clinic.
EMBO molecular medicine 2016 MAR
Abstract
MicroRNA-10b (miR-10b) is a unique oncogenic miRNA that is highly expressed in all GBM subtypes, while absent in normal neuroglial cells of the brain. miR-10b inhibition strongly impairs proliferation and survival of cultured glioma cells, including glioma-initiating stem-like cells (GSC). Although several miR-10b targets have been identified previously, the common mechanism conferring the miR-10b-sustained viability of GSC is unknown. Here, we demonstrate that in heterogeneous GSC, miR-10b regulates cell cycle and alternative splicing, often through the non-canonical targeting via 5'UTRs of its target genes, including MBNL1-3, SART3, and RSRC1. We have further assessed the inhibition of miR-10b in intracranial human GSC-derived xenograft and murine GL261 allograft models in athymic and immunocompetent mice. Three delivery routes for the miR-10b antisense oligonucleotide inhibitors (ASO), direct intratumoral injections, continuous osmotic delivery, and systemic intravenous injections, have been explored. In all cases, the treatment with miR-10b ASO led to targets' derepression, and attenuated growth and progression of established intracranial GBM. No significant systemic toxicity was observed upon ASO administration by local or systemic routes. Our results indicate that miR-10b is a promising candidate for the development of targeted therapies against all GBM subtypes.
Quality Statement:

PRODUCTS ARE FOR RESEARCH USE ONLY AND NOT INTENDED FOR HUMAN OR ANIMAL DIAGNOSTIC OR THERAPEUTIC USES UNLESS OTHERWISE STATED. FOR ADDITIONAL INFORMATION ON QUALITY AT STEMCELL, REFER TO WWW.STEMCELL.COM/COMPLIANCE.