EasySep™ Mouse Mesenchymal Stem/Progenitor Cell Enrichment Kit
Immunomagnetic negative selection cell isolation kit

New look, same high quality and support!

You may notice that your instrument or reagent packaging looks slightly different from images displayed on the website, or from previous orders. We are updating our look but rest assured, the products themselves and how you should use them have not changed. Learn more
Request Pricing
Thank you for your interest in this product. Please provide us with your contact information and your local representative will contact you with a customized quote. Where appropriate, they can also assist you with a(n):
Estimated delivery time for your area
Product sample or exclusive offer
In-lab demonstration
By submitting this form, you are providing your consent to STEMCELL Technologies Canada Inc. and its subsidiaries and affiliates ("STEMCELL") to collect and use your information, and send you newsletters and emails in accordance with our
privacy policy
. Please
contact us
with any questions that you may have. You can unsubscribe or change your
email preferences
at any time.
New look, same high quality and support!

You may notice that your instrument or reagent packaging looks slightly different from images displayed on the website, or from previous orders. We are updating our look but rest assured, the products themselves and how you should use them have not changed. Learn more
Products for Your Protocol
Overview
The EasySep™ Mouse Mesenchymal Stem/Progenitor Cell Enrichment Kit is designed to isolate mesenchymal stem/progenitor cells from mouse compact bone by negative selection. Unwanted cells are targeted for removal with biotinylated antibodies that are directed against non-mesenchymal stem/progenitor cells (CD45, TER119). Labeled cells are then recognized by Tetrameric Antibody Complexes that are directed against biotin and dextran. These cells are bound to magnetic particles and separated using an EasySep™ magnet without the use of columns. Desired cells are poured off into a new tube.
Magnet Compatibility
• EasySep™ Magnet (Catalog #18000)
Subtype
Cell Isolation Kits
Cell Type
Mesenchymal Stem and Progenitor Cells
Sample Source
Compact Bone
Selection Method
Negative
Application
Cell Isolation
Area of Interest
Stem Cell Biology
Data Figures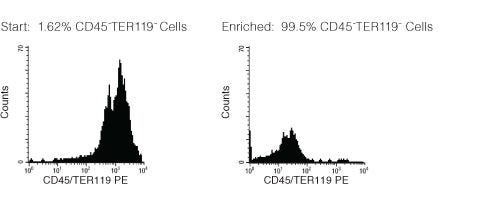 Figure 1. FACS Histogram Results with EasySep™ Mouse Mesenchymal Progenitor CellEnrichment Kit
Starting with compact bone, the CD45-TER119- cell content of the enriched cells typically ranges from 50 - 99%. CFU-F enrichment: 50 - 200 fold.
Protocols and Documentation
Find supporting information and directions for use in the Product Information Sheet or explore additional protocols below.
Document Type
Product Name
Catalog #
Lot #
Language
Applications
This product is designed for use in the following research area(s) as part of the highlighted workflow stage(s). Explore these workflows to learn more about the other products we offer to support each research area.
Resources and Publications
Educational Materials
(6)
Frequently Asked Questions
Can EasySep™ be used for either positive or negative selection?
Yes. The EasySep™ kits use either a negative selection approach by targeting and removing unwanted cells or a positive selection approach targeting desired cells. Depletion kits are also available for the removal of cells with a specific undesired marker (e.g. GlyA).
How does the separation work?
Magnetic particles are crosslinked to cells using Tetrameric Antibody Complexes (TAC). When placed in the EasySep™ Magnet, labeled cells migrate to the wall of the tube. The unlabeled cells are then poured off into a separate fraction.
Which columns do I use?
The EasySep™ procedure is column-free. That's right - no columns!
How can I analyze the purity of my enriched sample?
The Product Information Sheet provided with each EasySep™ kit contains detailed staining information.
Can EasySep™ separations be automated?
Yes. RoboSep™, the fully automated cell separator, automates all EasySep™ labeling and cell separation steps.
Can EasySep™ be used to isolate rare cells?
Yes. We recommend a cell concentration of 2x108 cells/mL and a minimum working volume of 100 µL. Samples containing 2x107 cells or fewer should be suspended in 100 µL of buffer.
Are the EasySep™ magnetic particles FACS-compatible?
Yes, the EasySep™ particles are flow cytometry-compatible, as they are very uniform in size and about 5000X smaller than other commercially available magnetic beads used with column-free systems.
Can the EasySep™ magnetic particles be removed after enrichment?
No, but due to the small size of these particles, they will not interfere with downstream applications.
Can I alter the separation time in the magnet?
Yes; however, this may impact the kit's performance. The provided EasySep™ protocols have already been optimized to balance purity, recovery and time spent on the isolation.
For positive selection, can I perform more than 3 separations to increase purity?
Yes, the purity of targeted cells will increase with additional rounds of separations; however, cell recovery will decrease.
How does the binding of the EasySep™ magnetic particle affect the cells? is the function of positively selected cells altered by the bound particles?
Hundreds of publications have used cells selected with EasySep™ positive selection kits for functional studies. Our in-house experiments also confirm that selected cells are not functionally altered by the EasySep™ magnetic particles.

If particle binding is a key concern, we offer two options for negative selection. The EasySep™ negative selection kits can isolate untouched cells with comparable purities, while RosetteSep™ can isolate untouched cells directly from whole blood without using particles or magnets.
Publications
(2)
The effect of mesenchymal stem cell sheets on structural allograft healing of critical sized femoral defects in mice.
Biomaterials 2014 MAR
Abstract
Structural bone allografts are widely used in the clinic to treat critical sized bone defects, despite lacking the osteoinductive characteristics of live autografts. To address this, we generated revitalized structural allografts wrapped with mesenchymal stem/progenitor cell (MSC) sheets, which were produced by expanding primary syngenic bone marrow derived cells on temperature-responsive plates, as a tissue-engineered periosteum. In vitro assays demonstrated maintenance of the MSC phenotype in the sheets, suggesting that short-term culturing of MSC sheets is not detrimental. To test their efficacy in vivo, allografts wrapped with MSC sheets were transplanted into 4-mm murine femoral defects and compared to allografts with direct seeding of MSCs and allografts without cells. Evaluations consisted of X-ray plain radiography, 3D microCT, histology, and biomechanical testing at 4- and 6-weeks post-surgery. Our findings demonstrate that MSC sheets induce prolonged cartilage formation at the graft-host junction and enhanced bone callus formation, as well as graft-host osteointegration. Moreover, a large periosteal callus was observed spanning the allografts with MSC sheets, which partially mimics live autograft healing. Finally, biomechanical testing showed a significant increase in the structural and functional properties of MSC sheet grafted femurs. Taken together, MSC sheets exhibit enhanced osteogenicity during critical sized bone defect repair, demonstrating the feasibility of this tissue engineering solution for massive allograft healing.
Delayed enrichment of mesenchymal cells promotes cardiac lineage and calcium transient development.
Journal of molecular and cellular cardiology 2010 APR
Abstract
Bone marrow-derived mesenchymal stem cells (BM-MSCs) can be induced to differentiate into myogenic cells. Despite their potential, previous studies have not been successful in producing a high percentage of cardiac-like cells with a muscle phenotype. We hypothesized that cardiac lineage development in BM-MSC is related to cell passage, culture milieu, and enrichment for specific cell subtypes before and during differentiation. Our study demonstrated that Lin(-) BM-MSC at an intermediate passage (IP; P8-P12) expressed cardiac troponin T (cTnT) after 21 days in culture. Cardiac TnT expression was similar whether IP cells were differentiated in media containing 5-azacytidine+2% FBS (AZA; 14%) or 2% FBS alone (LS; 12%) and both were significantly higher than AZA+5% FBS. This expression was potentiated by first enriching for CD117/Sca-1 cells followed by differentiation (AZA, 39% and LS, 28%). A second sequential enrichment for the dihydropyridine receptor subunit alpha2delta1 (DHPR-alpha2) resulted in cardiac TnT expressed in 54% of cultured cells compared to 28% of cells after CD117/Sca-1(+) enrichment. Cells enriched for CD117/Sca-1 and subjected to differentiation displayed spontaneous intracellular Ca(2+) transients with an increase in transient frequency and a 60% decrease in the transient duration amplitude between days 14 and 29. In conclusion, IP CD117/Sca-1(+) murine BM-MSCs display robust cardiac muscle lineage development that can be induced independent of AZA but is diminished under higher serum concentrations. Furthermore, temporal changes in calcium kinetics commensurate with increased cTnT expression suggest progressive maturation of a cardiac muscle lineage. Enrichment with CD117/Sca-1 to establish lineage commitment followed by DHPR-alpha2 in lineage developing cells may enhance the therapeutic potential of these cells for transplantation.
Quality Statement:

PRODUCTS ARE FOR RESEARCH USE ONLY AND NOT INTENDED FOR HUMAN OR ANIMAL DIAGNOSTIC OR THERAPEUTIC USES UNLESS OTHERWISE STATED. FOR ADDITIONAL INFORMATION ON QUALITY AT STEMCELL, REFER TO WWW.STEMCELL.COM/COMPLIANCE.