EasySep™ Mouse CD11c Positive Selection Kit II
Immunomagnetic positive selection cell isolation kit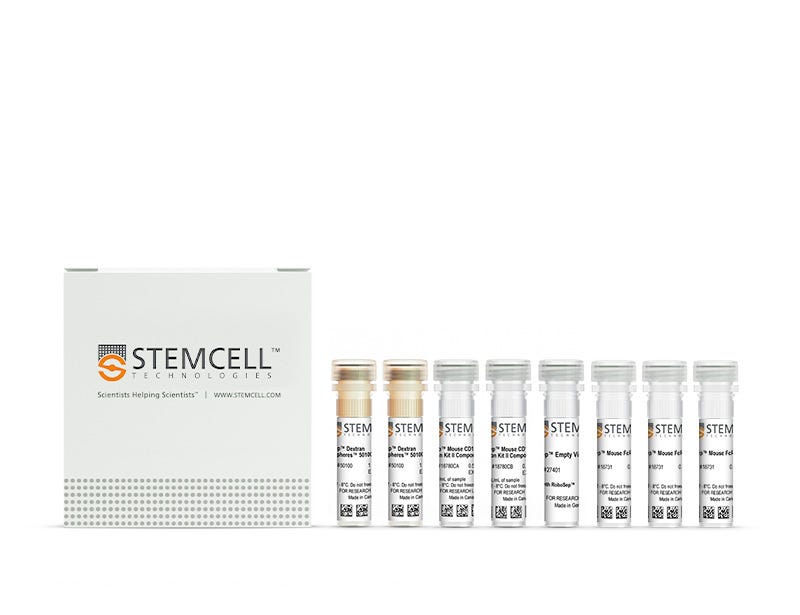 New format, same high quality!

You may notice that your kit contents and packaging look slightly different from previous orders. We are currently updating the format of select EasySep™ Mouse kits to include a Mouse FcR blocker instead of Normal Rat Serum. With this change, all components will now be shipped in a single package, while providing the same cell isolation performance as before.
Request Pricing
Thank you for your interest in this product. Please provide us with your contact information and your local representative will contact you with a customized quote. Where appropriate, they can also assist you with a(n):
Estimated delivery time for your area
Product sample or exclusive offer
In-lab demonstration
By submitting this form, you are providing your consent to STEMCELL Technologies Canada Inc. and its subsidiaries and affiliates ("STEMCELL") to collect and use your information, and send you newsletters and emails in accordance with our
privacy policy
. Please
contact us
with any questions that you may have. You can unsubscribe or change your
email preferences
at any time.
New format, same high quality!

You may notice that your kit contents and packaging look slightly different from previous orders. We are currently updating the format of select EasySep™ Mouse kits to include a Mouse FcR blocker instead of Normal Rat Serum. With this change, all components will now be shipped in a single package, while providing the same cell isolation performance as before.
Overview
The EasySep™ Mouse CD11c Positive Selection Kit II isolates highly purified CD11c+ cells from splenocytes or other tissues by immunomagnetic positive selection. Desired cells are targeted with antibodies and magnetic particles, and isolated without columns using an EasySep™ magnet. Unwanted cells are simply poured off, while desired cells remain in the tube. Isolated cells are immediately ready for downstream applications such as flow cytometry, culture, and cell-based experiments.

This product replaces the EasySep™ Mouse CD11c Positive Selection Kit (Catalog #18758) for even faster cell isolations and does not result in the labeling of isolated cells with PE.
Magnet Compatibility
• EasySep™ Magnet (Catalog #18000)
• "The Big Easy" EasySep™ Magnet (Catalog #18001)
• EasyEights™ EasySep™ Magnet (Catalog #18103)
• RoboSep™-S (Catalog #21000)
Subtype
Cell Isolation Kits
Cell Type
Dendritic Cells, Granulocytes and Subsets, Monocytes, NK Cells
Sample Source
Bone Marrow, Other, Spleen
Selection Method
Positive
Application
Cell Isolation
Area of Interest
Immunology
Data Figures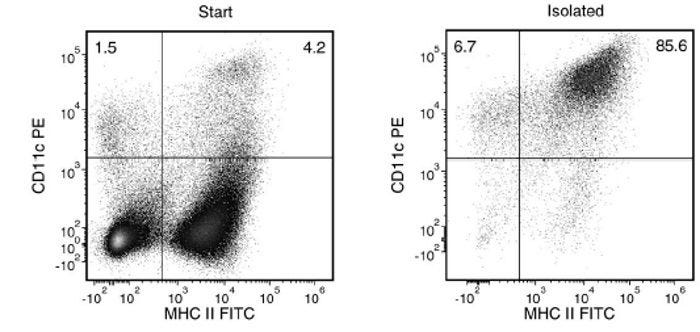 Figure 1. Typical EasySep™ CD11c Positive Selection Profile
Starting with mouse splenocytes, the CD11c+ cell content of the enriched fraction is typically 86.8 ± 9.7% (gated on viable singlet cells, mean ± SD using the purple EasySep™ Magnet). In the example above, the final purities of the start and isolated fraction are 5.7% and 92.3%, respectively.
Protocols and Documentation
Find supporting information and directions for use in the Product Information Sheet or explore additional protocols below.
Document Type
Product Name
Catalog #
Lot #
Language
Applications
This product is designed for use in the following research area(s) as part of the highlighted workflow stage(s). Explore these workflows to learn more about the other products we offer to support each research area.
Resources and Publications
Educational Materials
(8)
Frequently Asked Questions
Can EasySep™ be used for either positive or negative selection?
Yes. The EasySep™ kits use either a negative selection approach by targeting and removing unwanted cells or a positive selection approach targeting desired cells. Depletion kits are also available for the removal of cells with a specific undesired marker (e.g. GlyA).
How does the separation work?
Magnetic particles are crosslinked to cells using Tetrameric Antibody Complexes (TAC). When placed in the EasySep™ Magnet, labeled cells migrate to the wall of the tube. The unlabeled cells are then poured off into a separate fraction.
Which columns do I use?
The EasySep™ procedure is column-free. That's right - no columns!
How can I analyze the purity of my enriched sample?
The Product Information Sheet provided with each EasySep™ kit contains detailed staining information.
Can EasySep™ separations be automated?
Yes. RoboSep™, the fully automated cell separator, automates all EasySep™ labeling and cell separation steps.
Can EasySep™ be used to isolate rare cells?
Yes. We recommend a cell concentration of 2x108 cells/mL and a minimum working volume of 100 µL. Samples containing 2x107 cells or fewer should be suspended in 100 µL of buffer.
Are the EasySep™ magnetic particles FACS-compatible?
Yes, the EasySep™ particles are flow cytometry-compatible, as they are very uniform in size and about 5000X smaller than other commercially available magnetic beads used with column-free systems.
Can the EasySep™ magnetic particles be removed after enrichment?
No, but due to the small size of these particles, they will not interfere with downstream applications.
Can I alter the separation time in the magnet?
Yes; however, this may impact the kit's performance. The provided EasySep™ protocols have already been optimized to balance purity, recovery and time spent on the isolation.
For positive selection, can I perform more than 3 separations to increase purity?
Yes, the purity of targeted cells will increase with additional rounds of separations; however, cell recovery will decrease.
How does the binding of the EasySep™ magnetic particle affect the cells? is the function of positively selected cells altered by the bound particles?
Hundreds of publications have used cells selected with EasySep™ positive selection kits for functional studies. Our in-house experiments also confirm that selected cells are not functionally altered by the EasySep™ magnetic particles.

If particle binding is a key concern, we offer two options for negative selection. The EasySep™ negative selection kits can isolate untouched cells with comparable purities, while RosetteSep™ can isolate untouched cells directly from whole blood without using particles or magnets.
Publications
(4)
Senolytics prevent mt-DNA-induced inflammation and promote the survival of aged organs following transplantation.
Nature communications 2020
Abstract
Older organs represent an untapped potential to close the gap between demand and supply in organ transplantation but are associated with age-specific responses to injury and increased immunogenicity, thereby aggravating transplant outcomes. Here we show that cell-free mitochondrial DNA (cf-mt-DNA) released by senescent cells accumulates with aging and augments immunogenicity. Ischemia reperfusion injury induces a systemic increase of cf-mt-DNA that promotes dendritic cell-mediated, age-specific inflammatory responses. Comparable events are observed clinically, with the levels of cf-mt-DNA elevated in older deceased organ donors, and with the isolated cf-mt-DNA capable of activating human dendritic cells. In experimental models, treatment of old donor animals with senolytics clear senescent cells and diminish cf-mt-DNA release, thereby dampening age-specific immune responses and prolonging the survival of old cardiac allografts comparable to young donor organs. Collectively, we identify accumulating cf-mt-DNA as a key factor in inflamm-aging and present senolytics as a potential approach to improve transplant outcomes and availability.
PD-L1 on dendritic cells attenuates T cell activation and regulates response to immune checkpoint blockade.
Nature communications 2020
Abstract
Immune checkpoint blockade therapies have shown clinical promise in a variety of cancers, but how tumor-infiltrating T cells are activated remains unclear. In this study, we explore the functions of PD-L1 on dendritic cells (DCs), which highly express PD-L1. We observe that PD-L1 on DC plays a critical role in limiting T cell responses. Type 1 conventional DCs are essential for PD-L1 blockade and they upregulate PD-L1 upon antigen uptake. Upregulation of PD-L1 on DC is mediated by type II interferon. While DCs are the major antigen presenting cells for cross-presenting tumor antigens to T cells, subsequent PD-L1 upregulation protects them from killing by cytotoxic T lymphocytes, yet dampens the antitumor responses. Blocking PD-L1 in established tumors promotes re-activation of tumor-infiltrating T cells for tumor control. Our study identifies a critical and dynamic role of PD-L1 on DC, which needs to be harnessed for better invigoration of antitumor immune responses.
Dendritic Cells but Not Macrophages Sense Tumor Mitochondrial DNA for Cross-priming through Signal Regulatory Protein α Signaling.
Immunity 2017 AUG
Abstract
Inhibition of cytosolic DNA sensing represents a strategy that tumor cells use for immune evasion, but the underlying mechanisms are unclear. Here we have shown that CD47-signal regulatory protein α (SIRPα) axis dictates the fate of ingested DNA in DCs for immune evasion. Although macrophages were more potent in uptaking tumor DNA, increase of DNA sensing by blocking the interaction of SIRPα with CD47 preferentially occurred in dendritic cells (DCs) but not in macrophages. Mechanistically, CD47 blockade enabled the activation of NADPH oxidase NOX2 in DCs, which in turn inhibited phagosomal acidification and reduced the degradation of tumor mitochondrial DNA (mtDNA) in DCs. mtDNA was recognized by cyclic-GMP-AMP synthase (cGAS) in the DC cytosol, contributing to type I interferon (IFN) production and antitumor adaptive immunity. Thus, our findings have demonstrated how tumor cells inhibit innate sensing in DCs and suggested that the CD47-SIRPα axis is critical for DC-driven antitumor immunity.
Quality Statement:

PRODUCTS ARE FOR RESEARCH USE ONLY AND NOT INTENDED FOR HUMAN OR ANIMAL DIAGNOSTIC OR THERAPEUTIC USES UNLESS OTHERWISE STATED. FOR ADDITIONAL INFORMATION ON QUALITY AT STEMCELL, REFER TO WWW.STEMCELL.COM/COMPLIANCE.