EasySep™ Direct Human CD8+ T Cell Isolation Kit
Immunomagnetic negative selection from whole blood kit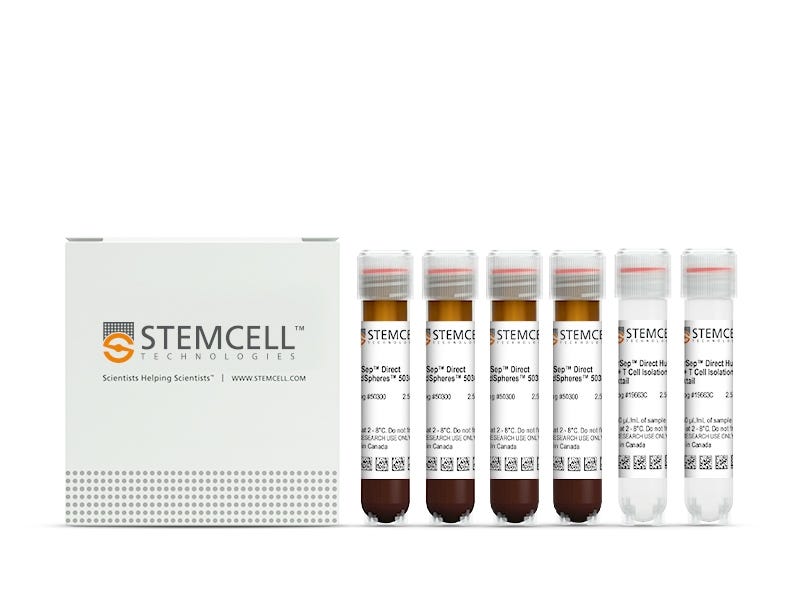 New look, same high quality and support!

You may notice that your instrument or reagent packaging looks slightly different from images displayed on the website, or from previous orders. We are updating our look but rest assured, the products themselves and how you should use them have not changed. Learn more
Request Pricing
Thank you for your interest in this product. Please provide us with your contact information and your local representative will contact you with a customized quote. Where appropriate, they can also assist you with a(n):
Estimated delivery time for your area
Product sample or exclusive offer
In-lab demonstration
By submitting this form, you are providing your consent to STEMCELL Technologies Canada Inc. and its subsidiaries and affiliates ("STEMCELL") to collect and use your information, and send you newsletters and emails in accordance with our
privacy policy
. Please
contact us
with any questions that you may have. You can unsubscribe or change your
email preferences
at any time.
New look, same high quality and support!

You may notice that your instrument or reagent packaging looks slightly different from images displayed on the website, or from previous orders. We are updating our look but rest assured, the products themselves and how you should use them have not changed. Learn more
Overview
The EasySep™ Direct Human CD8+ T Cell Isolation Kit is designed to isolate CD8+ T cells from human whole blood by immunomagnetic negative selection. The EasySep™ Direct procedure involves labeling RBCs, platelets and unwanted cells present in human whole blood with antibody complexes and magnetic particles. The magnetically labeled RBCs, platelets and cells are separated from the untouched desired cells by using an EasySep™ magnet and simply pouring or pipetting the desired cells into a new tube.
Magnet Compatibility
• EasySep™ Magnet (Catalog #18000)
• "The Big Easy" EasySep™ Magnet (Catalog #18001)
• Easy 50 EasySep™ Magnet (Catalog #18002)
• EasyEights™ EasySep™ Magnet (Catalog #18103)
Subtype
Cell Isolation Kits
Cell Type
T Cells, T Cells, CD8+
Sample Source
Whole Blood
Selection Method
Negative
Application
Cell Isolation
Area of Interest
Immunology
Data Figures

Figure 1. Typical EasySep™ Direct Human CD8+ T Cell Isolation Profile
Starting with human whole blood from normal healthy donors, the typical CD8+ T cell (CD3+CD8+) content of the non-lysed final isolated fraction is 82.4 ± 4.9% (gated on CD45) or 81.6 ± 4.9% (not gated on CD45). In the example above, the CD8+ T cell (CD3+CD8+) content of the lysed whole blood start sample and non-lysed final isolated fraction is 10.1% and 87.3% (gated on CD45), respectively, or 10.1% and 87.3% (not gated on CD45), respectively. The starting frequency of CD8+ T cells in the non-lysed whole blood start sample is 0.018% (data not shown).
Protocols and Documentation
Find supporting information and directions for use in the Product Information Sheet or explore additional protocols below.
Document Type
Product Name
Catalog #
Lot #
Language
Applications
This product is designed for use in the following research area(s) as part of the highlighted workflow stage(s). Explore these workflows to learn more about the other products we offer to support each research area.
Resources and Publications
Educational Materials
(12)
Frequently Asked Questions
Can EasySep™ be used for either positive or negative selection?
Yes. The EasySep™ kits use either a negative selection approach by targeting and removing unwanted cells or a positive selection approach targeting desired cells. Depletion kits are also available for the removal of cells with a specific undesired marker (e.g. GlyA).
How does the separation work?
Magnetic particles are crosslinked to cells using Tetrameric Antibody Complexes (TAC). When placed in the EasySep™ Magnet, labeled cells migrate to the wall of the tube. The unlabeled cells are then poured off into a separate fraction.
Which columns do I use?
The EasySep™ procedure is column-free. That's right - no columns!
How can I analyze the purity of my enriched sample?
The Product Information Sheet provided with each EasySep™ kit contains detailed staining information.
Can EasySep™ separations be automated?
Yes. RoboSep™, the fully automated cell separator, automates all EasySep™ labeling and cell separation steps.
Can EasySep™ be used to isolate rare cells?
Yes. We recommend a cell concentration of 2x108 cells/mL and a minimum working volume of 100 µL. Samples containing 2x107 cells or fewer should be suspended in 100 µL of buffer.
Are the EasySep™ magnetic particles FACS-compatible?
Yes, the EasySep™ particles are flow cytometry-compatible, as they are very uniform in size and about 5000X smaller than other commercially available magnetic beads used with column-free systems.
Can the EasySep™ magnetic particles be removed after enrichment?
No, but due to the small size of these particles, they will not interfere with downstream applications.
Can I alter the separation time in the magnet?
Yes; however, this may impact the kit's performance. The provided EasySep™ protocols have already been optimized to balance purity, recovery and time spent on the isolation.
For positive selection, can I perform more than 3 separations to increase purity?
Yes, the purity of targeted cells will increase with additional rounds of separations; however, cell recovery will decrease.
How does the binding of the EasySep™ magnetic particle affect the cells? is the function of positively selected cells altered by the bound particles?
Hundreds of publications have used cells selected with EasySep™ positive selection kits for functional studies. Our in-house experiments also confirm that selected cells are not functionally altered by the EasySep™ magnetic particles.

If particle binding is a key concern, we offer two options for negative selection. The EasySep™ negative selection kits can isolate untouched cells with comparable purities, while RosetteSep™ can isolate untouched cells directly from whole blood without using particles or magnets.
Publications
(1)
Multispecific Targeting with Synthetic Ankyrin Repeat Motif Chimeric Antigen Receptors.
Clinical cancer research : an official journal of the American Association for Cancer Research 2019 sep
Abstract
PURPOSE The outgrowth of antigen-negative variants is a significant challenge for adoptive therapy with T cells that target a single specificity. Chimeric antigen receptors (CAR) are typically designed with one or two scFvs that impart antigen specificity fused to activation and costimulation domains of T-cell signaling molecules. We designed and evaluated the function of CARs with up to three specificities for overcoming tumor escape using Designed Ankyrin Repeat Proteins (DARPins) rather than scFvs for tumor recognition. EXPERIMENTAL DESIGN A monospecific CAR was designed with a DARPin binder (E01) specific for EGFR and compared with a CAR designed using an anti-EGFR scFv. CAR constructs in which DARPins specific for EGFR, EpCAM, and HER2 were linked together in a single CAR were then designed and optimized to achieve multispecific tumor recognition. The efficacy of CAR-T cells bearing a multispecific DARPin CAR for treating tumors with heterogeneous antigen expression was evaluated in vivo. RESULTS The monospecific anti-EGFR E01 DARPin conferred potent tumor regression against EGFR+ targets that was comparable with an anti-EGFR scFv CAR. Linking three separate DARPins in tandem was feasible and in an optimized format generated a single tumor recognition domain that targeted a mixture of heterogeneous tumor cells, each expressing a single antigen, and displayed synergistic activity when tumor cells expressed more than one target antigen. CONCLUSIONS DARPins can serve as high-affinity recognition motifs for CAR design, and their robust architecture enables linking of multiple binders against different antigens to achieve functional synergy and reduce antigen escape.
Quality Statement:

PRODUCTS ARE FOR RESEARCH USE ONLY AND NOT INTENDED FOR HUMAN OR ANIMAL DIAGNOSTIC OR THERAPEUTIC USES UNLESS OTHERWISE STATED. FOR ADDITIONAL INFORMATION ON QUALITY AT STEMCELL, REFER TO WWW.STEMCELL.COM/COMPLIANCE.