EasySep™ HLA Chimerism Whole Blood CD3 Positive Selection Kit
Immunomagnetic positive selection cell isolation kit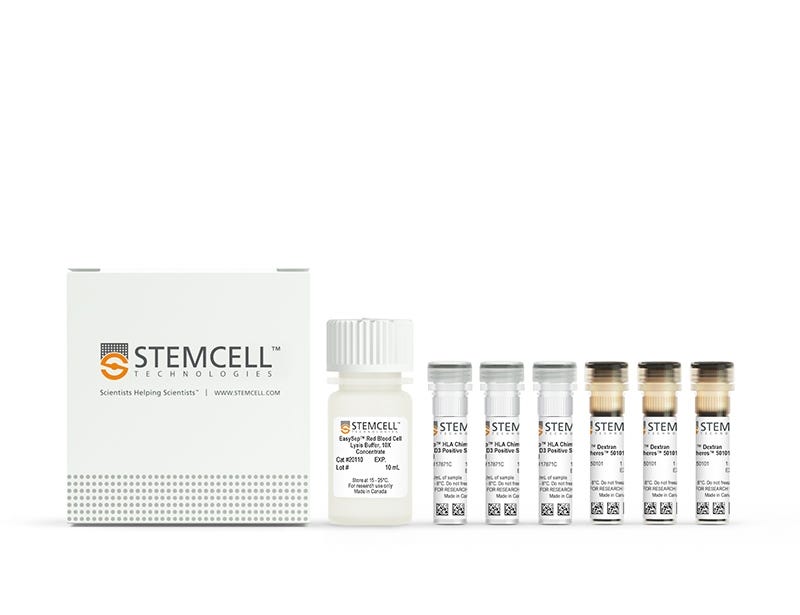 New look, same high quality and support!

You may notice that your instrument or reagent packaging looks slightly different from images displayed on the website, or from previous orders. We are updating our look but rest assured, the products themselves and how you should use them have not changed. Learn more
Request Pricing
Thank you for your interest in this product. Please provide us with your contact information and your local representative will contact you with a customized quote. Where appropriate, they can also assist you with a(n):
Estimated delivery time for your area
Product sample or exclusive offer
In-lab demonstration
By submitting this form, you are providing your consent to STEMCELL Technologies Canada Inc. and its subsidiaries and affiliates ("STEMCELL") to collect and use your information, and send you newsletters and emails in accordance with our
privacy policy
. Please
contact us
with any questions that you may have. You can unsubscribe or change your
email preferences
at any time.
New look, same high quality and support!

You may notice that your instrument or reagent packaging looks slightly different from images displayed on the website, or from previous orders. We are updating our look but rest assured, the products themselves and how you should use them have not changed. Learn more
Products for Your Protocol

Overview
The EasySep™ HLA Chimerism Whole Blood CD3 Positive Selection Kit is designed to isolate CD3+ cells from fresh whole blood or buffy coat by positive selection. Desired cells are targeted with Tetrameric Antibody Complexes recognizing CD3 and dextran-coated magnetic particles. The cocktail also contains an antibody to human Fc receptor to minimize nonspecific binding. Labeled cells are separated using an EasySep™ magnet without the use of columns. Cells of interest remain in the tube while unwanted cells are poured off. The CD3 antigen is expressed on T cells and NKT cells.

This product replaces the EasySep™ Human Whole Blood CD3 Positive Selection Kit (Catalog #18081) and EasySep™ HLA Whole Blood CD3 Positive Selection Kit (Catalog #18081HLA), for even faster cell isolations.
Magnet Compatibility
• "The Big Easy" EasySep™ Magnet (Catalog #18001)
• EasyEights™ EasySep™ Magnet (Catalog #18103)
• RoboSep™-S (Catalog #21000)
Subtype
Cell Isolation Kits
Sample Source
Buffy Coat, Whole Blood
Selection Method
Positive
Area of Interest
HLA, Immunology
Data Figures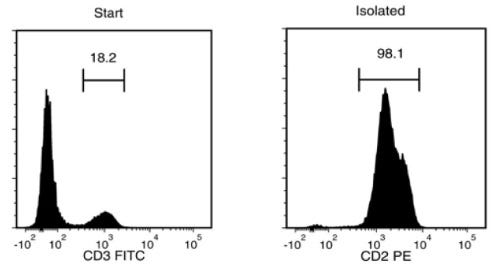 Starting with human whole blood, the CD3+ cell content of the isolated fraction typically ranges from 92.4 - 99.8% (as assessed by staining the start and isolated fractions with anti-CD3 or anti-CD2 antibodies, respectively). In the above example, the purities of the start and the final isolated fractions are 18.2% and 98.1%, respectively (gated on CD45).
NOTE: Red blood cells were removed from the start sample by lysis prior to flow cytometry.
Protocols and Documentation
Find supporting information and directions for use in the Product Information Sheet or explore additional protocols below.
Document Type
Product Name
Catalog #
Lot #
Language
Applications
This product is designed for use in the following research area(s) as part of the highlighted workflow stage(s). Explore these workflows to learn more about the other products we offer to support each research area.
Resources and Publications
Educational Materials
(14)
Publications
(1)
Neutrophil and Granulocytic Myeloid-Derived Suppressor Cell-Mediated T Cell Suppression Significantly Contributes to Immune Dysregulation in Common Variable Immunodeficiency Disorders.
Journal of immunology (Baltimore, Md. : 1950) 2018 NOV
Abstract
Common variable immunodeficiency disorders (CVID) represent a group of primary immunodeficiency diseases characterized by hypogammaglobulinemia and impaired specific Ab response, resulting in recurrent infections due to dysfunctional immune response. The specific mechanisms mediating immune deficiency in CVID remain to be determined. Previous studies indicated that immune dysregulation in CVID patients is associated with chronic microbial translocation, systemic immune activation, and altered homeostasis of lymphocytic and myeloid lineages. A detailed phenotypic, functional characterization of plasma markers and immune cell populations was performed in 46 CVID patients and 44 healthy donors. CVID patients displayed significantly elevated plasma levels of a marker of neutrophil activation neutrophil gelatinase-associated lipocalin. Neutrophils from CVID patients exhibited elevated surface levels of CD11b and PD-L1 and decreased levels of CD62L, CD16, and CD80, consistent with a phenotype of activated neutrophils with suppressive properties. Neutrophils from CVID patients actively suppressed T cell activation and release of IFN-$\gamma$ via the production of reactive oxygen species. Furthermore, CVID was associated with an increased frequency of low-density neutrophils (LDNs)/granulocytic myeloid-derived suppressor cells. LDN/granulocytic myeloid-derived suppressor cell frequency in CVID patients correlated with reduced T cell responsiveness. Exogenous stimulation of whole blood with bacterial LPS emulated some but not all of the phenotypic changes observed on neutrophils from CVID patients and induced neutrophil population with LDN phenotype. The presented data demonstrate that neutrophils in the blood of CVID patients acquire an activated phenotype and exert potent T cell suppressive activity. Specific targeting of myeloid cell-derived suppressor activity represents a novel potential therapeutic strategy for CVID.
Quality Statement:

PRODUCTS ARE FOR RESEARCH USE ONLY AND NOT INTENDED FOR HUMAN OR ANIMAL DIAGNOSTIC OR THERAPEUTIC USES UNLESS OTHERWISE STATED. FOR ADDITIONAL INFORMATION ON QUALITY AT STEMCELL, REFER TO WWW.STEMCELL.COM/COMPLIANCE.