EasySep™ Mouse PE Positive Selection Kit II
Immunomagnetic positive selection kit

New look, same high quality and support!

You may notice that your instrument or reagent packaging looks slightly different from images displayed on the website, or from previous orders. We are updating our look but rest assured, the products themselves and how you should use them have not changed. Learn more
New look, same high quality and support!

You may notice that your instrument or reagent packaging looks slightly different from images displayed on the website, or from previous orders. We are updating our look but rest assured, the products themselves and how you should use them have not changed. Learn more
Overview
The EasySep™ Mouse PE Positive Selection Kit II is designed to isolate cells that are labeled with PE-conjugated antibodies. Desired cells are targeted with antibody complexes recognizing PE and dextran-coated magnetic particles. Labeled cells are separated using an EasySep™ magnet without the use of columns. Cells of interest remain in the tube while unwanted cells are poured off.
This kit replaces the EasySep™ Mouse PE Positive Selection Kit (Catalog #18554).
For highly purified particle-free cells, we recommend the
EasySep™ Release Mouse PE Positive Selection Kit (Catalog #17656).
Magnet Compatibility
• EasySep™ Magnet (Catalog #18000)
• "The Big Easy" EasySep™ Magnet (Catalog #18001)
• EasyEights™ EasySep™ Magnet (Catalog #18103)
• RoboSep™-S (Catalog #21000)
Subtype
Cell Isolation Kits
Cell Type
B Cells, Dendritic Cells, Granulocytes and Subsets, Hematopoietic Stem and Progenitor Cells, Macrophages, Marrow Stromal Cells, Mesenchymal Stem and Progenitor Cells, Monocytes, Mononuclear Cells, Myeloid Cells, NK Cells, Other, Plasma, T Cells
Sample Source
Bone Marrow, Other, Spleen
Selection Method
Positive
Application
Cell Isolation
Area of Interest
Immunology
Data Figures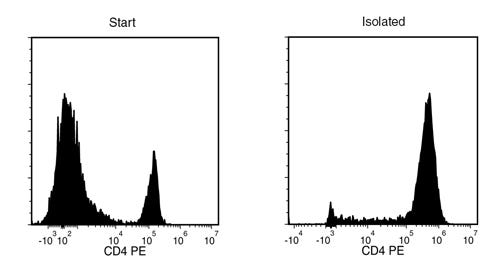 Starting with mouse splenocytes, the purities of the start and final isolated fractions in the above example are 20.5% and 91.6%, respectively, using a PEconjugated anti-mouse CD4 antibody and EasySep™ Mouse PE Positive Selection Kit II.
Protocols and Documentation
Find supporting information and directions for use in the Product Information Sheet or explore additional protocols below.
Document Type
Product Name
Catalog #
Lot #
Language
Resources and Publications
Educational Materials
(8)
Publications
(1)
Enzymatic Preparation of 2'-5',3'-5'-Cyclic Dinucleotides, Their Binding Properties to Stimulator of Interferon Genes Adaptor Protein, and Structure/Activity Correlations.
Journal of medicinal chemistry 2019 dec
Abstract
Cyclic dinucleotides are second messengers in the cyclic GMP-AMP synthase (cGAS)-stimulator of interferon genes (STING) pathway, which plays an important role in recognizing tumor cells and viral or bacterial infections. They bind to the STING adaptor protein and trigger expression of cytokines via TANK binding kinase 1 (TBK1)/interferon regulatory factor 3 (IRF3) and inhibitor of nuclear factor-$\kappa$B (I$\kappa$B) kinase (IKK)/nuclear factor-$\kappa$B (NF$\kappa$B) signaling cascades. In this work, we describe an enzymatic preparation of 2'-5',3'-5'-cyclic dinucleotides (2'3'CDNs) with use of cyclic GMP-AMP synthases (cGAS) from human, mouse, and chicken. We profile substrate specificity of these enzymes by employing a small library of nucleotide-5'-triphosphate (NTP) analogues and use them to prepare 33 2'3'CDNs. We also determine affinity of these CDNs to five different STING haplotypes in cell-based and biochemical assays and describe properties needed for their optimal activity toward all STING haplotypes. Next, we study their effect on cytokine and chemokine induction by human peripheral blood mononuclear cells (PBMCs) and evaluate their cytotoxic effect on monocytes. Additionally, we report X-ray crystal structures of two new CDNs bound to STING protein and discuss structure-activity relationship by using quantum and molecular mechanical (QM/MM) computational modeling.
Legal Statement:

Users of this kit should ensure that they are entitled to use the antibody of interest. STEMCELL Technologies Inc. is not responsible for patent infringements or violations that may occur when using this product.

Quality Statement:

PRODUCTS ARE FOR RESEARCH USE ONLY AND NOT INTENDED FOR HUMAN OR ANIMAL DIAGNOSTIC OR THERAPEUTIC USES UNLESS OTHERWISE STATED. FOR ADDITIONAL INFORMATION ON QUALITY AT STEMCELL, REFER TO WWW.STEMCELL.COM/COMPLIANCE.