EasySep™ Mouse Pan-DC Enrichment Kit II
Immunomagnetic negative selection kit
Required Products

Overview
The EasySep™ Mouse Pan-DC Enrichment Kit II is designed to isolate dendritic cells (DCs) from mouse splenocytes by immunomagnetic negative selection. The EasySep™ procedure involves labeling unwanted cells with antibody complexes and magnetic particles. The magnetically labeled cells are separated from the untouched desired cells using an EasySep™ magnet and simply pouring or pipetting the desired cells into a new tube.

This product replaces the EasySep™ Mouse Pan-DC Enrichment Kit (Catalog #19763), for improved yield and even faster cell isolations.
Advantages
⦁ Fast, easy-to-use, and column-free
⦁ Up to 65% purity
⦁ Isolated cells are untouched
⦁ Optimized for high yield
⦁ Facilitates rapid flow sorting of DC subsets
Components
EasySep™ Mouse Pan-DC Enrichment Kit (Catalog #19863)

EasySep™ Mouse Pan-DC Enrichment Cocktail II, 1 mL
EasySep™ Streptavidin RapidSpheres™ 50001, 1 mL
Magnet Compatibility
• EasySep™ Magnet (Catalog #18000)
• "The Big Easy" EasySep™ Magnet (Catalog #18001)
• EasyEights™ EasySep™ Magnet (Catalog #18103)
• RoboSep™-S (Catalog #21000)
Subtype
Cell Isolation Kits
Cell Type
Dendritic Cells
Selection Method
Negative
Application
Cell Isolation
Area of Interest
Immunology, Infectious Diseases
Scientific Resources
Educational Materials
(6)
Product Applications
This product is designed for use in the following research area(s) as part of the highlighted workflow stage(s). Explore these workflows to learn more about the other products we offer to support each research area.
Data and Publications
Data

Figure 1. Typical EasySep™ Mouse Pan-DC Enrichment Profile
Starting with mouse splenocytes, the dendritic cell content (CD11c+lineage-) of the isolated fraction is typically 57.3 ± 5.5% (mean ± SD using the purple EasySep™ magnet). In the above example, the purities of the start and final enriched fractions are 3.9% and 62.4%, respectively.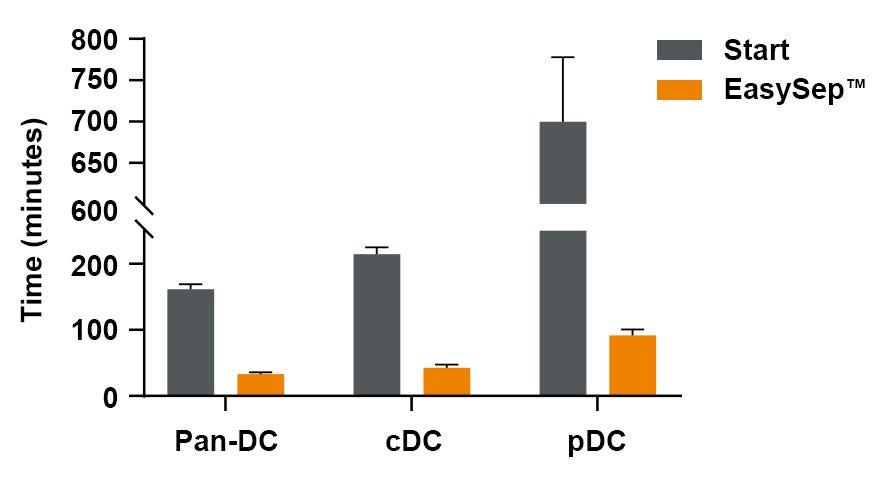 Figure 2. Pre-enrichment with EasySep™ Reduces Sorting Time
Starting with mouse splenocytes, DCs and DC subsets were analyzed in parallel from unenriched or EasySep™-enriched samples by flow cytometry. Each sample was run for an equivalent amount of time with a consistent flow rate and the data was used to extrapolate the time required to sort 1 million pan-DCs, conventional DCs (cDCs), or plamacytoid DCs (pDCs). In all cases, the required FACS times were reduced with EasySep™-enriched samples compared to unenriched samples (n = 2, SD).
Quality Statement:

PRODUCTS ARE FOR RESEARCH USE ONLY AND NOT INTENDED FOR HUMAN OR ANIMAL DIAGNOSTIC OR THERAPEUTIC USES UNLESS OTHERWISE STATED. FOR ADDITIONAL INFORMATION ON QUALITY AT STEMCELL, REFER TO WWW.STEMCELL.COM/COMPLIANCE.