EasySep™ Mouse CD4 Positive Selection Kit II
Immunomagnetic positive selection kit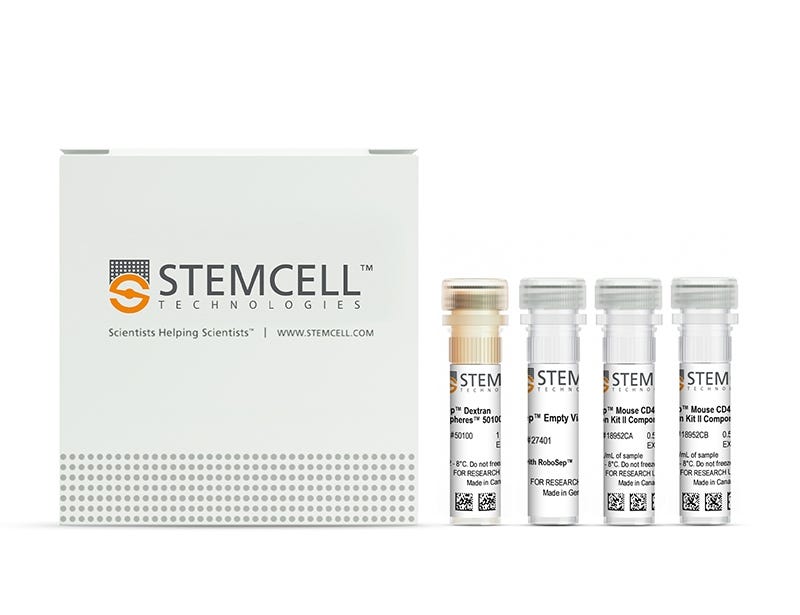 New look, same high quality and support!

You may notice that your instrument or reagent packaging looks slightly different from images displayed on the website, or from previous orders. We are updating our look but rest assured, the products themselves and how you should use them have not changed. Learn more
Request Pricing
Thank you for your interest in this product. Please provide us with your contact information and your local representative will contact you with a customized quote. Where appropriate, they can also assist you with a(n):
Estimated delivery time for your area
Product sample or exclusive offer
In-lab demonstration
By submitting this form, you are providing your consent to STEMCELL Technologies Canada Inc. and its subsidiaries and affiliates ("STEMCELL") to collect and use your information, and send you newsletters and emails in accordance with our
privacy policy
. Please
contact us
with any questions that you may have. You can unsubscribe or change your
email preferences
at any time.
New look, same high quality and support!

You may notice that your instrument or reagent packaging looks slightly different from images displayed on the website, or from previous orders. We are updating our look but rest assured, the products themselves and how you should use them have not changed. Learn more
Products for Your Protocol

Overview
Protocols and Documentation
Find supporting information and directions for use in the Product Information Sheet or explore additional protocols below.
Applications
This product is designed for use in the following research area(s) as part of the highlighted workflow stage(s). Explore these workflows to learn more about the other products we offer to support each research area.
Resources and Publications
Educational Materials
(8)
Frequently Asked Questions
Publications
(4)
T cell-intrinsic role for Nod2 in protection against Th17-mediated uveitis.
Nature communications 2020
Abstract
Mutations in nucleotide-binding oligomerization domain-containing protein 2 (NOD2) cause Blau syndrome, an inflammatory disorder characterized by uveitis. The antimicrobial functions of Nod2 are well-established, yet the cellular mechanisms by which dysregulated Nod2 causes uveitis remain unknown. Here, we report a non-conventional, T cell-intrinsic function for Nod2 in suppression of Th17 immunity and experimental uveitis. Reconstitution of lymphopenic hosts with Nod2-/- CD4+ T cells or retina-specific autoreactive CD4+ T cells lacking Nod2 reveals a T cell-autonomous, Rip2-independent mechanism for Nod2 in uveitis. In naive animals, Nod2 operates downstream of TCR ligation to suppress activation of memory CD4+ T cells that associate with an autoreactive-like profile involving IL-17 and Ccr7. Interestingly, CD4+ T cells from two Blau syndrome patients show elevated IL-17 and increased CCR7. Our data define Nod2 as a T cell-intrinsic rheostat of Th17 immunity, and open new avenues for T cell-based therapies for Nod2-associated disorders such as Blau syndrome.
Macrophage Coordination of the Interferon Lambda Immune Response.
Frontiers in immunology 2019
Abstract
Lambda interferons (IFN-$\lambda$s) are a major component of the innate immune defense to viruses, bacteria, and fungi. In human liver, IFN-$\lambda$ not only drives antiviral responses, but also promotes inflammation and fibrosis in viral and non-viral diseases. Here we demonstrate that macrophages are primary responders to IFN-$\lambda$, uniquely positioned to bridge the gap between IFN-$\lambda$ producing cells and lymphocyte populations that are not intrinsically responsive to IFN-$\lambda$. While CD14+ monocytes do not express the IFN-$\lambda$ receptor, IFNLR1, sensitivity is quickly gained upon differentiation to macrophages in vitro. IFN-$\lambda$ stimulates macrophage cytotoxicity and phagocytosis as well as the secretion of pro-inflammatory cytokines and interferon stimulated genes that mediate immune cell chemotaxis and effector functions. In particular, IFN-$\lambda$ induced CCR5 and CXCR3 chemokines, stimulating T and NK cell migration, as well as subsequent NK cell cytotoxicity. Using immunofluorescence and cell sorting techniques, we confirmed that human liver macrophages expressing CD14 and CD68 are highly responsive to IFN-$\lambda$ ex vivo. Together, these data highlight a novel role for macrophages in shaping IFN-$\lambda$ dependent immune responses both directly through pro-inflammatory activity and indirectly by recruiting and activating IFN-$\lambda$ unresponsive lymphocytes.
Astragaloside IV regulates differentiation and induces apoptosis of activated CD4+ T cells in the pathogenesis of experimental autoimmune encephalomyelitis.
Toxicology and applied pharmacology 2018 OCT
Abstract
CD4+ T cells, especially T-helper (Th) cells (Th1, Th2 and Th17) and regulatory T cells (Treg) play pivotal role in the pathogenesis of multiple sclerosis (MS), a demyelinating autoimmune disease occurring in central nervous system (CNS). Astragaloside IV (ASI, CAS: 84687-43-4) is one of the saponins isolated from Astragalus membranceus, a traditional Chinese medicine with immunomodulatory effect. So far, whether ASI has curative effect on experimental autoimmune encephalomyelitis (EAE), an animal model of MS, and how it affects the subsets of CD4+ T cells, as well as the underlying mechanism have not been clearly elucidated. In the present study, ASI was found to ameliorate the progression and hamper the recurrence of EAE effectively in the treatment regimens. It significantly reduced the demyelination and inflammatory infiltration of CNS in EAE mice by suppressing the percentage of Th1 and Th17 cells, which was closely associated with the inhibition of JAK/STAT and NF-$\kappa$B signaling pathways. ASI also increased the percentage of Treg cells in spleen and CNS, which was accompanied by elevated Foxp3. However, in vitro experiments disclosed that ASI could regulate the differentiation of Th17 and Treg cells but not Th1 cells. In addition, it induced the apoptosis of MOG-stimulated CD4+ T cells probably through modulating STAT3/Bcl-2/Bax signaling pathways. Together, our findings suggested that ASI can modulate the differentiation of autoreactive CD4+ T cells and is a potential prodrug or drug for the treatment of MS and other similar autoimmune diseases.
Quality Statement:

PRODUCTS ARE FOR RESEARCH USE ONLY AND NOT INTENDED FOR HUMAN OR ANIMAL DIAGNOSTIC OR THERAPEUTIC USES UNLESS OTHERWISE STATED. FOR ADDITIONAL INFORMATION ON QUALITY AT STEMCELL, REFER TO WWW.STEMCELL.COM/COMPLIANCE.