CellPore™ Transfection System
Gentle Intracellular Cargo Delivery for T Cell Engineering Applications
Open up new possibilities for cell engineering by using direct cytosolic delivery with the CellPore™ Transfection System. Consisting of a benchtop instrument and specialized reagent kit, which includes single-use delivery cartridges, this system was co-developed by STEMCELL Technologies and cell engineering experts from SQZ Biotech. CellPore™ uses gentle microfluidic Cell Squeeze® technology to deliver ribonucleoprotein (RNP) complexes for gene editing into human unactivated T cells. The modified cells may then be used for further downstream analyses and applications.
Why Use CellPore™ for Cell Engineering?
Engineer human unactivated T cells while avoiding unwanted electroporation-induced broad gene dysregulation and functional changes
Deliver target RNPs into human unactivated T cell cytosol while retaining the resting human T cell phenotype
Easily adjust instrument parameters to find your optimal delivery conditions faster
How Does CellPore™ Work?
The CellPore™ Transfection System uses microfluidic Cell Squeeze® technology to deliver target RNPs directly to the cytosol of human unactivated T cells. Using pressure, the cells are squeezed at high speeds through parallel microfluidic channels embedded in a single-use delivery cartridge (included in the CellPore™ Transfection Kit 300). This creates transient cell membrane pores that allow the target cargoes to enter the cytosol before the membrane reseals.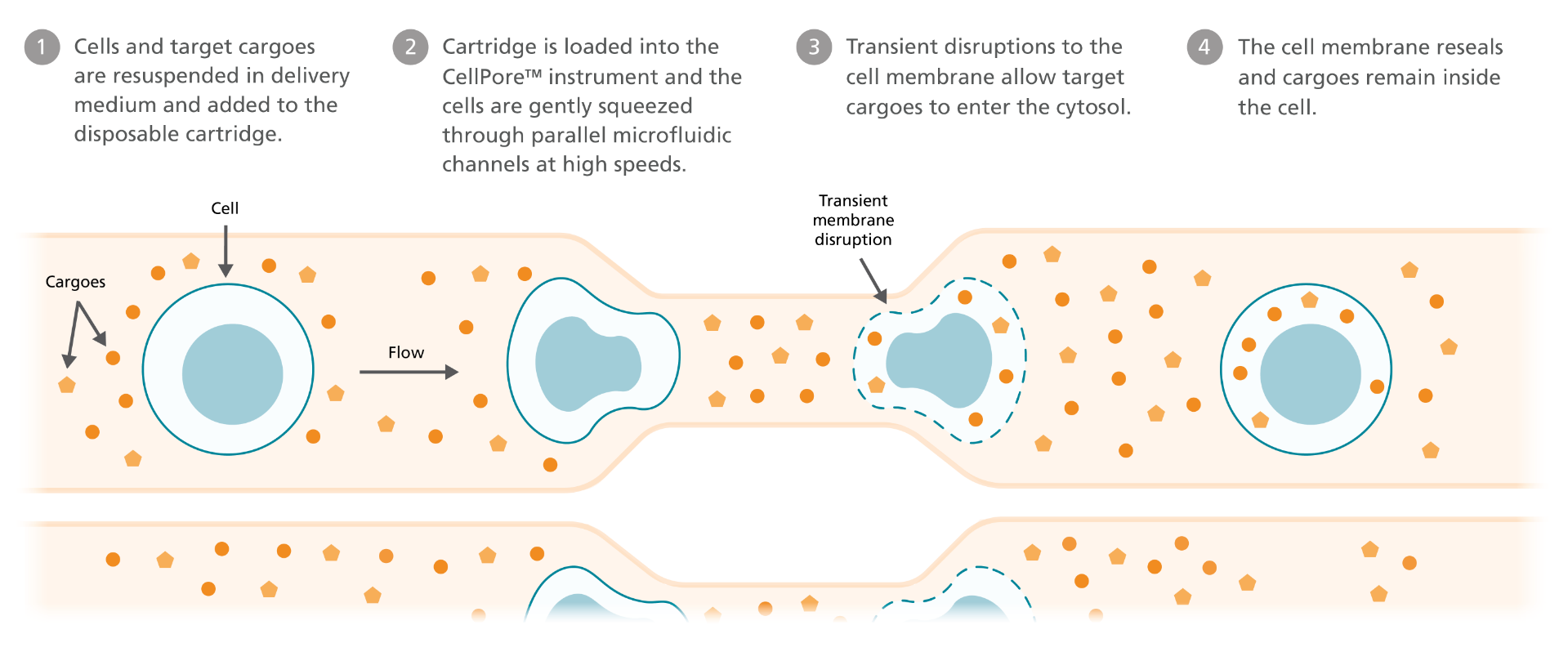 CellPore™ Products

Compatible Cell Types

Compatibility defined by the kit

Compatible Target Cargoes

Compatibility defined by the kit

Size

40.6 cm W x 31.7 cm D x 20.3 cm H (16" W x 12.5" D x 8" H)
13 kg (29 lb) without gas tank

Compatible Cell Types

Human unactivated T cells

Compatible Target Cargoes

Ribonucleoprotein (RNP) complexes
Expand Details
Collapse Details
The purchase of the CellPore™ Transfection System and/or CellPore™ Delivery Cartridges ("CellPore™ Products") conveys to the purchaser a limited, non-exclusive, non-transferable license to use CellPore™ Products, in accordance with STEMCELL's
Terms and Conditions of Sale
and all applicable laws and regulations, and solely for research-use-only applications (which applications exclude any commercial application or any therapeutic, prophylactic, diagnostic application, as well as any development and/or commercialization of products therewith or developed therefrom). STEMCELL or its licensor(s) grant no additional license rights other than those explicitly granted herein, and except for such license rights, all other intellectual property and proprietary rights in and to CellPore™ Products are and shall remain the exclusive property of STEMCELL and its licensors. STEMCELL's third-party licensor, SQZ Biotechnologies Company, retains a right and is granted a transferable license to practice any improvements by purchasers to the CellPore™ Products (including any improvements by purchasers to the intellectual property directly related to CellPore™ Products) for any purpose throughout the world. The purchaser of CellPore™ Products agrees to prevent unauthorized use, access, copying, or disclosure of any intellectual property comprised in CellPore™ Products. The purchaser shall not, and shall not permit anyone to, copy, create any derivative work, reverse engineer, disassemble, or decompile CellPore™ Products. Notwithstanding the foregoing, all data, information, and results entered, stored, compiled, generated, and/or analyzed by purchasers of CellPore™ Products using the CellPore™ Products in accordance with all of the foregoing shall be the property of such purchaser.