Starter Kit for MethoCult™ H4534 Classic Without EPO
Complete kit for hematopoietic CFU assays
Request Pricing
Thank you for your interest in this product. Please provide us with your contact information and your local representative will contact you with a customized quote. Where appropriate, they can also assist you with a(n):
Estimated delivery time for your area
Product sample or exclusive offer
In-lab demonstration
By submitting this form, you are providing your consent to STEMCELL Technologies Canada Inc. and its subsidiaries and affiliates ("STEMCELL") to collect and use your information, and send you newsletters and emails in accordance with our
privacy policy
. Please
contact us
with any questions that you may have. You can unsubscribe or change your
email preferences
at any time.
Overview
The Starter Kit for MethoCult™ H4534 Classic without EPO (MethoCult™ GF H4534) is recommended for laboratories in the initial stages of establishing procedures for assessing human hematopoietic progenitor cells using colony-forming unit (CFU) assays. These products support the growth of clonogenic hematopoietic progenitor cells from human bone marrow, peripheral blood, cord blood, leukapheresis products, and purified progenitor-enriched cells. H4534 without EPO is a complete methylcellulose-based medium that supports the growth of granulocyte-macrophage progenitors (CFU-GM, CFU-G and CFU-M). Each kit contains instructional materials in addition to all reagents and materials necessary to perform 24 duplicate assays.
Browse our
Frequently Asked Questions (FAQs)
on performing the CFU assay and
explore its utility as part of the cell therapy workflow
.
Subtype
Semi-Solid Media, Specialized Media
Cell Type
Hematopoietic Stem and Progenitor Cells
Species
Human, Non-Human Primate
Application
Cell Culture, Colony Assay, Functional Assay
Area of Interest
Stem Cell Biology
Data Figures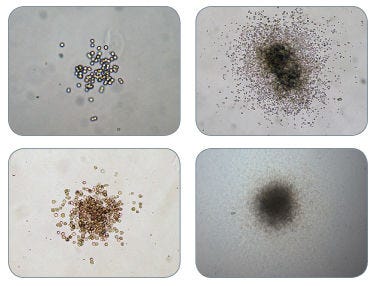 Figure 1. Examples of Colonies Derived From CFU-GM
Protocols and Documentation
Find supporting information and directions for use in the Product Information Sheet or explore additional protocols below.
Document Type
Product Name
Catalog #
Lot #
Language
Applications
This product is designed for use in the following research area(s) as part of the highlighted workflow stage(s). Explore these workflows to learn more about the other products we offer to support each research area.
Resources and Publications
Educational Materials
(4)
Frequently Asked Questions
Why use semi-solid media?
Semi-solid media (methylcellulose-based MethoCult™ and collagen-based MegaCult™-C) allow the clonal progeny of a single progenitor cell to remain spatially isolated from other colonies within a culture, so they may be separately identified and counted.
Why use methylcellulose-based media?
Methylcellulose permits better growth of erythroid colonies than other types of semi-solid support systems (eg. agar) while allowing optimal myeloid colony formation. When appropriate cytokines are present, committed progenitor cells of both erythroid and granulocyte/macrophage lineages (CFU-GM, CFU-G, CFU-M) as well as multi-potential progenitor cells (CFU-GEMM), can be assayed simultaneously in the same culture dish.
Is it necessary to add antibiotics to the media?
No, aseptic technique should be sufficient to maintain sterile cultures. However, antibiotics (eg. Penicillin/Streptomycin) or anti-fungals (eg. Amphotericin B) may be added to the methylcellulose medium if desired.
Is there anything I can do if my cultures appear contaminated?
No, once contamination is visible, it is not possible to rescue the cultures by the addition of antibiotics. Bacteria and yeast inhibit colony formation by depleting nutrients or by releasing toxic substances.
Why can't I use a pipette to dispense methylcellulose-based media?
Methylcellulose is a viscous solution that cannot be accurately dispensed using a pipette due to adherence of the medium to the walls of the pipette tip. Blunt-End, 16 Gauge needles (Catalog #28110), in combination with 3 cc Syringes (Catalog #28230) are recommended for accurate dispensing of MethoCult™.
Can I 'pluck' the colonies for individual analysis?
Yes, colonies can be 'plucked' using a pipette with 200 µL sterile pipette tips or using a glass Pasteur pipette with an elongated tip. Individual colonies should be placed in a volume of 25 - 50 µL of medium, and diluted into suitable culture medium for further culture or analysis.
Why are low adherence dishes so important?
Adherent cells such as fibroblasts can cause inhibition of colony growth and obscure visualization of colonies.
Can MethoCult™ products be used for lymphoid progenitor CFU assays?
Human lymphoid progenitors (B, NK and T) seem to require stromal support for growth therefore cannot be grown in MethoCult™. Mouse pre-B clonogenic progenitors can be grown in MethoCult™ M3630 (Catalog #03630).
Is it possible to set up CFU assays in a 24-well plate?
Yes, as long as a plating concentration optimized for the smaller surface area of a well in a 24-well plate (1.9 cm2 as compared to ~9.5 cm2 for a 35 mm dish) is used for these assays. The number of replicate wells required to get an accurate estimation of CFU numbers may also need to be increased.
Can I stain colonies in MethoCult™ medium?
The cells in individual colonies in MethoCult™ can be stained, eg., for analysis of morphology or phenotype, after they are plucked from the dish and washed free of methylcellulose. Colonies grown in collagen-based MegaCult™-C medium can be used for immunohistochemical or enzymatic staining in situ after dehydration and fixation onto glass slides.
Are there differences in colony morphology with serum-free media?
Serum-containing media generally give better overall growth (colonies may appear larger) but there are no large differences in total colony numbers when CFU assays using serum-free media and serum-containing media are compared, provided that identical cytokines are present.
Can MethoCult™ be made with alternate base media?
Is there a MethoCult™ formulation suitable for HPP-CFC (high proliferative potential colony forming cell)?
Yes, MethoCult™ H4535 (Catalog #04535) can be used for the HPP-CFC assay as it does not contain EPO. The culture period is usually 28 days. It is not necessary to feed these cultures as growth factors in the medium are present in excess. As HPP-CFCs can be quite large, overplating can be a problem. It is recommended to plate cells at two or more different concentrations.
Publications
(13)
Intraarterial administration of bone marrow mononuclear cells in patients with critical limb ischemia: a randomized-start, placebo-controlled pilot trial (PROVASA).
Circulation. Cardiovascular interventions 2011 FEB
Abstract
BACKGROUND: Critical limb ischemia due to peripheral arterial occlusive disease is associated with a severely increased morbidity and mortality. There is no effective pharmacological therapy available. Injection of autologous bone marrow-derived mononuclear cells (BM-MNC) is a promising therapeutic option in patients with critical limb ischemia, but double-blind, randomized trials are lacking. METHODS AND RESULTS: Forty patients with critical limb ischemia were included in a multicenter, phase II, double-blind, randomized-start trial to receive either intraarterial administration of BM-MNC or placebo followed by active treatment with BM-MNC (open label) after 3 months. Intraarterial administration of BM-MNC did not significantly increase ankle-brachial index and, thus, the trial missed its primary end point. However, cell therapy was associated with significantly improved ulcer healing (ulcer area, 3.2±4.7 cm(2) to 1.89±3.5 cm(2) [P=0.014] versus placebo, 2.92±3.5 cm(2) to 2.89±4.1 cm(2) [P=0.5]) and reduced rest pain (5.2±1.8 to 2.2±1.3 [P=0.009] versus placebo, 4.5±2.4 to 3.9±2.6 [P=0.3]) within 3 months. Limb salvage and amputation-free survival rates did not differ between the groups. Repeated BM-MNC administration and higher BM-MNC numbers and functionality were the only independent predictors of improved ulcer healing. Ulcer healing induced by repeated BM-MNC administration significantly correlated with limb salvage (r=0.8; Ptextless0.001). CONCLUSIONS: Intraarterial administration of BM-MNC is safe and feasible and accelerates wound healing in patients without extensive gangrene and impending amputation. These exploratory findings of this pilot trial need to be confirmed in a larger randomized trial in patients with critical limb ischemia and stable ulcers.
AZD1152, a novel and selective aurora B kinase inhibitor, induces growth arrest, apoptosis, and sensitization for tubulin depolymerizing agent or topoisomerase II inhibitor in human acute leukemia cells in vitro and in vivo.
Blood 2007 SEP
Abstract
Aurora kinases play an important role in chromosome alignment, segregation, and cytokinesis during mitosis. We have recently shown that hematopoietic malignant cells including those from acute myeloid leukemia (AML) and acute lymphoblastic leukemia (ALL) aberrantly expressed Aurora A and B kinases, and ZM447439, a potent inhibitor of Aurora kinases, effectively induced growth arrest and apoptosis of a variety of leukemia cells. The present study explored the effect of AZD1152, a highly selective inhibitor of Aurora B kinase, on various types of human leukemia cells. AZD1152 inhibited the proliferation of AML lines (HL-60, NB4, MOLM13), ALL line (PALL-2), biphenotypic leukemia (MV4-11), acute eosinophilic leukemia (EOL-1), and the blast crisis of chronic myeloid leukemia K562 cells with an IC50 ranging from 3 nM to 40 nM, as measured by thymidine uptake on day 2 of culture. These cells had 4N/8N DNA content followed by apoptosis, as measured by cell-cycle analysis and annexin V staining, respectively. Of note, AZD1152 synergistically enhanced the antiproliferative activity of vincristine, a tubulin depolymerizing agent, and daunorubicin, a topoisomerase II inhibitor, against the MOLM13 and PALL-2 cells in vitro. Furthermore, AZD1152 potentiated the action of vincristine and daunorubicin in a MOLM13 murine xenograft model. Taken together, AZD1152 is a promising new agent for treatment of individuals with leukemia. The combined administration of AZD1152 and conventional chemotherapeutic agent to patients with leukemia warrants further investigation.
Cell isolation procedures matter: a comparison of different isolation protocols of bone marrow mononuclear cells used for cell therapy in patients with acute myocardial infarction.
European heart journal 2007 MAR
Abstract
AIM: The recently published REPAIR-AMI and ASTAMI trial showed differences in contractile recovery of left ventricular function after infusion of bone marrow-derived cells in acute myocardial infarction. Since the trials used different protocols for cell isolation and storage (REPAIR-AMI: Ficoll, storage in X-vivo 10 medium plus serum; ASTAMI: Lymphoprep, storage in NaCl plus plasma), we compared the functional activity of BMC isolated by the two different protocols. METHODS AND RESULTS: The recovery of total cell number, colony-forming units (CFU), and the number of mesenchymal stem cells were significantly reduced to 77 +/- 4%, 83 +/- 16%, and 65 +/- 15%, respectively, when using the ASTAMI protocol compared with the REPAIR protocol. The capacity of the isolated BMC to migrate in response to stromal cell-derived factor 1 (SDF-1) was profoundly reduced when using the ASTAMI cell isolation procedure (42 +/- 8% and 78 +/- 3% reduction in healthy and CAD-patient cells, respectively). Finally, infusion of BMC into a hindlimb ischaemia model demonstrated a significantly blunted blood-flow-recovery by BMC isolated with the ASTAMI protocol (54 +/- 6% of the effect obtained by REPAIR cells). Comparison of the individual steps identified the use of NaCl and plasma for cell storage as major factors for functional impairment of the BMC. CONCLUSION: Cell isolation protocols have a major impact on the functional activity of bone marrow-derived progenitor cells. The assessment of cell number and viability may not entirely reflect the functional capacity of cells in vivo. Additional functional testing appears to be mandatory to assure proper cell function before embarking on clinical cell therapy trials.
Quality Statement:

PRODUCTS ARE FOR RESEARCH USE ONLY AND NOT INTENDED FOR HUMAN OR ANIMAL DIAGNOSTIC OR THERAPEUTIC USES UNLESS OTHERWISE STATED. FOR ADDITIONAL INFORMATION ON QUALITY AT STEMCELL, REFER TO WWW.STEMCELL.COM/COMPLIANCE.