EasySep™ Human CD8+ T Cell Enrichment Kit
Immunomagnetic negative selection kit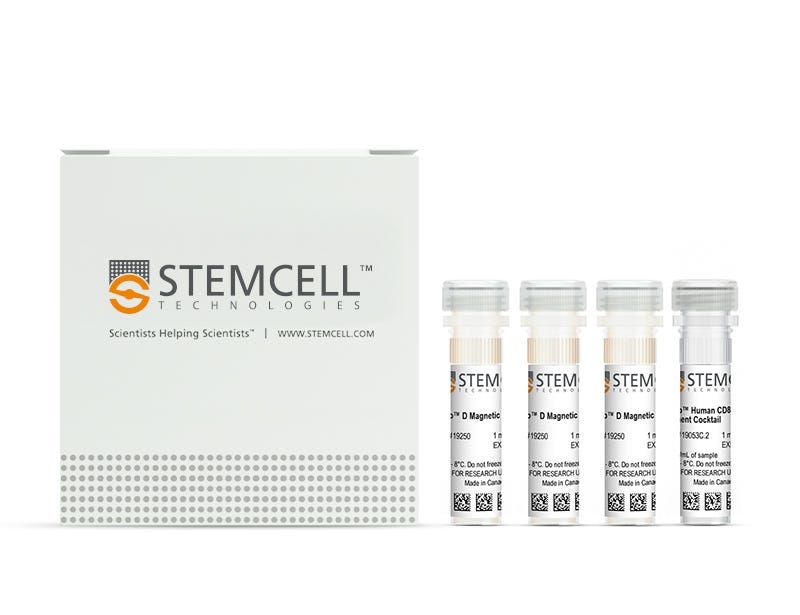 New look, same high quality and support!

You may notice that your instrument or reagent packaging looks slightly different from images displayed on the website, or from previous orders. We are updating our look but rest assured, the products themselves and how you should use them have not changed. Learn more
Request Pricing
Thank you for your interest in this product. Please provide us with your contact information and your local representative will contact you with a customized quote. Where appropriate, they can also assist you with a(n):
Estimated delivery time for your area
Product sample or exclusive offer
In-lab demonstration
By submitting this form, you are providing your consent to STEMCELL Technologies Canada Inc. and its subsidiaries and affiliates ("STEMCELL") to collect and use your information, and send you newsletters and emails in accordance with our
privacy policy
. Please
contact us
with any questions that you may have. You can unsubscribe or change your
email preferences
at any time.
New look, same high quality and support!

You may notice that your instrument or reagent packaging looks slightly different from images displayed on the website, or from previous orders. We are updating our look but rest assured, the products themselves and how you should use them have not changed. Learn more
Products for Your Protocol

Overview
The EasySep™ Human CD8+ T Cell Enrichment Kit is designed to isolate CD8+ T cells from fresh or previously frozen peripheral blood mononuclear cells or ammonium chloride-lysed leukapheresis sample by negative selection. Unwanted cells are targeted for removal with Tetrameric Antibody Complexes recognizing non-CD8+ T cells and glycophorin A and dextran-coated magnetic particles. The labeled cells are separated using an EasySep™ magnet without the use of columns. Desired cells are poured off into a new tube.
For even faster cell isolations, we recommend the new
EasySep™ Human CD8+ T Cell Isolation Kit (17953)
which isolates cells in just 8 minutes.
Magnet Compatibility
• EasySep™ Magnet (Catalog #18000)
• "The Big Easy" EasySep™ Magnet (Catalog #18001)
• Easy 50 EasySep™ Magnet (Catalog #18002)
• EasyPlate™ EasySep™ Magnet (Catalog 18102)
• EasyEights™ EasySep™ Magnet (Catalog #18103)
• RoboSep™-S (Catalog #21000)
Subtype
Cell Isolation Kits
Cell Type
T Cells, T Cells, CD8+
Sample Source
Leukapheresis, PBMC
Selection Method
Negative
Application
Cell Isolation
Area of Interest
Immunology
Data Figures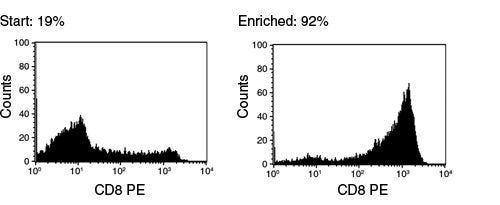 Figure 1. FACS Histogram Results Using EasySep™ Human CD8+ T Cell Enrichment Kit
Starting with frozen mononuclear cells, the CD8+ cell content of the enriched fraction typically ranges from 84 - 95%
Protocols and Documentation
Find supporting information and directions for use in the Product Information Sheet or explore additional protocols below.
Document Type
Product Name
Catalog #
Lot #
Language
Applications
This product is designed for use in the following research area(s) as part of the highlighted workflow stage(s). Explore these workflows to learn more about the other products we offer to support each research area.
Resources and Publications
Educational Materials
(10)
Frequently Asked Questions
Can EasySep™ be used for either positive or negative selection?
Yes. The EasySep™ kits use either a negative selection approach by targeting and removing unwanted cells or a positive selection approach targeting desired cells. Depletion kits are also available for the removal of cells with a specific undesired marker (e.g. GlyA).
How does the separation work?
Magnetic particles are crosslinked to cells using Tetrameric Antibody Complexes (TAC). When placed in the EasySep™ Magnet, labeled cells migrate to the wall of the tube. The unlabeled cells are then poured off into a separate fraction.
Which columns do I use?
The EasySep™ procedure is column-free. That's right - no columns!
How can I analyze the purity of my enriched sample?
The Product Information Sheet provided with each EasySep™ kit contains detailed staining information.
Can EasySep™ separations be automated?
Yes. RoboSep™, the fully automated cell separator, automates all EasySep™ labeling and cell separation steps.
Can EasySep™ be used to isolate rare cells?
Yes. We recommend a cell concentration of 2x108 cells/mL and a minimum working volume of 100 µL. Samples containing 2x107 cells or fewer should be suspended in 100 µL of buffer.
Are the EasySep™ magnetic particles FACS-compatible?
Yes, the EasySep™ particles are flow cytometry-compatible, as they are very uniform in size and about 5000X smaller than other commercially available magnetic beads used with column-free systems.
Can the EasySep™ magnetic particles be removed after enrichment?
No, but due to the small size of these particles, they will not interfere with downstream applications.
Can I alter the separation time in the magnet?
Yes; however, this may impact the kit's performance. The provided EasySep™ protocols have already been optimized to balance purity, recovery and time spent on the isolation.
For positive selection, can I perform more than 3 separations to increase purity?
Yes, the purity of targeted cells will increase with additional rounds of separations; however, cell recovery will decrease.
How does the binding of the EasySep™ magnetic particle affect the cells? is the function of positively selected cells altered by the bound particles?
Hundreds of publications have used cells selected with EasySep™ positive selection kits for functional studies. Our in-house experiments also confirm that selected cells are not functionally altered by the EasySep™ magnetic particles.

If particle binding is a key concern, we offer two options for negative selection. The EasySep™ negative selection kits can isolate untouched cells with comparable purities, while RosetteSep™ can isolate untouched cells directly from whole blood without using particles or magnets.
Publications
(12)
A Compartmentalized Reduction in Membrane-Proximal Calmodulin Reduces the Immune Surveillance Capabilities of CD8+ T Cells in Head and Neck Cancer.
Frontiers in pharmacology 2020
Abstract
The limited ability of cytotoxic CD8+ T cells to infiltrate solid tumors and function within the tumor microenvironment presents a major roadblock to effective immunotherapy. Ion channels and Ca2+-dependent signaling events control the activity of T cells and are implicated in the failure of immune surveillance in cancer. Reduced KCa3.1 channel activity mediates the heightened inhibitory effect of adenosine on the chemotaxis of circulating T cells from head and neck squamous cell carcinoma (HNSCC) patients. Herein, we conducted experiments that elucidate the mechanisms of KCa3.1 dysfunction and impaired chemotaxis in HNSCC CD8+ T cells. The Ca2+ sensor calmodulin (CaM) controls multiple cellular functions including KCa3.1 activation. Our data showed that CaM expression is lower in HNSCC than healthy donor (HD) T cells. This reduction was due to an intrinsic decrease in the genes encoding CaM combined to the failure of HNSCC T cells to upregulate CaM upon activation. Furthermore, the reduction in CaM was confined to the plasma membrane and resulted in decreased CaM-KCa3.1 association and KCa3.1 activity (which was rescued by the delivery of CaM). IFN$\gamma$ production, also Ca2+- and CaM-dependent, was instead not reduced in HNSCC T cells, which maintained intact cytoplasmic CaM and Ca2+ fluxing ability. Knockdown of CaM in HD T cells decreased KCa3.1 activity, but not IFN$\gamma$ production, and reduced their chemotaxis in the presence of adenosine, thus recapitulating HNSCC T cell dysfunction. Activation of KCa3.1 with 1-EBIO restored the ability of CaM knockdown HD T cells to chemotax in the presence of adenosine. Additionally, 1-EBIO enhanced INF$\gamma$ production. Our data showed a localized downregulation of membrane-proximal CaM that suppressed KCa3.1 activity in HNSCC circulating T cells and limited their ability to infiltrate adenosine-rich tumor-like microenvironments. Furthermore, they indicate that KCa3.1 activators could be used as positive CD8+ T cell modulators in cancers.
Multifactorial heterogeneity of virus-specific T cells and association with the progression of human chronic hepatitis B infection.
Science immunology 2019 feb
Abstract
Associations between chronic antigen stimulation, T cell dysfunction, and the expression of various inhibitory receptors are well characterized in several mouse and human systems. During chronic hepatitis B virus (HBV) infection (CHB), T cell responses are blunted with low frequencies of virus-specific T cells observed, making these parameters difficult to study. Here, using mass cytometry and a highly multiplexed combinatorial peptide-major histocompatibility complex (pMHC) tetramer strategy that allows for the detection of rare antigen-specific T cells, we simultaneously probed 484 unique HLA-A*1101-restricted epitopes spanning the entire HBV genome on T cells from patients at various stages of CHB. Numerous HBV-specific T cell populations were detected, validated, and profiled. T cells specific for two epitopes (HBVpol387 and HBVcore169) displayed differing and complex heterogeneities that were associated with the disease progression, and the expression of inhibitory receptors on these cells was not linearly related with their extent of T cell dysfunction. For HBVcore169-specific CD8+ T cells, we found cellular markers associated with long-term memory, polyfunctionality, and the presence of several previously unidentified public TCR clones that correlated with viral control. Using high-dimensional trajectory analysis of these cellular phenotypes, a pseudo-time metric was constructed that fit with the status of viral infection in corresponding patients. This was validated in a longitudinal cohort of patients undergoing antiviral therapy. Our study uncovers complex relationships of inhibitory receptors between the profiles of antigen-specific T cells and the status of CHB with implications for new strategies of therapeutic intervention.
CD155T/TIGIT Signaling Regulates CD8+ T-cell Metabolism and Promotes Tumor Progression in Human Gastric Cancer.
Cancer research 2017 NOV
Abstract
The T-cell surface molecule TIGIT is an immune checkpoint molecule that inhibits T-cell responses, but its roles in cancer are little understood. In this study, we evaluated the role TIGIT checkpoint plays in the development and progression of gastric cancer. We show that the percentage of CD8 T cells that are TIGIT+ was increased in gastric cancer patients compared with healthy individuals. These cells showed functional exhaustion with impaired activation, proliferation, cytokine production, and metabolism, all of which were rescued by glucose. In addition, gastric cancer tissue and cell lines expressed CD155, which bound TIGIT receptors and inactivated CD8 T cells. In a T cell-gastric cancer cell coculture system, gastric cancer cells deprived CD8 T cells of glucose and impaired CD8 T-cell effector functions; these effects were neutralized by the additional glucose or by TIGIT blockade. In gastric cancer tumor cells, CD155 silencing increased T-cell metabolism and IFNγ production, whereas CD155 overexpression inhibited T-cell metabolism and IFNγ production; this inhibition was neutralized by TIGIT blockade. Targeting CD155/TIGIT enhanced CD8 T-cell reaction and improved survival in tumor-bearing mice. Combined targeting of TIGIT and PD-1 further enhanced CD8 T-cell activation and improved survival in tumor-bearing mice. Our results suggest that gastric cancer cells inhibit CD8 T-cell metabolism through CD155/TIGIT signaling, which inhibits CD8 T-cell effector functions, resulting in hyporesponsive antitumor immunity. These findings support the candidacy of CD155/TIGIT as a potential therapeutic target in gastric cancer. Cancer Res; 77(22); 6375-88. textcopyright2017 AACR.
Quality Statement:

PRODUCTS ARE FOR RESEARCH USE ONLY AND NOT INTENDED FOR HUMAN OR ANIMAL DIAGNOSTIC OR THERAPEUTIC USES UNLESS OTHERWISE STATED. FOR ADDITIONAL INFORMATION ON QUALITY AT STEMCELL, REFER TO WWW.STEMCELL.COM/COMPLIANCE.