Anti-Human MUC1 (CD227) Antibody, Clone 214D4
Mouse monoclonal IgG1 antibody against human MUC1 (CD227)
Overview
The 214D4 antibody reacts with MUC1 (also known as CD227), a large cell surface glycoprotein expressed by most glandular and ductal epithelial cells as well as a variety of hematopoietic cells. A characteristic feature of the MUC1 (CD227) glycoprotein is a core protein domain composed of a variable number of tandem repeats and multiple oligosaccharide side chains. Because the extracellular portion of MUC1 can extend beyond most cell surface proteins, it is thought to play a role in cell-cell and cell-substrate adhesion. The protein is highly expressed by the majority of human adenocarcinomas and is associated with a poor prognosis. In the mammary gland, MUC1 is localized on the apical plasma membrane of luminal epithelial cells. The 214D4 antibody clone is particularly useful since it enriches for luminal-restricted but not bipotent epithelial progenitor cells from normal human mammary tissue.
Subtype
Primary Antibodies
Target Antigen
MUC1 (CD227)
Alternative Names
CD227, EMA, Episialin, Epithelial membrane antigen, HMFG antigen, MAM6, Mucin 1, PEM, Polymorphic epithelial mucin
Application
Cell Isolation, Immunohistochemistry
Area of Interest
Epithelial Cell Biology, Stem Cell Biology
Data Figures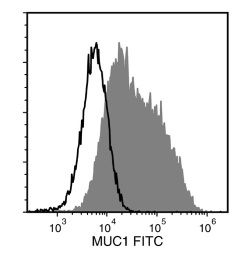 Flow cytometry analysis of human MCF7 cells labeled with Anti-Human MUC1 (CD227) Antibody, Clone 214D4, followed by a rat anti-mouse IgG1 antibody, FITC (filled histogram) or a mouse IgG1, kappa isotype control antibody, followed by a rat anti-mouse IgG1 antibody, FITC (solid line histogram).
Protocols and Documentation
Find supporting information and directions for use in the Product Information Sheet or explore additional protocols below.
Document Type
Product Name
Catalog #
Lot #
Language
Applications
This product is designed for use in the following research area(s) as part of the highlighted workflow stage(s). Explore these workflows to learn more about the other products we offer to support each research area.
Resources and Publications
Educational Materials
(1)
Quality Statement:

PRODUCTS ARE FOR RESEARCH USE ONLY AND NOT INTENDED FOR HUMAN OR ANIMAL DIAGNOSTIC OR THERAPEUTIC USES UNLESS OTHERWISE STATED. FOR ADDITIONAL INFORMATION ON QUALITY AT STEMCELL, REFER TO WWW.STEMCELL.COM/COMPLIANCE.