Overview
Peripheral blood (PB) primary human monocytes are isolated from mononuclear cells (MNCs) using the negative selection immunomagnetic technique. Monocytes are untouched and ready for any downstream application. PB was collected using one of the following anticoagulants: acid-citrate-dextrose (ACD), acid-citrate-dextrose solution A (ACDA), citrate-phosphate-dextrose (CPD), citrate-phosphate-double-dextrose (CP2D), or citrate-phosphate-dextrose-adenine (CPDA).
Cells were obtained using Institutional Review Board (IRB)-approved consent forms and protocols.
Certain products are only available in select territories. Please contact your local Sales representative or Product & Scientific Support at
techsupport@stemcell.com
for further information.
Contains:
• CryoStor® CS10
Cell Type:
Monocytes; Myeloid Cells
Cell and Tissue Source:
Peripheral Blood
Purity:
The purity of monocytes is ≥ 85% by flow cytometry.
Scientific Resources
Product Documentation
Document Type
Product Name
Catalog #
Lot #
Language
Product Applications
This product is designed for use in the following research area(s) as part of the highlighted workflow stage(s). Explore these workflows to learn more about the other products we offer to support each research area.
Research Area
Workflow Stages for
Data and Publications
Data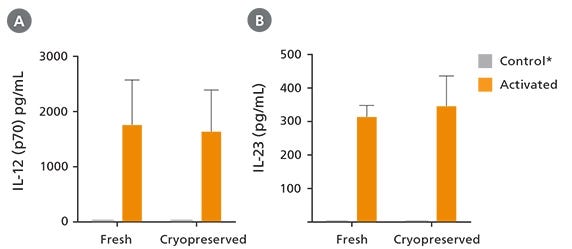 Figure 1. Cryopreserved Monocytes Differentiate into Dendritic Cells and Secrete IL-12 (p70) and IL-23 Upon Activation
Monocytes freshly isolated from a Leuko Pak (Catalog #70500) using EasySep™ Human Monocyte Isolation Kit (Catalog #19359) or cryopreserved Monocytes (Catalog #70034) were cultured for 6 days in RPMI 1640 Medium (Catalog #36750) with 10% FBS, 0.1 mM MEM Non-Essential Amino Acid Solution (100X, Catalog #07600), 2mM L-Glutamine (Catalog #07100), 1mM Sodium Pyruvate (Catalog #07000) and 50µM β-mercaptoethanol. Human Recombinant IL-4 (Catalog #78045) and Human Recombinant GM-CSF (Catalog #78015) were added on days 1, 3 and 6 to differentiate monocytes into DCs. Cells were either left unstimulated (control) or stimulated with LPS and Human Recombinant IFN-γ (Catalog #78020) (activated). Activation led to secretion of (A) IL-12 (p70) and (B) IL-23, which were not detectable in unstimulated controls as measured using the Human IL-12 (p70) ELISA Kit (Catalog #02014) and the Human IL-23 ELISA Kit (Catalog #02016), respectively. *Cytokine concentration of control in culture was lower than the limit of detection.
STEMCELL TECHNOLOGIES INC.'S QUALITY MANAGEMENT SYSTEM IS CERTIFIED TO ISO 13485. PRODUCTS ARE FOR RESEARCH USE ONLY AND NOT INTENDED FOR HUMAN OR ANIMAL DIAGNOSTIC OR THERAPEUTIC USES UNLESS OTHERWISE STATED.