MesenCult™ Osteogenic Stimulatory Kit (Mouse)
Complete medium for differentiating mouse mesenchymal stem cells and embryonic fibroblasts into osteoblasts
Request Pricing
Thank you for your interest in this product. Please provide us with your contact information and your local representative will contact you with a customized quote. Where appropriate, they can also assist you with a(n):
Estimated delivery time for your area
Product sample or exclusive offer
In-lab demonstration
By submitting this form, you are providing your consent to STEMCELL Technologies Canada Inc. and its subsidiaries and affiliates ("STEMCELL") to collect and use your information, and send you newsletters and emails in accordance with our
privacy policy
. Please
contact us
with any questions that you may have. You can unsubscribe or change your
email preferences
at any time.
Products for Your Protocol
Overview
MesenCult™ Osteogenic Stimulatory Kit (Mouse) is specifically formulated for the in vitro differentiation of mouse mesenchymal stem and progenitor cells (MSCs) from compact bone and bone marrow, and mouse embryonic fibroblasts (MEFs) into osteoblasts. This kit induces strong osteogenesis of mouse MSCs and MEFs, as evidenced by qPCR analysis of key transcripts involved in bone differentiation and maturation, and Alizarin Red staining. This kit is recommended for characterizing MSCs and MEFs and studying bone development.
Subtype
Specialized Media
Cell Type
Mesenchymal Stem and Progenitor Cells, Mouse Embryonic Fibroblasts, Osteoblasts
Application
Cell Culture, Differentiation
Area of Interest
Stem Cell Biology
Data Figures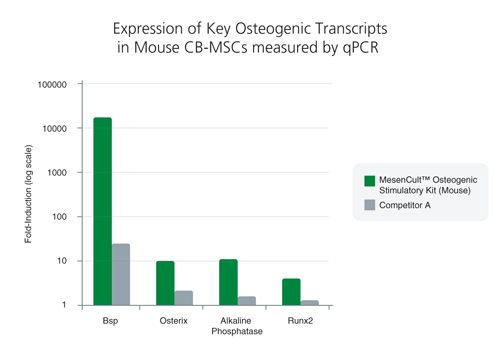 Figure 1. Differentiation of mouse compact bone-derived mesenchymal stem cells (CB-MSCs) with the MesenCult™ Osteogenic Stimulatory Kit (Mouse)
Compact bone-derived MSCs exhibited superior expression of key osteogenic transcripts involved in bone differentiation and maturation following treatment with MesenCult™ Osteogenic Stimulatory Kit (Mouse)*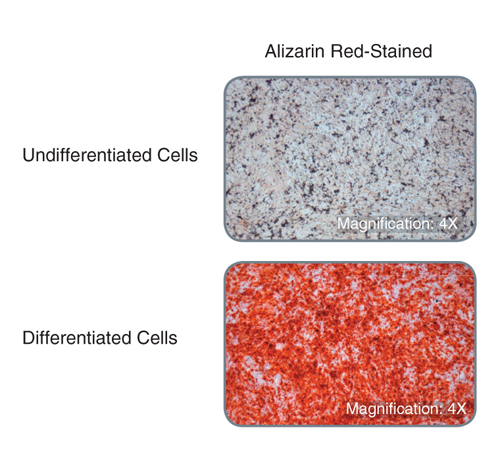 Figure 2. Compact bone-derived MSCs display robust bone matrix deposition following treatment with MesenCult™ Osteogenic Stimulatory Kit (Mouse) as demonstrated by Alizarin Red-staining
Ca2+ deposits are detected with Alizarin Red.
For both the qPCR analysis and Alizarin-Red staining assay, the mouse compact bone-derived MSCs were cultured in vitro for three passages, purified with EasySep™ Mesenchymal Stem/Progenitor Cell Enrichment Kit (Mouse, Catalog #19771), and then cultured for another passage, prior to differentiation with the MesenCult™ Osteogenic Stimulatory Kit (Mouse).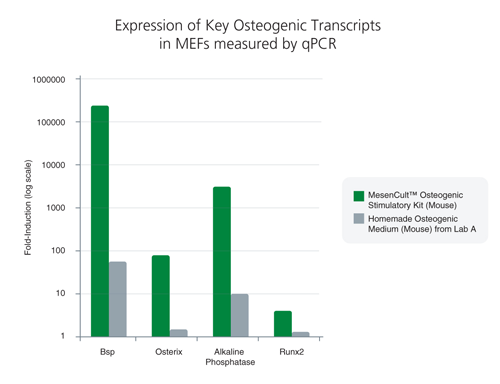 Figure 3.Differentiation of mouse embryonic fibroblasts (MEFs) with MesenCult™ Osteogenic Stiumulatory Kit (Mouse)
MEFs exhibited superior expression of key osteogenic transcripts involved in bone differentiation and maturation following treatment with MesenCult™ Osteogenic Stimulatory Kit (Mouse)*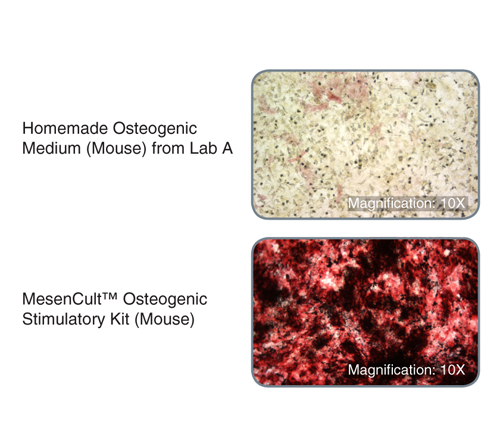 Figure 4. MEFs treated with MesenCult™ Osteogenic Stimulatory Kit (Mouse) displayed substantially increased alkaline phosphatase activity and bone matrix deposition*
Alkaline phosphatase activity is shown by Naphthol AS-MX Phosphate/Fast Red Violet LB Salt staining (red areas) while bone matrix deposition is shown by von Kossa staining (black areas).
*Versus a homemade osteogenic medium (mouse) from Lab A.
For the qPCR analysis and staining assays, MEFs were cultured in vitro for 20 days using MesenCult™ Osteogenic Stimulatory Kit (Mouse), homemade, or MesenCult™ Proliferation Kit (Mouse, Catalog #05511) as the negative control.
Protocols and Documentation
Find supporting information and directions for use in the Product Information Sheet or explore additional protocols below.
Document Type
Product Name
Catalog #
Lot #
Language
Applications
This product is designed for use in the following research area(s) as part of the highlighted workflow stage(s). Explore these workflows to learn more about the other products we offer to support each research area.
Resources and Publications
Educational Materials
(5)
Publications
(6)
Radiation mitigation of the intestinal acute radiation injury in mice by 1-[(4-nitrophenyl)sulfonyl]-4-phenylpiperazine.
Stem cells translational medicine 2020 jan
Abstract
The objective of the study was to identify the mechanism of action for a radiation mitigator of the gastrointestinal (GI) acute radiation syndrome (ARS), identified in an unbiased high-throughput screen. We used mice irradiated with a lethal dose of radiation and treated with daily injections of the radiation mitigator 1-[(4-nitrophenyl)sulfonyl]-4-phenylpiperazine to study its effects on key pathways involved in intestinal stem cell (ISC) maintenance. RNASeq, quantitative reverse transcriptase-polymerase chain reaction, and immunohistochemistry were performed to identify pathways engaged after drug treatment. Target validation was performed with competition assays, reporter cells, and in silico docking. 1-[(4-Nitrophenyl)sulfonyl]-4-phenylpiperazine activates Hedgehog signaling by binding to the transmembrane domain of Smoothened, thereby expanding the ISC pool, increasing the number of regenerating crypts and preventing the GI-ARS. We conclude that Smoothened is a target for radiation mitigation in the small intestine that could be explored for use in radiation accidents as well as to mitigate normal tissue toxicity during and after radiotherapy of the abdomen.
The RNA Helicase DDX6 Controls Cellular Plasticity by Modulating P-Body Homeostasis.
Cell stem cell 2019 nov
Abstract
Post-transcriptional mechanisms have the potential to influence complex changes in gene expression, yet their role in cell fate transitions remains largely unexplored. Here, we show that suppression of the RNA helicase DDX6 endows human and mouse primed embryonic stem cells (ESCs) with a differentiation-resistant, hyper-pluripotent" state which readily reprograms to a naive state resembling the preimplantation embryo. We further demonstrate that DDX6 plays a key role in adult progenitors where it controls the balance between self-renewal and differentiation in a context-dependent manner. Mechanistically DDX6 mediates the translational suppression of target mRNAs in P-bodies. Upon loss of DDX6 activity P-bodies dissolve and release mRNAs encoding fate-instructive transcription and chromatin factors that re-enter the ribosome pool. Increased translation of these targets impacts cell fate by rewiring the enhancer heterochromatin and DNA methylation landscapes of undifferentiated cell types. Collectively our data establish a link between P-body homeostasis chromatin organization and stem cell potency."
Quercetin Exposure Suppresses the Inflammatory Pathway in Intestinal Organoids from Winnie Mice.
International journal of molecular sciences 2019 nov
Abstract
Inflammatory bowel diseases (IBDs) are chronic and relapsing immune disorders that result, or possibly originate, from epithelial barrier defects. Intestinal organoids are a new reliable tool to investigate epithelial response in models of chronic inflammation. We produced organoids from the ulcerative colitis murine model Winnie to explore if the chronic inflammatory features observed in the parental intestine were preserved by the organoids. Furthermore, we investigated if quercetin administration to in vitro cultured organoids could suppress LPS-induced inflammation in wild-type organoids (WT-organoids) and spontaneous inflammation in ulcerative colitis organoids (UC-organoids). Our data demonstrate that small intestinal organoids obtained from Winnie mice retain the chronic intestinal inflammatory features characteristic of the parental tissue. Quercetin administration was able to suppress inflammation both in UC-organoids and in LPS-treated WT-organoids. Altogether, our data demonstrate that UC-organoids are a reliable experimental system for investigating chronic intestinal inflammation and pharmacological responses.
Quality Statement:

PRODUCTS ARE FOR RESEARCH USE ONLY AND NOT INTENDED FOR HUMAN OR ANIMAL DIAGNOSTIC OR THERAPEUTIC USES UNLESS OTHERWISE STATED. FOR ADDITIONAL INFORMATION ON QUALITY AT STEMCELL, REFER TO WWW.STEMCELL.COM/COMPLIANCE.