MammoCult™ Human Medium Kit
For culture of human mammospheres and tumorspheres
Overview
MammoCult™ Medium (Human) is a serum-free culture medium optimized for the culture of mammospheres from normal human primary breast tissues and tumorspheres from human breast cancer cell lines. For preparation of complete MammoCult™ Medium, Hydrocortisone Stock Solution (Catalog #07925) and Heparin Solution (Catalog #07980) are also required.
Components
MammoCult™ Basal Medium (Human), 450 mL
MammoCult™ Proliferation Supplement (Human), 50 mL
Subtype
Specialized Media
Cell Type
Cancer Cells and Cell Lines, Mammary Cells
Application
Cell Culture, Maintenance, Spheroid Culture
Area of Interest
Cancer, Epithelial Cell Biology
Scientific Resources
Educational Materials
(12)
Product Applications
This product is designed for use in the following research area(s) as part of the highlighted workflow stage(s). Explore these workflows to learn more about the other products we offer to support each research area.
Data and Publications
Data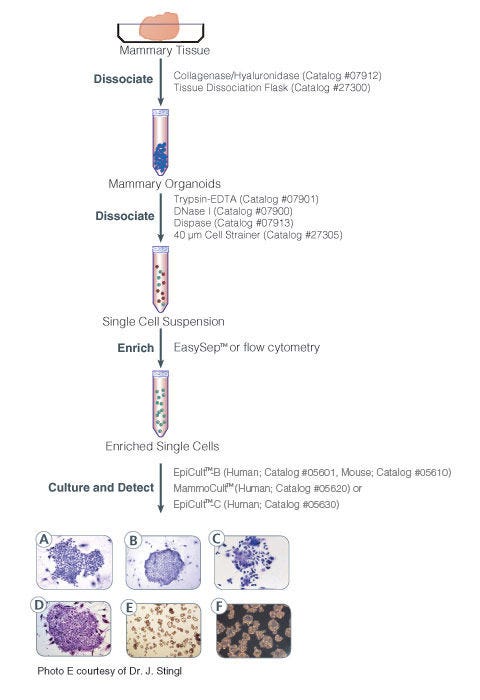 Figure 1. Protocol for Isolation and Identification of Human and Mouse Mammary Epithelial Progenitor Cells
Phase contrast photographs of (A) a pure human myoepithelial cell colony, (B) a pure human luminal cell colony, and (C) a mixed human colony. (D) is a mouse colony. Unlike human mammary CFC colonies, subtypes of mouse mammary epithelial cell colonies are not easily identifiable. All colonies were cultured in either EpiCult™-B (Human: Catalog #05601) or EpiCult™-B (Mouse:Catalog #5610) in the presence of an irradiated NIH 3T3 feeder layer. Colonies were visualized by staining with Wright"s Giemsa. (E) is a picture of mammospheres obtained from primary human mammary epithelial cells and (F) is an image of tumorspheres obtained from MCF7 human breast cancer cell line.
Quality Statement:

PRODUCTS ARE FOR RESEARCH USE ONLY AND NOT INTENDED FOR HUMAN OR ANIMAL DIAGNOSTIC OR THERAPEUTIC USES UNLESS OTHERWISE STATED. FOR ADDITIONAL INFORMATION ON QUALITY AT STEMCELL, REFER TO WWW.STEMCELL.COM/COMPLIANCE.