EasySep™ Mouse Pan-B Cell Isolation Kit
10-Minute cell isolation kit using immunomagnetic negative selection
New format, same high quality!

You may notice that your kit contents and packaging look slightly different from previous orders. We are currently updating the format of select EasySep™ Mouse kits to remove Normal Rat Serum, as this has been found to improve cell isolation performance. With this change, all components will now be shipped in a single package.
Request Pricing
Thank you for your interest in this product. Please provide us with your contact information and your local representative will contact you with a customized quote. Where appropriate, they can also assist you with a(n):
Estimated delivery time for your area
Product sample or exclusive offer
In-lab demonstration
By submitting this form, you are providing your consent to STEMCELL Technologies Canada Inc. and its subsidiaries and affiliates ("STEMCELL") to collect and use your information, and send you newsletters and emails in accordance with our
privacy policy
. Please
contact us
with any questions that you may have. You can unsubscribe or change your
email preferences
at any time.
New format, same high quality!

You may notice that your kit contents and packaging look slightly different from previous orders. We are currently updating the format of select EasySep™ Mouse kits to remove Normal Rat Serum, as this has been found to improve cell isolation performance. With this change, all components will now be shipped in a single package.
Products for Your Protocol

Overview
The EasySep™ Mouse Pan-B Cell Isolation Kit is designed to isolate all B cells, including conventional B-2 B cells, B-1 B cells and plasma cells from single-cell suspensions of splenocytes or other tissues by negative selection. Unwanted cells are targeted for removal with biotinylated antibodies directed against non pan-B cells (CD4, CD8, CD11c, CD49b, CD90.2, Ly-6C/G (Gr-1), TER119) and streptavidin-coated magnetic particles (RapidSpheres™ ). Labeled cells are separated using an EasySep™ magnet without the use of columns. Desired cells are poured off into a new tube.
This kit is compatible for use with cells from disease models where the malignant cells (B-CLL) express CD43 or CD11b. For isolation of conventional B cells only, we recommend using the EasySep™ Mouse B Cell Isolation Kit (Catalog #19854).
Click
here
to learn about our next-generation EasySep™ mouse cell isolation kits, featuring RapidSphere™ technology.
Magnet Compatibility
• EasySep™ Magnet (Catalog #18000)
• "The Big Easy" EasySep™ Magnet (Catalog #18001)
• RoboSep™-S (Catalog #21000)
Subtype
Cell Isolation Kits
Sample Source
Other, Spleen
Selection Method
Negative
Application
Cell Isolation
Area of Interest
Immunology
Data Figures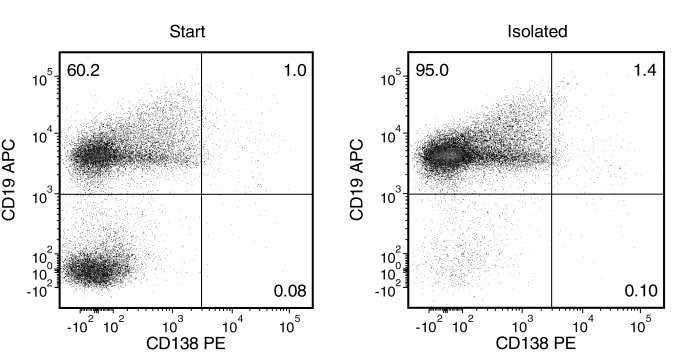 Figure 1. Typical EasySep™ Mouse Pan-B Cell Isolation Profile of a Non-Immunized C57BL/6 Mouse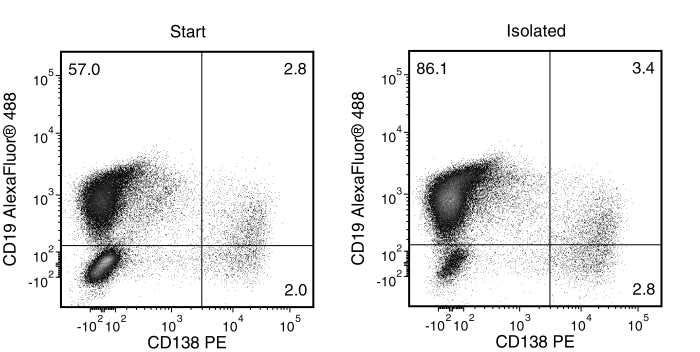 Figure 2. Typical EasySep™ Mouse Pan-B Cell Isolation Profile of an Immunized C57BL/6 Mouse
Starting with mouse splenocytes, the pan-B cell content (CD19+, CD19+CD138+ and CD138+) of the isolated fraction typically ranges from 91 - 98%.
Protocols and Documentation
Find supporting information and directions for use in the Product Information Sheet or explore additional protocols below.
Document Type
Product Name
Catalog #
Lot #
Language
Applications
This product is designed for use in the following research area(s) as part of the highlighted workflow stage(s). Explore these workflows to learn more about the other products we offer to support each research area.
Resources and Publications
Educational Materials
(8)
Frequently Asked Questions
Can EasySep™ Streptavidin RapidSpheres™ be used for either positive or negative selection?
Currently, EasySep™ Streptavidin RapidSphere™ kits are only available for negative selection and work by targeting and removing unwanted cells.
How does the separation work?
Streptavidin RapidSphere™ magnetic particles are crosslinked to unwanted cells using biotinylated antibodies. When placed in the EasySep™ Magnet, labeled cells migrate to the wall of the tube. The unlabeled cells are then poured off into a new tube.
Which columns do I use?
The EasySep™ procedure is column-free. That's right - no columns!
How can I analyze the purity of my enriched sample?
The Product Information Sheet provided with each EasySep™ kit contains detailed staining information.
Can EasySep™ Streptavidin RapidSphere™ separations be automated?
Yes. RoboSep™, the fully automated cell separator, automates all EasySep™ labeling and cell separation steps.
Are cells isolated using EasySep™ RapidSphere™ products FACS-compatible?
Yes. Desired cells are unlabeled and ready to use in downstream applications, such as FACS analysis.
Can I alter the separation time in the magnet?
Yes; however, this may impact the kit's performance. The provided EasySep™ protocols have already been optimized to balance purity, recovery and time spent on the isolation.
Publications
(3)
Quantitative and Qualitative Analysis of Humoral Immunity Reveals Continued and Personalized Evolution in Chronic Viral Infection.
Cell reports 2020 jan
Abstract
Control of established chronic lymphocytic choriomeningitis virus (LCMV) infection requires the production of neutralizing antibodies, but it remains unknown how the ensemble of antibodies evolves during ongoing infection. Here, we analyze the evolution of antibody responses during acute or chronic LCMV infection, combining quantitative functional assays and time-resolved antibody repertoire sequencing. We establish that antibody responses initially converge in both infection types on a functional and repertoire level, but diverge later during chronic infection, showing increased clonal diversity, the appearance of mouse-specific persistent clones, and distinct phylogenetic signatures. Chronic infection is characterized by a longer-lasting germinal center reaction and a continuous differentiation of plasma cells, resulting in the emergence of higher-affinity plasma cells exhibiting increased antibody secretion rates. Taken together, our findings reveal the emergence of a personalized antibody response in chronic infection and support the concept that maintaining B cell diversity throughout chronic LCMV infection correlates with the development of infection-resolving antibodies.
Genetically Engineered Cell-Derived Nanoparticles for Targeted Breast Cancer Immunotherapy.
Molecular therapy : the journal of the American Society of Gene Therapy 2019 nov
Abstract
Exosomes are nanosized membranous vesicles secreted by a variety of cells. Due to their unique and pharmacologically important properties, cell-derived exosome nanoparticles have drawn significant interest for drug development. By genetically modifying exosomes with two distinct types of surface-displayed monoclonal antibodies, we have developed an exosome platform termed synthetic multivalent antibodies retargeted exosome (SMART-Exo) for controlling cellular immunity. Here, we apply this approach to human epidermal growth factor receptor 2 (HER2)-expressing breast cancer by engineering exosomes through genetic display of both anti-human CD3 and anti-human HER2 antibodies, resulting in SMART-Exos dually targeting T cell CD3 and breast cancer-associated HER2 receptors. By redirecting and activating cytotoxic T cells toward attacking HER2-expressing breast cancer cells, the designed SMART-Exos exhibited highly potent and specific anti-tumor activity both in vitro and in vivo. This work demonstrates preclinical feasibility of utilizing endogenous exosomes for targeted breast cancer immunotherapy and the SMART-Exos as a broadly applicable platform technology for the development of next-generation immuno-nanomedicines.
Induction of HIV Neutralizing Antibody Lineages in Mice with Diverse Precursor Repertoires.
Cell 2016 SEP
Abstract
The design of immunogens that elicit broadly reactive neutralizing antibodies (bnAbs) has been a major obstacle to HIV-1 vaccine development. One approach to assess potential immunogens is to use mice expressing precursors of human bnAbs as vaccination models. The bnAbs of the VRC01-class derive from the IGHV1-2 immunoglobulin heavy chain and neutralize a wide spectrum of HIV-1 strains via targeting the CD4 binding site of the envelope glycoprotein gp120. We now describe a mouse vaccination model that allows a germline human IGHV1-2(∗)02 segment to undergo normal V(D)J recombination and, thereby, leads to the generation of peripheral B cells that express a highly diverse repertoire of VRC01-related receptors. When sequentially immunized with modified gp120 glycoproteins designed to engage VRC01 germline and intermediate antibodies, IGHV1-2(∗)02-rearranging mice, which also express a VRC01-antibody precursor light chain, can support the affinity maturation of VRC01 precursor antibodies into HIV-neutralizing antibody lineages.
Quality Statement:

PRODUCTS ARE FOR RESEARCH USE ONLY AND NOT INTENDED FOR HUMAN OR ANIMAL DIAGNOSTIC OR THERAPEUTIC USES UNLESS OTHERWISE STATED. FOR ADDITIONAL INFORMATION ON QUALITY AT STEMCELL, REFER TO WWW.STEMCELL.COM/COMPLIANCE.