ALDEFLUOR™ Kit for ALDH Assays
ALDEFLUOR™ Kit for ALDH Assays
Identification, Evaluation and Isolation of Normal and Cancer Stem & Progenitor Cells
ALDEFLUOR™ is a non-immunological fluorescent reagent system that has supported over 1000 publications for the detection of aldehyde dehydrogenase-bright (ALDHbr) cells in over 80 different tissues. High expression of ALDH has been reported for normal and cancer stem and progenitor cells of various lineages, including hematopoietic, mammary, endothelial, mesenchymal and neural cells. Only cells with an intact cellular membrane can retain the ALDEFLUOR™ reaction product, making this system selective for viable ALDHbr cells. ALDEFLUOR™ is a non-toxic and easy-to-use kit that requires no antibody staining, and is compatible with standard cell sorters and analyzers.
How ALDEFLUOR™ Detects Normal and Cancer Progenitor Cells
The ALDEFLUOR™ kit contains BODIPY-aminoacetaldehyde (BAAA), a fluorescent non-toxic substrate for ALDH, which freely diffuses into intact and viable cells. In the presence of ALDH, BAAA is converted into BODIPY-aminoacetate (BAA), a negatively charged product that is retained inside the cells. Intracellular accumulation of BAA leads to increased fluorescence, and these ALDH-bright (ALDHbr) cells can be analyzed with flow cytometry. Watch this video to learn more about how ALDEFLUOR™ works.
Why Use ALDEFLUOR™?
Detect viable normal or cancer progenitor cells based on ALDH activity. No antibody staining required.
Can be used with multiple cell types and species.
Identifies only viable cells with an intact cell membrane. Compatible with immunophenotyping.
Has supported more than 1000 peer-reviewed publications.
Simple protocol with highly reproducible results. Compatible with standard cell sorters or analyzers.
ALDEFLUOR™ Products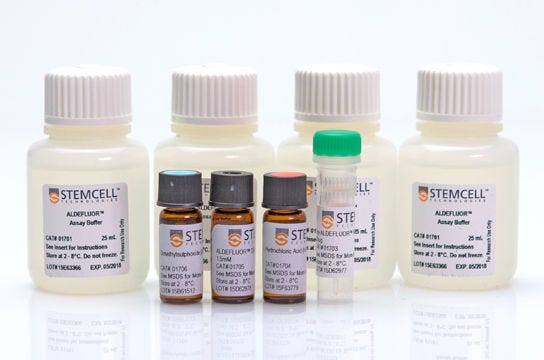 Recommended for:
Detection of stem and progenitor cells from normal and cancerous tissue
Species:
Human, Mouse, Rat
Related ALDEFLUOR™ Products: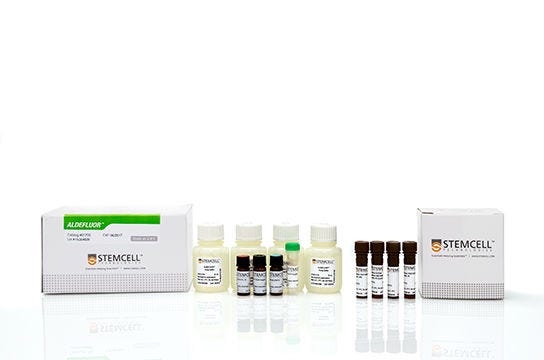 Recommended for:
Detection of ALDHbrCD34+ hematopoietic stem and progenitor cells in cord blood
Related ALDEFLUOR™ Products: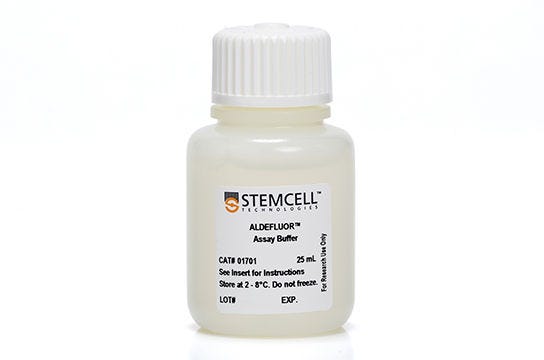 Recommended for:
Counterstaining ALDEFLUOR™-reacted cells with immunofluorescently-labeled antibodies
Species:
Human, Mouse, Rat
Related ALDEFLUOR™ Products:
Expand Details
Collapse Details
Optimizing ALDEFLUOR™ for Various Tissue Types
ALDEFLUOR™ was initially developed and optimized for the detection of ALDHbr hematopoietic stem and progenitor cells in human blood and bone marrow. Since then it has also been shown to detect normal and neoplastic cells in many other tissue types (including breast, colon, lung, pancreas, and thyroid) as well as cancer cell lines. Optimizing the ALDEFLUOR™ protocol to your tissue type of interest can dramatically increase the fluorescence intensity, thereby optimizing the assay performance. Watch this video to see an example of how our scientists increased the fluorescence intensity of ALDHbr cells in mammary tissue and learn how you can modify the protocol to fit your research needs.
Key Applications
Publications on Normal Cells
Publications on Cancer Cells