Anti-Human CD8a Antibody, Clone SK1
Mouse monoclonal IgG1 antibody against human, rhesus, cynomolgus CD8a
Overview
The SK1 antibody reacts with CD8a, a 32 - 34 kDa type I transmembrane glycoprotein that is a subunit of CD8. CD8 is a disulfide-bonded dimer, found either as a heterodimer of CD8a (α) and CD8b (β) subunits (i.e. αβ) or a homodimer (αα). CD8 acts as a co-receptor to the T cell receptor (TCR) during T cell activation by binding MHC class I molecules presented by an antigen-presenting cell. It functions to strengthen the association between the TCR and MHC I-antigen complex and to amplify signals from the TCR to the cytoplasm through the interaction of its intracellular domain with cytoplasmic tyrosine kinases such as Lck. The CD8a chain binds to the α3 domain of class I MHC molecules. CD8 is expressed by a majority of thymocytes, a subset of mature peripheral blood T cells (T cytotoxic cells), a proportion of β T cells, and at lower levels by NK cells (which predominantly express CD8a homodimers). Reportedly, the SK1 antibody exhibits a blocking effect on MHC:peptide tetramer binding to TCR and also blocks proliferation of Leu-2 T cells in mixed leukocyte reactions (MLR).
Subtype
Primary Antibodies
Cell Type
T Cells, T Cells, CD8+
Application
Cell Isolation, Flow Cytometry
Area of Interest
Immunology
Data Figures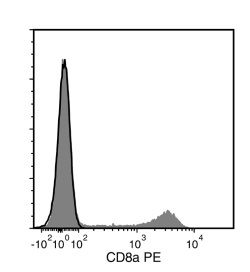 Figure 1. Data for PE Conjugated
Flow cytometry analysis of human peripheral blood mononuclear cells (PBMCs) labeled with Anti-Human CD8a Antibody, Clone SK1, PE (filled histogram) or Mouse IgG1, kappa Isotype Control Antibody, Clone MOPC-21, PE (Catalog #60070PE; solid line histogram).
Protocols and Documentation
Find supporting information and directions for use in the Product Information Sheet or explore additional protocols below.
Document Type
Product Name
Catalog #
Lot #
Language
Catalog #
60125PE, 60125PE.1
Catalog #
60125PE, 60125PE.1
Applications
This product is designed for use in the following research area(s) as part of the highlighted workflow stage(s). Explore these workflows to learn more about the other products we offer to support each research area.
Resources and Publications
Educational Materials
(2)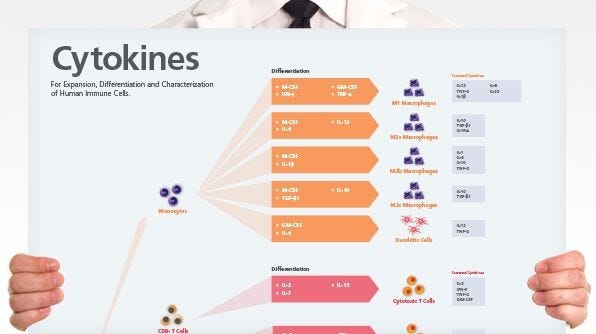 Wallchart
Quality Statement:

PRODUCTS ARE FOR RESEARCH USE ONLY AND NOT INTENDED FOR HUMAN OR ANIMAL DIAGNOSTIC OR THERAPEUTIC USES UNLESS OTHERWISE STATED. FOR ADDITIONAL INFORMATION ON QUALITY AT STEMCELL, REFER TO WWW.STEMCELL.COM/COMPLIANCE.